1 February 2019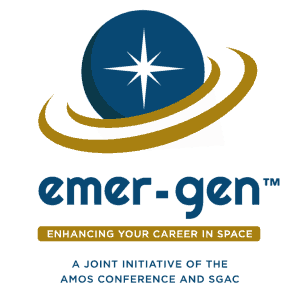 SGAC and the Maui Economic Development Board are in the process of planning the organization of the second EMER-GEN™ in conjunction with the Advanced Maui Optical and Space Surveillance Technologies (AMOS) Conference.
Held on 15-17 September 2019 this event was introduced in 2018. It is a joint initiative of the AMOS Conference and SGAC. The program is designed especially for young professionals and students (35 and under) enthusiastic about careers in space.
With the help of advisors from industry, government, academia and NGOs, we created an experience that offers:
Mentoring with renowned space specialists from the public sector (military and civil),

private

sector, and nongovernmental organizations

Networking with other young professionals

Short courses led by experts drawn from an array of fields related to space situational awareness

Professional Development sessions to enhance your effectiveness in a global environment
We are currently looking for volunteers to help support this event. If you are an SGAC member who is looking for an opportunity to become more involved in organizing an event, this might be the role for you!
Deadline for applications: 25 March 2019
Responsibilities
We are seeking up to 2 volunteers to work with the AMOS Conference Team in organizing the event. Tasks will be distributed within the team based on the skills and interests of the volunteers, but will generally include:
Program Development: interacting with speakers and other contributors to finalize

program

PR and Communications: preparing social media posts and a communication plan, coordinating on-site interviews with SGAC members and alumni

Logistics: supporting the  on-site needs during the event

Delegate relations: coordinating registration activities on the SGAC side

Sponsorships and partnerships: Assist with soliciting

organisations

interested in supporting the event or supporting delegates to attend the Conference

Closing activities of the event: A closing video, documentation of photos, distribution of all presentations, and preparation of an event report
The volunteers will be working together and with the SGAC Executive Director and the AMOS Conference Team. This is an unpaid volunteer position.
We are looking for volunteers from any other part of the world. Preference will be given to volunteers who can be in Hawaii for the EMER-GEN™  event. Selected volunteers might be given an opportunity to join the AMOS Conference in Maui as well. Funding opportunities might be offered.
Estimated time commitment: Estimated at an average 3 hours a week. Workload will be higher closer to the event.
Duration of term: End of October 2019. (While the event will end in September, we expect the closing activities to continue into October.)
Necessary Qualifications
SGAC membership: registration on the SGAC website and below 35 years of age at the time of recruitment

Ability to work in a fast paced, quick turnaround international environment and meet deadlines without compromising the quality of work

Strong or competent working knowledge of computer applications and management apps (Google Apps, Microsoft Office Suite)

Excellent written English

Speedy email response time
Assets:
Ability to attend the event on-site

Past experience with organizing events

Experience with graphic and video editing software

Experience with marketing and social media

Experience in customer service roles
Benefits
SGAC is a unique, non-governmental, non-profit organisation that empowers students and young professionals to engage directly with the international space community and influence the future of the space industry.
Be a part of leading and shaping our organisation! Benefits of this position include:
Meeting and working with young space sector leaders from around the world, and with past generations of SGAC members

Building leadership skills and other skills that are directly translatable to your career

SGAC team members receive discounts on SGAC

events,

and also receive consideration for SGAC Space Generation Leadership Awards and Global Grants Program
How to Apply
To apply for this position, please complete our Vacancy Application Form by 25 March 2019 with the following documents as attachments:
A Letter of Intent (maximum 1 page)

Your CV (maximum 2 pages)

List of three past experiences and how they have prepared you for this role (maximum 1 page)
Only complete applications will be considered.
Application Timeline
| | |
| --- | --- |
|  Application Open |    1 March 2019 |
|  Application Close |    25 March |
|  Review of application |    25 March – 1st of April 2019 |
|  Interview of selected applications |    1-8 April 2019 |
|  Announcement of results |    11 April 2019 |