London to host the 4th European Space Generation Workshop in 2019!
Following a successful 3rd edition of the European Space Generation Workshop held in Bucharest, Romania earlier this year, London has been chosen to host the 2019 edition of SGAC's European flagship event.
The two-day event gathers together more than 100 students, young professionals, industry representatives, experts and space agencies to share best practices, exchange insights, network and nurture the next generation's perspective on space.
London competed against three other European cities: Milano, Madrid and Athens to host this increasingly popular regional event with each bid brining their own unique strengths and enthusiasm. To that end, each bidding team is a winner in many ways. Each bid was evaluated by a regional selection committee and SGAC Executive Council members based on several criteria including: event management team experience, logistic abilities, budged and funding, workshop programme innovation, communication and marketing capabilities, to name a few.
The workshop is scheduled to take place in the first half of 2019 with a call for the supporting organizing team to be advertised shortly. The organizing team will be led by Eloise Matheson as Event Manager and Ana Raposo as Co-Event Manager.  Meet them below!
Eloise Matheson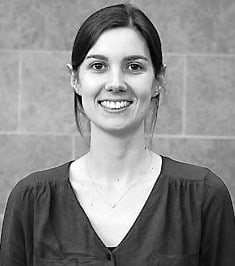 Eloise is a robotics engineer, focused on space and surgical robots. After completing a Mechatronics Space Engineering degree in Sydney, Australia (USyd) and working in the aerospace and defence sector, she moved to Europe to complete a MSc of Advanced Robotics from Poland (WUT) and France (ECN). She joined ESA, ESTEC as a YGT and stayed on until 2017 as a contractor in the Automation and Robotics section. Currently she is pursuing her PhD in Medical Robotics at Imperial College, London, focusing on the development and implementation of a surgical device aimed at neurosurgical operations. She is a STEM ambassador, has been enamored with SGAC since 2011 and enjoys playing (badly) basketball in her free time.
Ana Raposo
Ana is an aerospace engineer currently working as a business development manager at RAL Space in Harwell. She graduated from Instituto Superior Tecnico in Lisbon (Portugal) and worked in three other countries ever since, including the Netherlands where she was part of the Guidance, Navigation and Control section at the European Space Agency (ESA). She has been involved with SGAC since 2013, having worked as a Project Coordinator until 2016. Ana is a STEM ambassador and supports activities with school children in Oxfordshire. In her free time, Ana likes to travel (or, at least, plan the next trip).