One of the ways in which SGAC empowers its young professional and student members is by facilitating access to the world's major space conferences. The Global Grants Programme will bring five outstanding SGAC members to Colorado Springs to participate in the 7th Space Generation Fusion Forum (15 & 16 April, 2018), and 34th Space Symposium (16-19 April, 2018).
We would like to emphasize that this year we received a large volume of high quality applications, and that the selection process was difficult to narrow down to only five candidates. However, we are honoured by the opportunity to recognize the work our volunteer members to further SGAC's efforts.
2018 Global Grants Programme Recipients
Anamol Mittal (Nepal)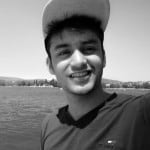 Anamol Mittal is an aerospace engineering graduate currently working on a research project focused on extraction and utilization of resources present on the lunar surface. He is also volunteering as the National Point of Contact for Nepal in Space Generation Advisory Council. During his undergraduate studies, he has led the establishment of first-ever space club of his University and served as the President of the club for 3 years. He was selected to work as a fully sponsored research intern in two organizations namely; ENSMM, France, and Space Physics Laboratory, ISRO during which he has worked on topics related to space sciences and advanced structural composites. He loves traveling and has traveled to 10 countries for work, study and recreation purposes.
"I feel deeply honored to be presented this scholarship. I couldn't be any more grateful to SGAC for offering me this award. I look forward to expanding my network within and beyond SGAC so as to boost my unfolding career in the aerospace industry."
Chiara Cocchiara (Italy)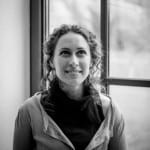 Chiara Cocchiara is a System Operations Engineer with over six years of work experience in space operations at EUMETSAT, where she coordinates the development of space operations for the next generation of Earth Observation satellites (EPS-SG). She is also a Visiting lecturer in several European Universities where she teach a course of Space Operations. Chiara has designed new drone technology which uses navigation satellites to save lives, and was awarded the MIT Innovators Under 35 Prize, and has been listed by the Forbes Magazine in the 30Under30 Forbes List, Category Industry as one of the 30 emerging leaders in this field in 2017. Chiara has one bachelor and three master degrees in Aerospace Engineering, and a Master of Business Administration (MBA). She has volunteered for SGAC for IAC and SpaceOps Conferences, and currently represents SGAC to the SpaceOps Committee for the Students and Young Professionals Activities, which she is leading. Chiara has also participated in a Mars Analogue Mission where she was the crew engineer and commander of the simulation covering both technical and psychological studies.
"This scholarship allows me to attend two major events where I can grow professionally and personally. Thanks to this grant, I have the opportunity to contribute to shaping the future of space."
João Lousada (Portugal)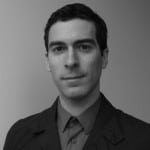 João graduated from Instituto Superior Técnico, in Portugal, with a Masters in Aerospace Engineering that included studies at Universitat Politecnica de Catalunya, in Spain, and University of Victoria, in Canada. He has worked in space feasibility concepts at the German Aerospace Agency (DLR) and in satellite assembly, integration and testing at OHB System, for European Space Agency (ESA) projects. Today he is a Systems Flight Control Engineer (STRATOS) for the Columbus Module of the International Space Station. He is also an active member of multiple volunteer organizations related to the space sector, such as the Space Generation Advisory Council (SGAC), where he has been participating and leading several technical projects as well as acting as co-lead of the Space Safety and Sustainability project group and as National Point of Contact for Portugal. João has also been a part of the core organizing teams of several SGAC events, including national, regional and global events; and recently he was elected SGAC regional coordinator for the European region. He is also an analog astronaut and field commander at the Austrian Space Forum, having taken in multiple analog missions with different space suit simulators.
"It is a great honor to be awarded a scholarship within the SGAC Global Grants Programme. I truly appreciate the opportunity to attend the 7th Space Generation Fusion Forum and the 34th Space Symposium in Colorado Springs, USA and I am looking forward to further increase my contribution within SGAC and the space sector."
Genaro Grajeda (Mexico)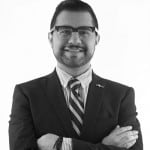 Genaro Grajeda is PreSales Engineer for Eutelsat based off Mexico City. He formerly was a Project Manager for one of the largest growing teleports in the world for several consecutive years. Genaro has experience with several Social Connectivity projects involving the reduction of the digital divide as well as introducing cellular backhaul networks via satellite. He has been involved in several state of the art projects to introduce Internet of Things space based solutions as well as designing and implementing networks in where new technologies can make a difference for remote populations and remote outposts for several industries.
Genaro has been involved with SGAC since 2015. He was part of SGAC's organizing team during SGC in Mexico during 2016 as well as coordinator for the Satellite Communications Working Group with the topic: "Spectrum and Operational Challenges with the Emergence of Small Satellites." He was part of the organizing team for the first "SpaceUp Mexico" during 2017 with an attendance of 200+ participants. Finally, Genaro is an active public science outreach communicator with several publications on national and international magazines, as well as radio and podcasts in which he focuses on space issues and events.
"I am humbled and grateful to have received this opportunity to attend to SGAC's Fusion Forum as well as the 34th Space Symposium.  I am looking forward to meet and network with people from the space industry to exchange ideas and projects to benefit humankind on Earth and beyond."
Conor MacDonald (Australia/Ireland)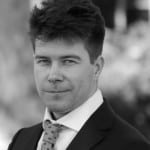 Conor is PhD student in acoustics and vibration engineering at the University of Adelaide in South Australia. He is in his second year of a PhD program, where he has been awarded a scholarship to undertake research into acoustic metamaterials and their applications with rocket payload fairings. Conor holds a Bachelor of Mechanical Engineering from the University of Adelaide in addition to being an alumni of the International Space University's SH-SSP. Conor's first encounter with the SGAC was in 2015 where he was awarded the Young Australian Space Leadership award to travel to the 2015 SGC and IAC in Jerusalem. Impressed by the calibre of the delegates and inspired by the SGC, Conor aimed to become more involved with SGAC committee. In 2017, Conor was a part of the organising team for SGC Adelaide as local team leader, ensuring the congress ran as planned and made sure everybody was enjoying themselves in his hometown of Adelaide. Shortly after SGC, Conor applied to be on the SGFF organising team and was made part of the Communications Team. This is Conor's first SGFF and is hoping to be part of an excellent event and wholesome experience.
"I am extremely excited to have received this award from the Global Grants Programme to attend the Space Generation Fusion Forum and Space Symposium. I am looking forward to the opportunity to contribute to the discussions at the Fusion Forum and expanding my network circle within the global space industry."