SGAC membership has been steadily growing throughout the years. Among our membership there are many incredible young space enthusiasts who should be recognized for their hard work and contributions to SGAC. In December 2009, the SGAC Executive Council decided to acknowledge one member per month for his or her outstanding work and contributions to SGAC and its goals, and we continued this until today.
SGAC is proud to present the SGAC March 2018 Member of the Month: Nadia Karrim (South Africa), NPoC South Africa
Nadia Karrim (South Africa)
About Nadia: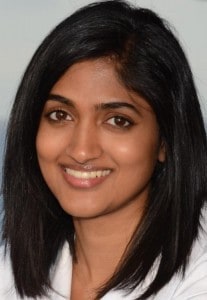 Dr Nadia Karrim is currently working as a medical doctor in the Department of Health, training to be an ENT/Head and Neck Surgeon in South Africa. She has an interest in aviation, human space flight and aerospace medicine, and is in the process of obtaining a Private Pilot's license. After completing her medical degree in 2008 at the University of Cape Town, she gained a few years of experience in general surgery in South Africa before relocating to the Republic of Ireland, where she worked in Emergency Medicine. She holds medical registration in South Africa, Ireland and the UK, and has also spent time working as a Maritime doctor aboard an international cruise liner. She returned to South Africa in 2015 to specialise in the field of ENT/Head and neck surgery, and has contributed towards research in the field of vestibular medicine, as part of her Master's degree in Medicine. She also has training in advanced trauma life support, advanced cardiac life support, advanced paediatric life support and is an Aviation Medical Examiner. She is currently serving a term as the Chair of the National ENT Registrars Society of South Africa, having previously held the position of Secretary. She also serves as the South African National Point of Contact for SGAC and has established a partnership between SGAC and the Department of Health, having developed an existing Community Outreach program into a combined STEM outreach in collaboration with UKZN, ENT-CARES and SGAC.
Nadia was nominated by
–    Christopher Luwanga (NPoC, Malawi):
"Nadia, together with Leehandi, did impressive work in ensuring that SGAC is well represented at the UN/South Africa Symposium on Basic Space Technology in Cape Town. She very enthusiastically manned a well-furnished SGAC stand, distributing relevant paraphernalia and preaching SGAC!"
Here's Nadia's reaction:
"What a pleasant surprise! I am honoured and very grateful to have been nominated and selected as Member of the Month. Being part of the SGAC community has been an incredibly enriching experience, and it has been wonderful working with such supportive and inspirational people."
From the SGAC Chair, Alex:
"Nadia has been a excellent contributor and leader in SGAC's African outreach, especially during the recent Symposium in Cape Town – her award is very well deserved and congratulations again!"