Ahmed Abdi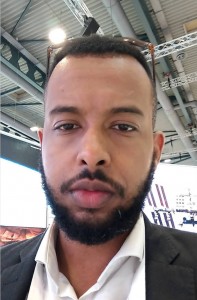 As a former refugee who had the privilege of getting educated all the way to a Masters degree and specialising in space, Ahmed Abdi could firsthand appreciate the benefits of space has had for humanity and how it could mitigate if not prevent some of the crises that have happened in places like Somalia including the civil war, deforestation, food insecurity, famine/droughts, etc.
Therefore, Ahmed felt the obligation to pass his knowledge and experiences in order to help benefit Somalis and inspire the youth to pursue space and other STEM related subjects.
His passion is to democratise access to space by inspiring young Africans about the endless possibilities of space exploration and therefore motivate them to pursue taking action in order to advance space exploration in Africa. In the long run, Ahmed hopes to establish African space startups and help tackle the high unemployment especially among youth in the continent.
Here's Ahmed's reaction: "I am honoured to be selected as the SGAC Member of the Month of September 2019 and greatly appreciate SGAC's recognising my effort to advance space exploration in Somalia and Africa. Moreover, I would like to thank SGAC members for helping me with getting some of the speakers to give a talk at some of the Somalia Space Workshops I organised.
Furthermore, I am very greateful to Harriet for nominating me."
Ahmed Abdi has been nominated by
Nominator: Harriet Brettle (SGC Programs Team)
Nomination:
"Ahmed was recently appointed at Regional partnerships manager for Africa and has been working hard to strengthen partnerships with SGAC in the region. He has spent the last few months travelling around Somalia, leading numerous space workshops in different universities. He organised the events and invited speakers from across the world to share their space experience with students in Somalia. His work inspiring the next generation space enthusiasts in the African continent is truly outstanding; he personifies everything that is great about SGAC and the space generation."
From SGAC, Clémentine Decoopman (Executive Director)
"Ahmed is the Regional Partnership Manager for the African Region and as such he as done a fantastic job in looking at opportunities to expand SGAC in the region and finding new local partnerships. He recently organised an event in Somalia to spread the word about SGAC in the country were he was able to bring speakers from all around the world to share their experiences with the attendees. He organised such events in different universities to develop the SGAC network in the region. Ahmed is a motivated volunteer who has the profound desire to contribute to the organisation's success and to bring space to Africa."