Ksenia Synkova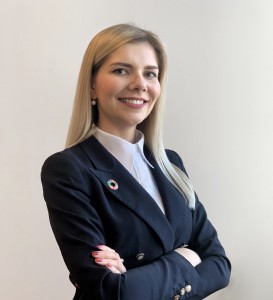 Ksenia Synkova is a young passionate professional with more than 6 years of work experience in Marketing and Communications, and a solid background in International Affairs.
She joined Space Generation Advisory Council in February 2019 as Social Media Manager. Her expertise lies in the execution of communications strategy across social media platforms to enhance brand awareness, exposure, and community management. In addition to her work with SGAC, Ksenia is engaging as Digital Marketing Manager at a well respected Swiss based Digital Magazine Space Watch Global. In July 2019 she also took a new role as National Coordinator of World Space Week in Turkey.
Currently Ksenia is launching her own digital marketing agency, which will provide services for companies, organizations and academia across the space industry.
Prior to SGAC Ksenia gained professional experience at the Space Applications Section of the United Nations Office for Outer Space Affairs (UNOOSA), where she was focusing on digital marketing to propel brand awareness and exposure of UNOOSA. She was also active in the private sector while working for the international companies Siemens and OMV in Vienna.
She graduated with a Bachelor's Degree in Business Administration from the Vienna University of Economics and Business (WU), with a focus on Digital Marketing. Ksenia is currently completing her Master's Degree in International Development at the University of Vienna.
Here's Ksenia's reaction: "I would like to express my gratitude to the SGAC family for giving me the opportunity to work in the space sector and focus on innovative ideas, alongside the most distinguished professionals from around the globe. Thank you to my team for recognizing my commitment by nominating me as the Member of the Month. This is truly an honor!"
Ksenia Synkova has been nominated by
Nominator: Monica Pascanu and Bethany Downer (SGAC PR&Comms coordinators)
Nomination:
"Ksenia has done a tremendous job scheduling and implementing the SGAC 20 Years Anniversary campaign. Her hard work and commitment to this project, as well as the overall performance in her role as a Social Media Manager for SGAC has been outstanding right from the beginning. Would like to take a moment and recognise her contribution to the Communication Team!"
"Since adopting this role, Ksenia has shown tremendous ability to bring creativity and innovation to the SGAC social media platforms. We have surpassed 10,000 Twitter followers and all of our social media accounts are garnering higher engagement and following than ever before. Of particularly excellence, Ksenia managed the implementation of the 20th Anniversary Social Media campaign with great graphic design elements and creativity in addition to hosting interviews with space professionals and live coverage of SGAC events and activities. We are proud to have her on the PR & Communications Team as part of the #SpaceGen family"
From SGAC Executive Director, Clementine Decoopman
"Since her onboarding in February, Ksenia has brilliantly implemented new visuals across SGAC Channels and radically refreshed our Instagram feed. Her efforts have been immediately noted and appreciated by our members, with the smooth implementation of the 20 Achievements in 20 years campaign being the peak example of her great talent, initiative and energy. SGAC is very lucky to have Ksenia among its ranks, and more than pleased to let her experiment and improve her already advanced skills."