In times of COVID-19, SGAC doesn't stop. Make sure to check our running webinars and online events.
You can read the SGAC Chairs' Letter on the status of our activities.
If you want to organize a webinar, don't hesitate to reach out to [email protected] for further information and support.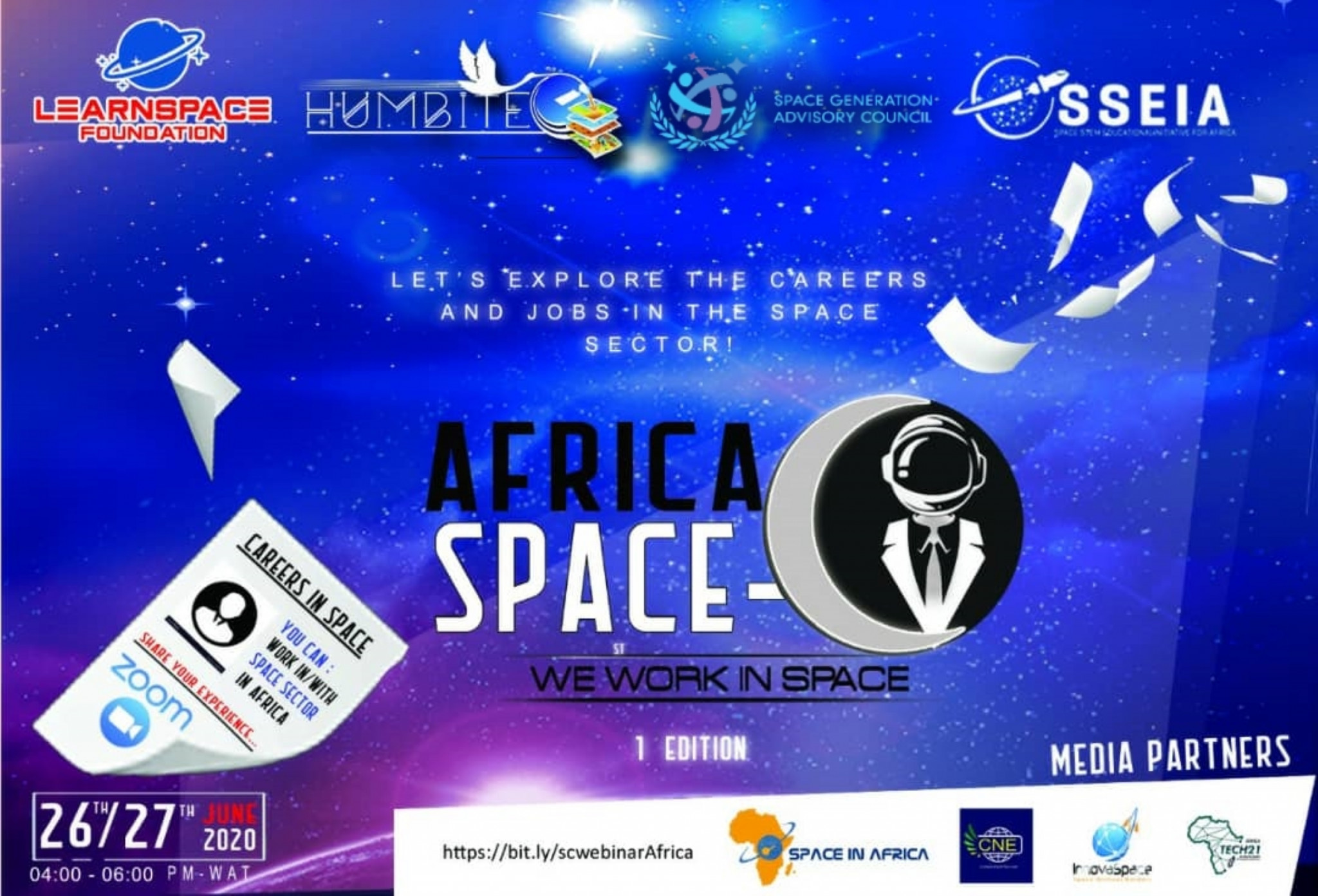 Africa Space: We work in Space
June 26 @ 4:00 PM

-

June 27 @ 5:00 PM

BST
The Africa Space Careers webinar is an initiative founded by the collaboration of four African Space oriented organizations namely: LearnSpace Foundation, Humbite, Space Generation Advisory Council (SGAC) and Space Stem Educational Initiative for Africa(SSEIA). The webinar is centered around educating Africans on the benefits of space technology to the African continent and encouraging them to consider careers in the Space sector.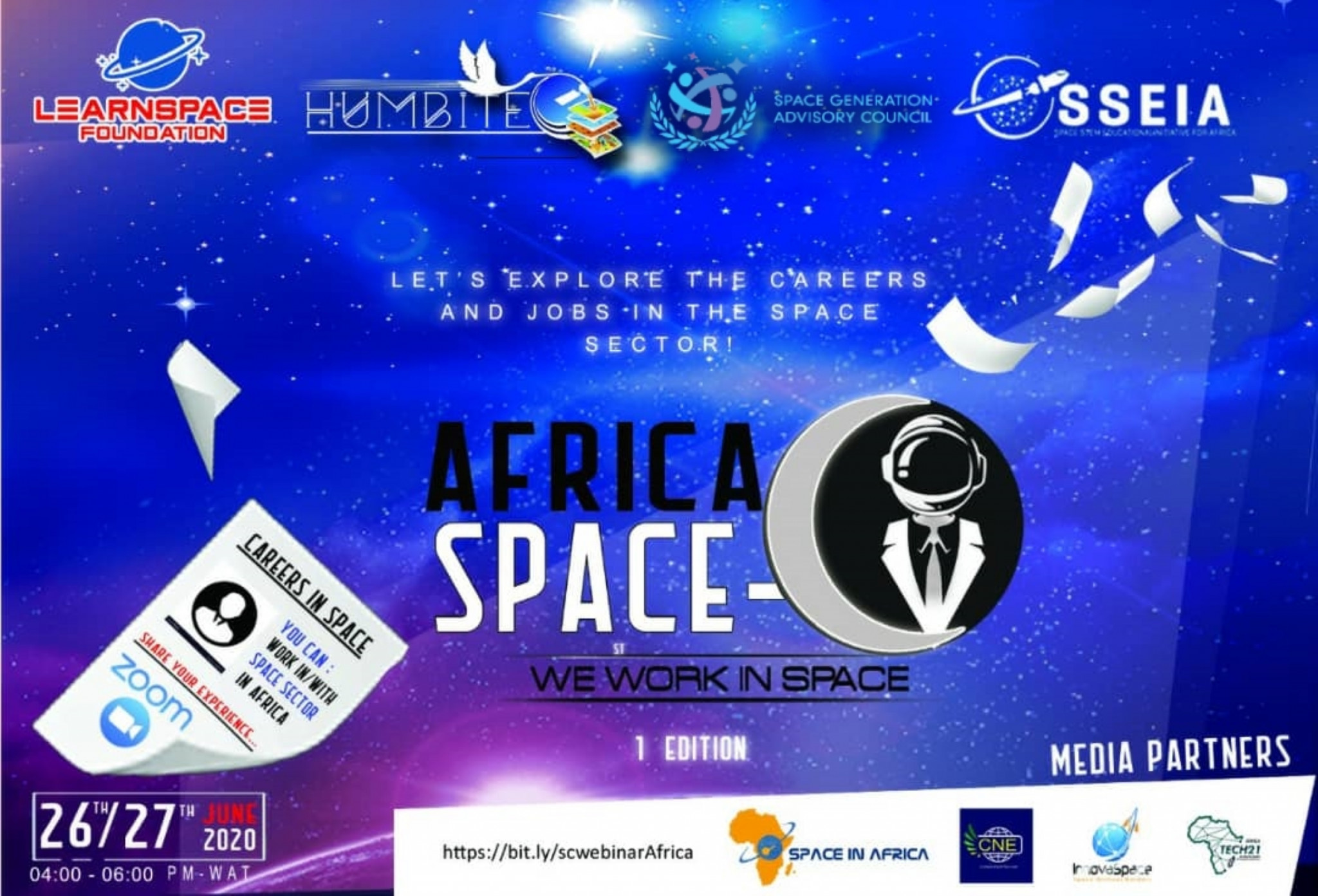 Meet our speakers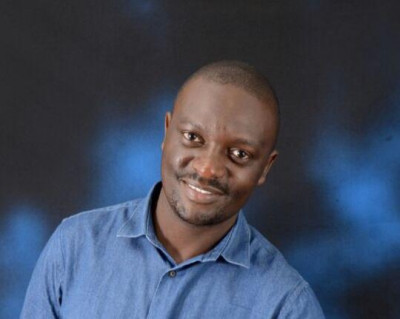 Meshack is a specialist in space systems. He is working with the African Union Commission to establish the Pan-African Space Agency. He has greatly contributed to the efforts of shaping the space industry in the continent, particularly on enhancing engagement with the space community. Meshack is also leading the capacity building in space applications with Global Monitoring for Environment and Security (GMES) & Africa, which is a pan-African Programme in Earth Observation. He is also actively engaged with international community. He is a member of two study groups of the International Academy of Astronautics (IAA) Study Group 4.19 on Promoting Global Space Knowledge and Expertise in Developing Countries, and IAA SG 4.26 on Cubesat Interface. He was the Co-Lead of Space Technology for Disaster Management (STDM) Project of SGAC. He is an Alumnus of The Lindau Nobel Laureates Programme in Physics. He is a Graduate and Contributor of the Cansat Leader Training Program (CLTP) and, continuing in Commercial Space Studies at ISU Aldrin Center for Space Entrepreneurship, Florida. Meshack is also a leader in the African Leadership Congress on Space Science and Technologies for Sustainable Development-Youth Forum.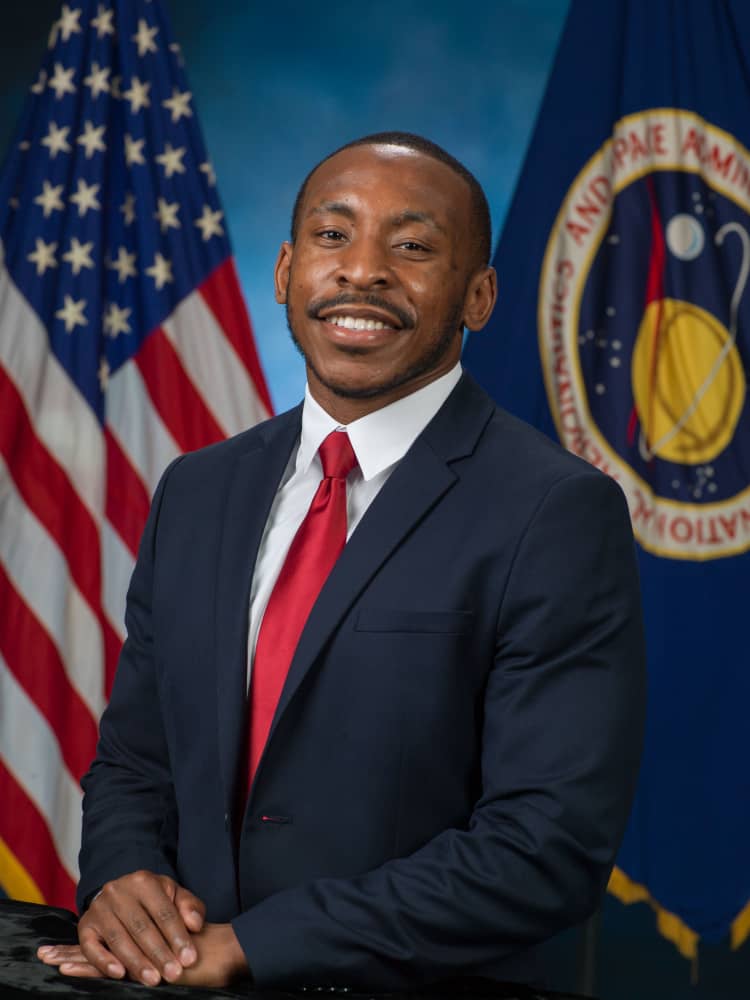 Mohammed Saibu is a Flight controller (Operation's engineer) in the Mission Control Center (MCC) responsible for the assessment and monitoring of a space vehicle's aerodynamic performance and operation. He works on the operations for NASA's future vehicles (Orion and Commercial Crew) and the International Space Station (ISS), focused primarily on developing and working towards the accomplishments of Guidance Navigation & Control, Propulsion, and Trajectory operations for human spaceflight. This entails of creating procedures, operational documents and supporting live operations for burn maneuvering, targeting and operations for a vehicle.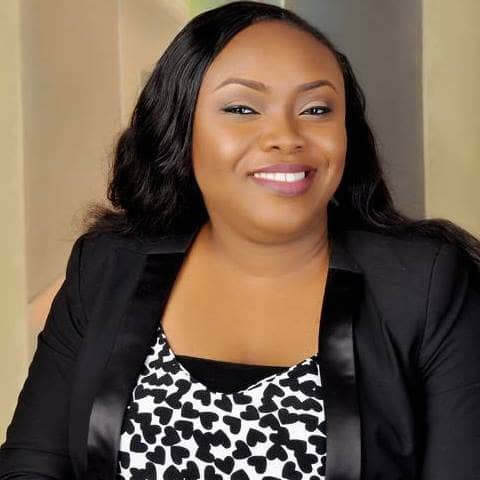 Ms. Fadahunsi-banjo Motolani, Chief Legal Officer, National Space Research and Development Agency (NASRDA). She began her legal career  practicing law in the areas of civil litigation and commercial law, in Abuja, Nigeria. In 2008, she joined NASRDA as legal officer where she contributed to the draft of both the NARSDA ACT, 2010 and the National Space Development (Licensing & Supervisory, ETC) Regulations 2012. Her responsibilities include negotiating and drafting Agreements, contracts, and bonds between the Agency and other parties, domestic and International and offering legal guidance to the Agency. She is a resource person with the Nigerian Institute of Space Science and Technology and Women in Aerospace Nigeria. In 2012, she interned with the International Space Transport Association, working with the legal department on the Pros and Cons: Liberalization of space activities in Europe.
She holds L.LM degrees in Air and Space Law, (Leiden University, Netherlands), and Space, Cyber and Telecommunications law (University of Nebraska). Ms. Fadahunsi-banjo Motolani has represented Nigeria at Conferences, workshops and was a Nigerian Delegate at the 2009 session of the UNCOPUOS- Legal Subcommittee. She is a Member of the International Institute of Space Law (IISL), Women in Aerospace Nigeria, and the Nigerian Bar Association.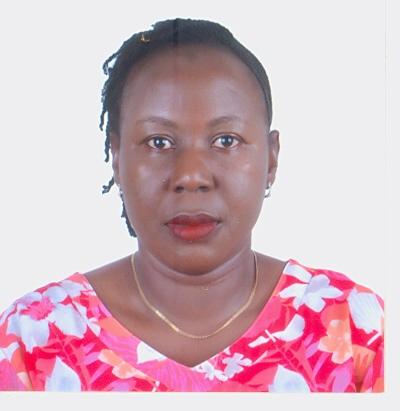 Chidinma Joy Iroka , Chief Engineer in the Engineering and Space System Division (ESS) of the National Space Research and Development Agency (NASRDA) which is the Nigerian Space Agency. She was one of the two ladies (only lady) in the Radio Frequency (RF) team of the Nigerian engineers and scientists that were trained in Surrey Satellite Technology Ltd, United Kingdom during which she participated in the designing, building and testing of Nigerian satellites (NigSat-2 and NigSat-X) launched in 2011 with uplink and downlink frequencies at S-band (2.0-4.2GHz) and X-band (8.0 -8.5GHz) respectively. Her participation and recent research on the frequencies at which both Communications and Earth observation satellites are launched in Nigeria motivated her to write her master's thesis on "The Quantification of the agency to work on "PalmSat-Nig S-Band Microwave Beacon". She is currently working on her PhD in the Electronic and Electrical Engineering Department of Ladoke Akintola University of Technology (LAUTECH) Ogbomosho, Oyo State, Nigeria with the topic "Rain fade characteristics for ku-band earth – space communication systems in Nigeria: measurement and modelling".
She is a Space Leader, the African Space Leadership Congress (ASLC) Women and the Technical Adviser of the Space STEM Educational Initiative for Africa (SSEIA), the Co-founder and the Secretary General of the Women in Aerospace Nigeria (WIAN) which periodically visits secondary schools across Nigeria to stir girls' interests in Science, Technology, Engineering, and Mathematics (STEM) among its many duties. It is worth mentioning that she has been representing WIAN for the past seven (7) years to draw the agency's yearly programme. 
She has passion in encouraging women and girls play active and equal role in space science, technology, innovation and exploration in Nigeria and Africa at large. In 2017, the United Nations Women in collaboration with the United Nations office for Outer Space Affairs (UNOOSA) invited her to New York for an expert meeting where she gave a talk on "Space Science and Technology: A veritable tool for demolishing gender ceiling in Nigeria". She was the keynote speaker in Nigeria during the 2018 International day for girl child. She is Analytical, Solution-oriented Engineer, Researcher, STEM educator and Space Ambassador with experience in planning and managing projects.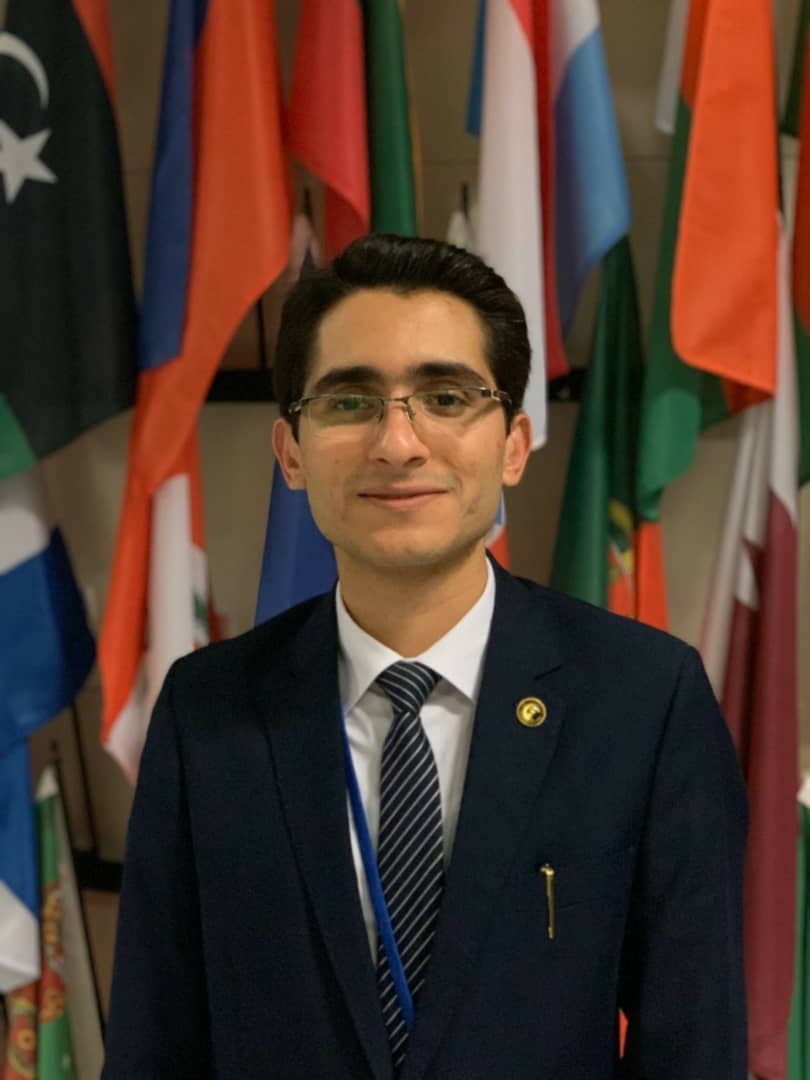 Ahmed Shokry Abdelhamid Baraka is a clinical pharmacist, SGAC Regional Communications Manager for the Middle East, and the Leader of AMSRO regional chapter at Alexandria University, Egypt. He is extremely interested in space neuroscience, space sciences, and deep space exploration. His childhood dream is making humans a multi-planetary species and deep space exploration a reality.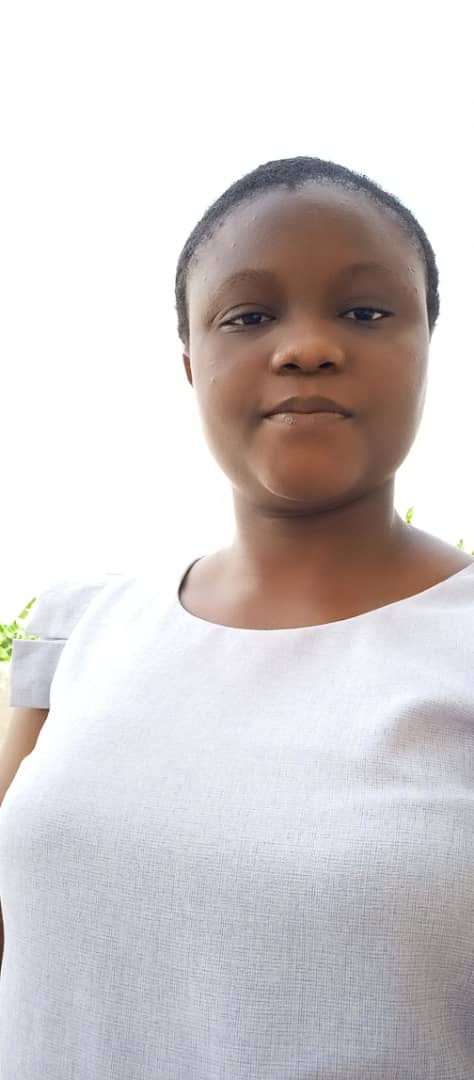 Salvation Peter is a Data scientist, a python expert, a space and tech advocate. She is passionate about educating young people especially girls in these fields. In her quest to improve tech and space literacy, she has worked with notable brands and as well spearheaded the founding of the Space STEM Educational Initiative for Africs (SSEIA).
Ms Majaja started her career as a government official, proceeded into the academia and came back to government. She has a bachelor's degree in Economics & Industrial Psychology, an Honours from UNISA and a Masters Degree from Williams College in Massachusetts USA. Ms Majaja has her expertise in Economic policy development and Implementation, Industrial Strategies Development and implementation in advanced manufacturing, aerospace and electro-technical. Ms Majaja has been in the space legislation and policy domain for the past 12 years. She served as Vice Chairperson during true past 2 and current term of the South African Council for Space Affairs (SACSA) which is a space regulatory body under the Minster of Trade and Industry. She has led the process of the development of the National Space Policy by South Africa. She was as well instrumental in the hosting of the 1st IAC in 2011 in the African continent. She has recently led the development of the space industry framework by the Department of Trade & Investment (DTI) Which is expected to open vast opportunities for the development and support of the space industry. Ms Majaja has been the coordinator for the past 3 years for the African Region of the Manfred Lachs Space Law Moot Court Competition which is regarded as the Space Regulation Capacity building program.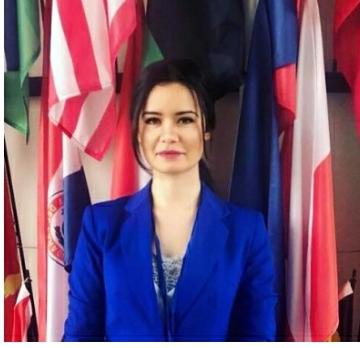 She has been National Point of Contact of Tunisia for SGAC. Regional coordinator of Africa in Space Generation Advisory Council in support of the United Nations for space program. System and Verification engineer on space systems with an experience of over 5 years. She is a Software & Hardware engineer for space applications; worked on Integration and verification of payloads where she got used to satellites internal and external interfaces. She is experience with payloads design and space system validation before the launch resolving problems and driving overall operational improvements. She has prepared specifications for Unit level, subsystem level and System Level, as well as the worst cases and risk management for each phase.
She has worked on the design, verification and integration board computers and data storage units as well as other instruments of Satellites. She participated on the development of several satellite equipment like QB50 constellation, Jupiter Satellite JUICE, ENMap satellite, MetOp satellite, Biomass satellite, Kompsat7 from South Korea and Plato Telescope. She has followed several space projects through her career related to Galileo as well as other navigation ground segment. She is familiar with SW Development with different languages, as well as ARM and FPGA design and verification and has worked mainly on data interfaces, mass memories and on board Computers.
Delegate at the Committee of Peaceful Uses of Outer Space, participated to the Scientific and technical committees and gave recommendations with SGAC team She has also been in several workshops related to space innovation and research and she has been a speaker and moderated panels in Space Generation Congress, Global Conference for emerging countries. She is also working on the development of the space market in Africa with other African space experts. 
She had an engineering diploma from the National Institute of Applied sciences and technologies in Tunis, Tunisia. She studied electronics and instrumentation. Her graduation project was on a nano satellite IP2sat with the team of Université de Picardie Jules Verne in France, one cubesat among 50 in a European constellation « QB50 ». 
She holds a master in embedded systems from Université de Picardie Jules Verne. She worked on the design of an onboard computer of a Bombardier project "surfer". Then she took a certificate in Cryptography from Stanford university, continuing studies. She is also a space policy expert and is also working on the development of the space market in Africa with other African space experts. She is also activist with the UNHCR and a UN volunteer for the African folder: female genital mutilation and a she has been a voice of Justice with the Human Rights Watch.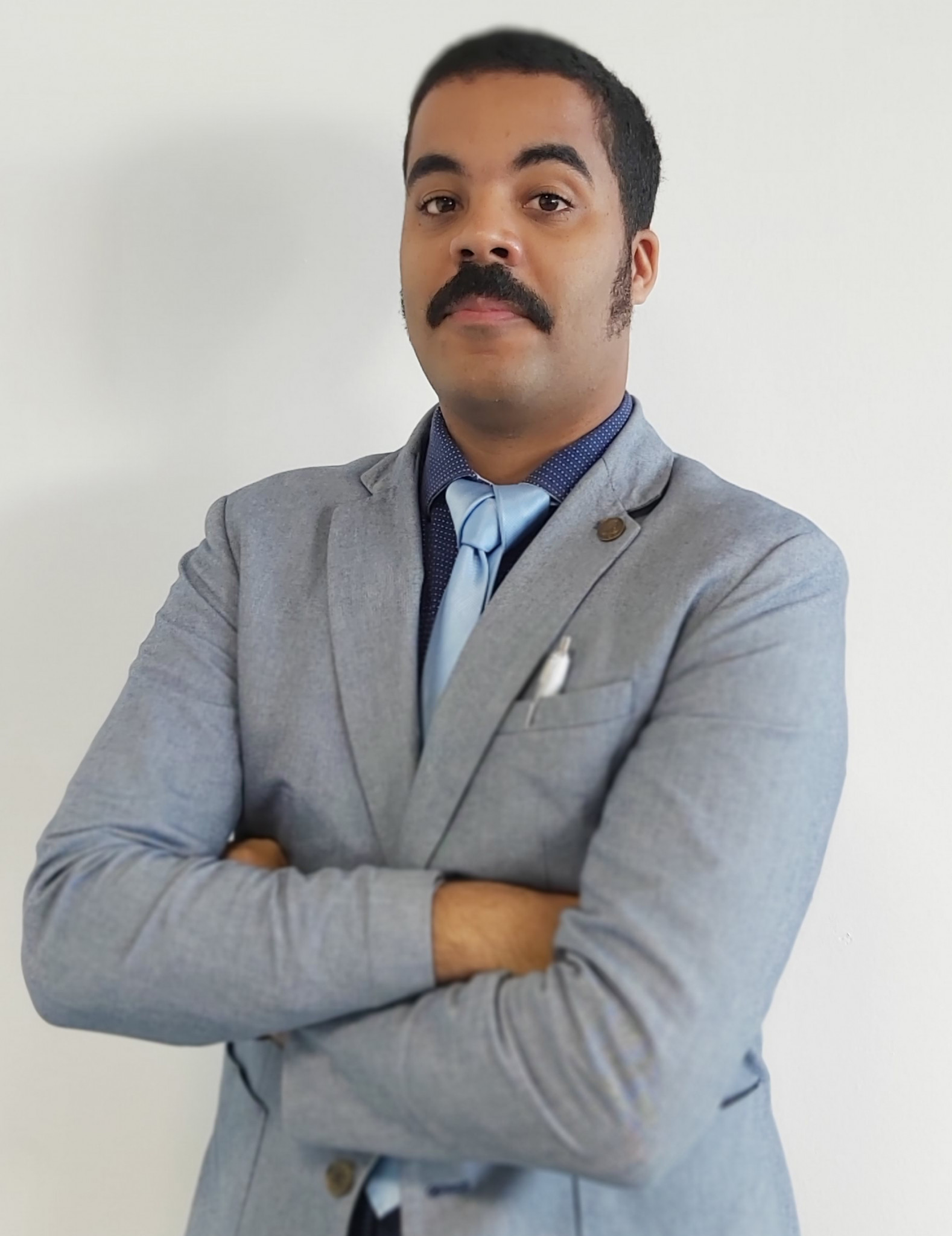 Marco Romero started his career in Aeronautical Engineering and Glider piloting at the Angolan Air-force, after finishing his Degree at the Portuguese Air Force Academy. After that expanded his career into the Angolan Space Program as a Ballistic and Navigation Satellite Support Specialist accumulating more than 5 years of experience in the aerospace sector and now is making the Step up as Space System Engineer at ISAE Supaero. 
Actual National Point of Contact of Space Generation Advisory Council in Angola, member of the Mars Society, Moon Village Association, International Astronomical Union preparing the first Analogue Mission Site in Angola (Namibe). Ambassador of the OpenCosmos Academy for the Design of Space Missions. Member of PMI, INCOSE and the Open Space Makers Federation Developed several initiatives to  Support outreach and capacity building on space domain in Angola, he is Really Inspired by Human Space Exploration and STEAM Education (because they catalyze Innovation and development) he had the opportunity to create several hackathons, conferences, Studies, Projects and other activities in Angola and joined similar activities in other countries. From there he could develop 6t Startups on the Aeronautics (UAV Manufacturing and Services), Space (STEM Education) and Technology (Apps, Games and Robotics) Domain during the past 3 years.
We can highlight here the creation of a space education cartoon with the name "Kids and Satellites" that is now in its third edition and for the excellent feedback that it has received, preparing a fourth edition that intends to integrate several countries as contributors. Currently he is at Airbus Defense and Space doing a internship in collaboration the the Aerospace Valley in Toulouse.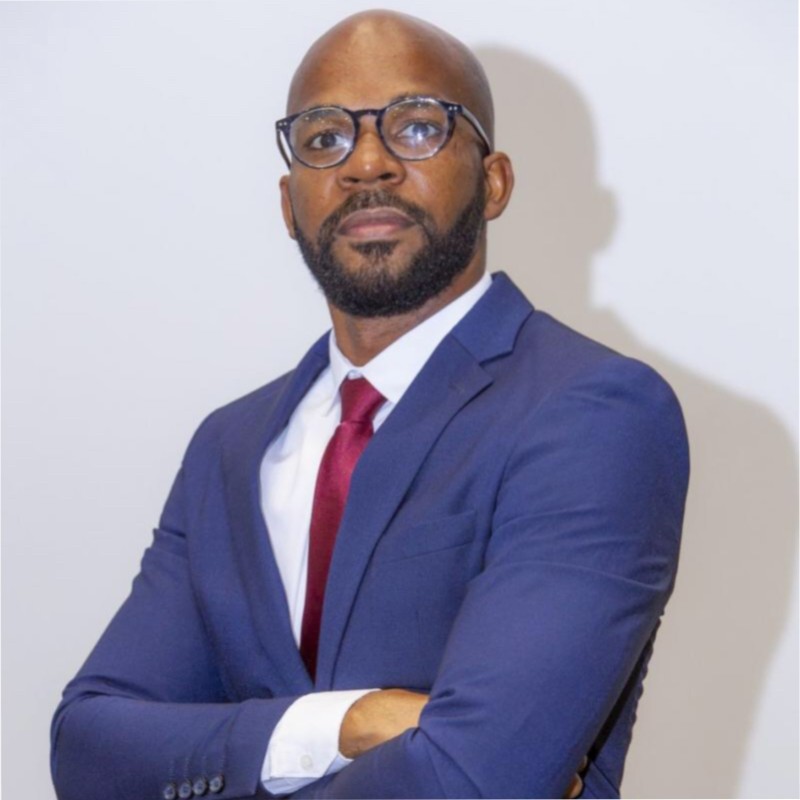 Eldrige de Melo is a Space Project Manager currently studying at ISAE-SUPAERO Aerospace Project Management. He is certified by the Russian Space Agency as a Senior Specialist to the Ground Control. He is also the NPoC of SGAC for Angola, he believes in fighting for diversity and inclusion in the space sector, program education and outreach. Currently he is at Airbus Defense and Space doing a internship in collaboration the the Aerospace Valley in Toulouse.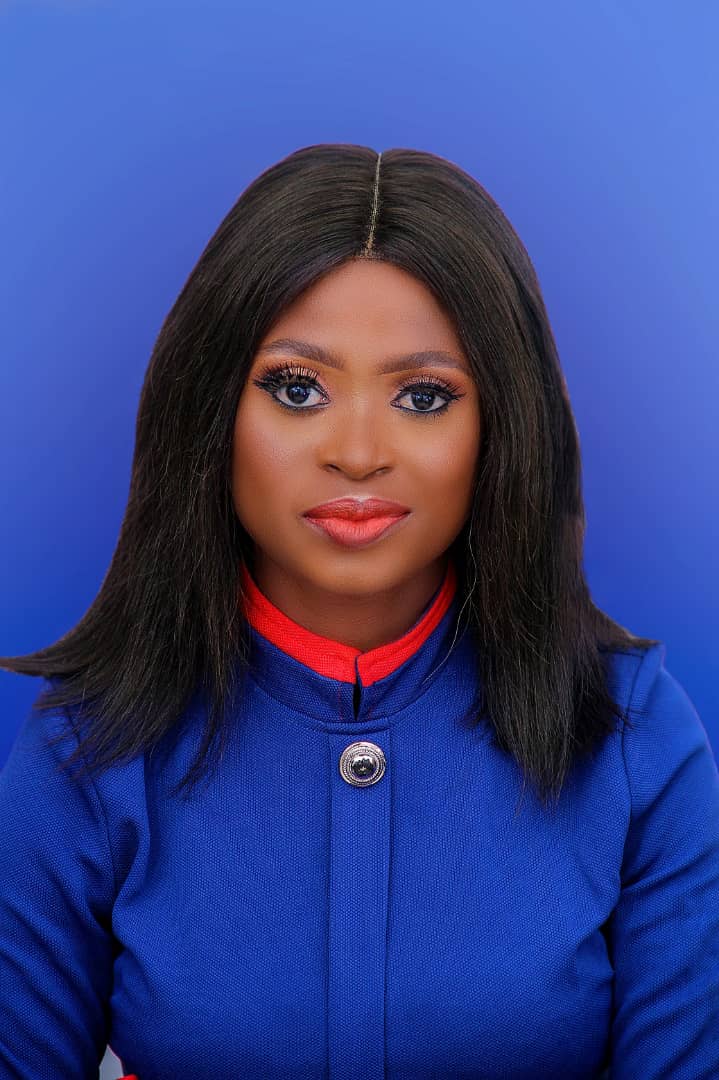 Ms. Anne Agi is a solicitor and an advocate. She holds a Masters in Law (Majored in Human Rights) from the University of Ibadan. Currently, she is a PhD candidate (Intellectual Property Law) (University of Calabar). She is a trustee/Co-founder, LearnSpace Foundation an NGO for promoting space education and awareness. She is a space and space Law enthusiast, a blogger, writer of articles on space Law, presenter at lectures on space Law. She has represented Nigeria at conferences and was a delegate at the 2019 International Astronautical Congress (IAC) where she coached and led the African Team of the Manfred Lachs Space Law Competition to emerge as Best Oralist and runners-up of the Competition.
She is an active member of the African space community, delivered a paper at the 2019 African Space Leaders Conference on 'The role of Women and Youths in shaping Africa's space agenda". She holds a certificate in Space Law and Policy from the International Academy of Space Law (IASL). She is also a member of  the Women in Aerospace Community, and a member of the Nigerian Bar Association.