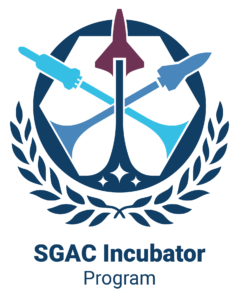 SGAC members represent the brightest young entrepreneurs, creative leaders, and rising stars of the space sector. This new Incubator Program was established to provide increased support for innovative space-centric projects developed and pitched by SGAC members from across the world. In 2020, SGAC opened a call for applications. We received a plethora of applications and are excited to announce our final selection of nine unique, forward-thinking ideas! 
These teams are a part of the SGAC Incubator Program's 2021 cohort. In addition to providing the winning teams with the financial resources needed to develop their project ideas, the SGAC Incubator Program will also provide mentorship, workshops, and networking opportunities. The Program will culminate with a Demo Day near the end of the year where all teams may present their project progress publically. But the support and excitement do not end there! The SGAC Incubator Program will establish an alumni network for the continuous support of the projects so they may provide lasting value to the space community. 
We are already looking forward to expanding the SGAC Incubator Program and will announce a call for new applications for next year's cohort towards the end of 2021! Whether it's a startup, a non-profit, or a research project, we hope that this program will accelerate the goals and vision of SGAC members.
The organization of the program is run by the SGAC Finance Team.