Small Satellites Project Group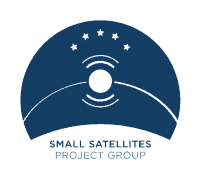 Vision
"To promote the application of small satellite systems, technologies, and products to the betterment of both humanity and the natural world."
Interested in becoming a member?
Are you an organization interested in a collaboration?
Please contact either Co-Lead or email [email protected]
Who We Are
Over the past few years, small satellites have changed the landscape of space missions. They facilitate quicker, more cost-effective and reliable access to space and data products. This encourages new actors to develop their capabilities in the space domain, from small, singular spacecraft up to Earth-spanning constellations of thousands of satellites. Small satellites are opening the door for spacecraft manufacturers and operators to test novel methods and technologies (E.g. open source hardware and software, and formation flying), which are either not possible or extremely difficult with traditional larger systems. It is for these reasons, among others, that small satellites are considered an industry disruptive technology by numerous space mission experts. The SGAC recognizes the impact that small satellite systems have already had on the world. Many universities have launched their own CubeSats or other spacecraft, and we have seen the emergence of constellations that provide complete and near-constant global coverage. Downstream, data products that were previously impossible to collect with a single large satellite are enabling applications from climate change monitoring to poverty index measurements, and are even combating human trafficking. We believe that small satellite technologies will have far-reaching benefits to humanity and the world around us. In order to promote their use, the SSPG aims to educate its members about small satellites through newsletters and research projects, and connect people interested in small satellites across the globe. This gives rise to the SSPG objectives, which are split into three parts:
Provide career and project assistance for young professionals and students already active in the small satellite community.
Provide the small satellite community with up-to-date information on relevant topics, as well as recommendations regarding the directions to be taken for future research and development and/or policy and legal issues.
Attract young professionals and students to the world of small satellites and more generally to the world of space exploration.
Interested in Joining?
The SSPG is run by volunteers, thanks to an international team from various backgrounds sharing a common interest in the small satellites world. The SSPG is constantly looking for motivated members. Are you interested in small satellites? Do you have ideas to share? Then join our team! You will need a resume including your birthdate in the format DD/MM/YYYY. Click here to signup.
Sponsorship or Collaborations:
We are constantly looking for cooperating partners. Is your company active in the field of small satellites? Would you like to show your support to our initiative? Please do not hesitate to contact us. The SSPG is looking forward to hearing from you!
Quick Links:
Latest SSPG Newsletter – July 2018
"What are CubeSats" introductory video
For privacy reasons YouTube needs your permission to be loaded. For more details, please see our
Privacy Policy
.
I Accept