Who are we?
The Space Generation Advisory Council in Support of the United Nations Programme on Space Applications is a global non-governmental, non-profit (US 501(c)3) organisation and network which aims to represent university students and young space professionals ages 18-35 to the United Nations, space agencies, industry, and academia. Headquartered in Vienna, Austria, the SGAC network of members, volunteers and alumni has grown to more than 13 000 members representing more than 150 countries.
SGAC was conceived at UNISPACE III in 1999, whereby states resolved, as part of the Vienna Declaration, "To create a council to support the United Nations Committee on the Peaceful Uses of Outer Space, through raising awareness and exchange of fresh ideas by youth. The vision is to employ the creativity and vigour of youth in advancing humanity through the peaceful uses space". SGAC holds Permanent Observer status at the United Nations Committee on the Peaceful Uses of Outer Space (UN COPUOS) and regularly takes part in the annual meeting, as well as its Legal and Scientific and Technical Subcommittees. SGAC holds consultative status at the United Nations Economic and Social Council (UN ECOSOC), contributing to discussions on the role of space in achieving the UN Sustainable Development Goals.

What we do?
SGAC works diligently to raise awareness among the next generation of space professionals on a global scale working together with the United Nations Office for Outer Space Affairs (UN OOSA) in promoting UN workshops and activities, and in supporting SGAC members to attend space conferences around the world. By hosting international, regional and local events ,SGAC  provides its members with opportunities to expand their knowledge of international space policy issues, think creatively about the future direction of humanity's use of space and engage with current leaders from space agencies, industry and academia. SGAC stewards the views and opinions of students and young professionals to ensure their creativity and vigour is employed for the advancement of humanity through the peaceful uses of outer space.
Project Groups
At SGAC, one of our key contributions to the space policy debate, and space education and outreach in all domains is the output of the project groups which SGAC undertakes year-round. Currently, SGAC is working on eight project groups ranging from the SGAC Group on Space Technologies for Disaster Management—an outreach group for space applications for disaster management,—to our YGNSS project—a group promoting cooperation and education in global navigation satellite systems. We work with both our members to generate new ideas for projects and our sponsors who are interested in getting the view point of the next generation of space leaders. Please click here for the our Project Groups page.
If you are an SGAC member and would like to get involved with current projects, please contact a project leader and get involved today!
Scholarships
In our quest to have more input and engagement on international space issues from our members, we work to provide financial resources. SGAC strives to allow our members to take part in the international space policy creation process from many global events such as attendance and presentations at UN COPUOS to participating in our annual events, the International Astronautical Congress (IAC), the Space Symposium, or issue-specific seminars. To do so, SGAC has partnered with various organizations to provide scholarships throughout the year which enable our members to attend.
Professional Development Opportunities
As a volunteer-run organisation, we rely on the skills of various members from around the world to operate. Various roles are available within SGAC not only to sustain the organisation, but also to provide an opportunity for our members to gain valuable skills to help promote personal and professional growth. More information about volunteer opportunities are available in the vacancies section of our website.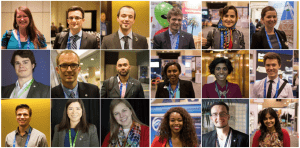 Work with the UN
Voice of the Next Generation of Space Sector Leaders
Having been created as an outcome of the United Nations environment (UNISPACE III), our work with the UN, particularly the United Nations Committee on the Peaceful Uses of Outer Space (UN COPUOS), is of central importance to our mission. SGAC works to give regular input to the work of the Committee and its delegates and to act as a conduit for the opinions of our members and the outcomes of our projects. We take part in a variety of UN Action Teams and Working Groups on space issues, as well as the UN Programme on Space Applications. No other space organisation for young adults has a Permanent Observer status with COPUOS and is as active or as engaged in the work of the UN as SGAC. In addition to having Permanent Observer status within COPUOS since 2001, SGAC also has had consultative status within the United Nations Economic and Social Council since 2003.