Space Technology for Earth Applications PG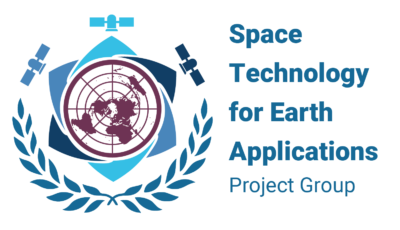 Who We Are
In 2015, the United Nations established the "Agenda 2030 for Sustainable Development" which represents the international community's commitment to solving our global challenges as a unity. Consisting of 17 Sustainable Development Goals (SDGs), the aim is to assure global economic progress in harmony with social justice and ecological sustainability.
The Space Technology for Earth Applications project group was founded in 2019 to address the intersection of space-based technologies and sustainable development by giving students and young professionals from all over the world equal access to hands-on experiences as well as a professional network. Our activities focus on a variety of societal challenges including climate change adaptation, disaster management, environmental monitoring, urban planning and pollution mapping. In collaborative project work and capacity-building efforts with local partners, we utilize the immense potential of space technology and apply innovative analysis methods such as deep learning to extract actionable information and to support non-trivial decision-making.
We warmly welcome everybody who is interested in utilizing space for the benefit of humanity to join our project group and contribute to our activities.
To learn more about our recent work, you are more than welcome to check out our article at SpaceWatch.Global.
Our Mission
The objectives of STEA are to:
Positively impact society through collaborative project work and capacity-building efforts.
Create an interdisciplinary forum for passionate students/young professionals and provide opportunities for personal and professional growth.
Contribute to and enhance academic research through publications in recognized journals.