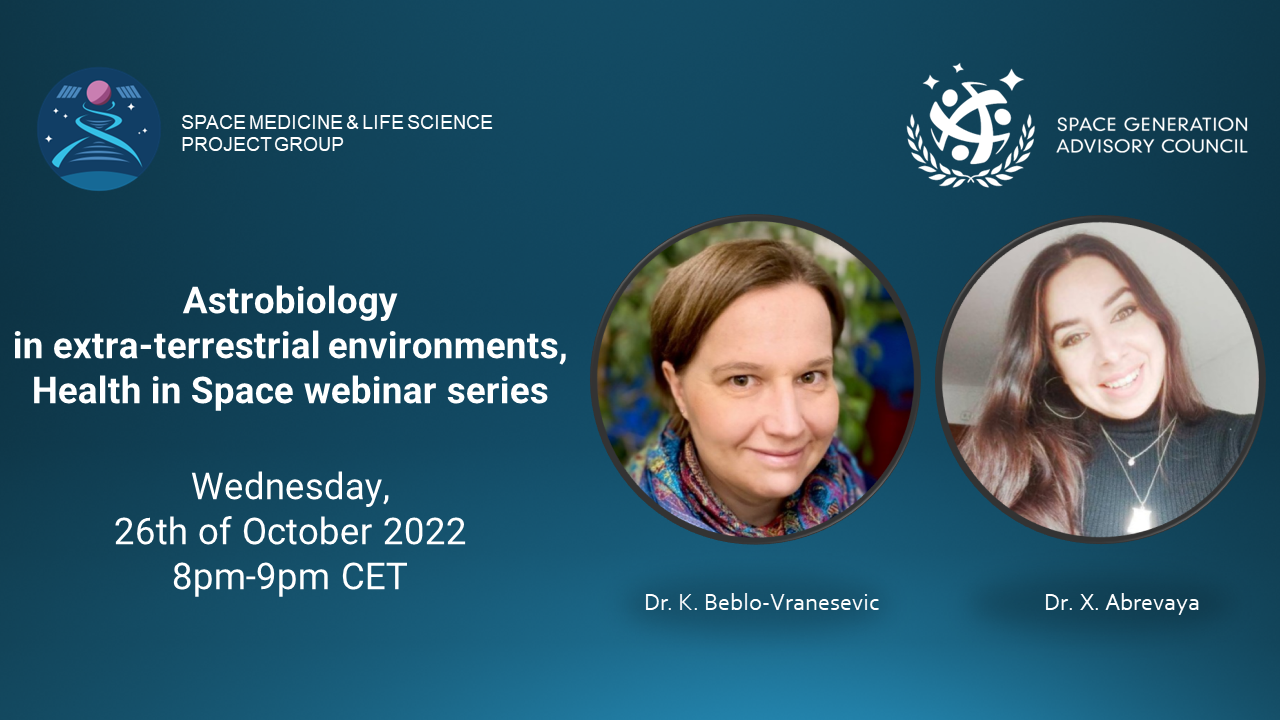 Health in Space Series: Astrobiology in extra-terrestrial environments
October 26, 2022 @ 8:00 PM

-

9:00 PM

CEST
Over the next few decades, there are plans for human space missions to the Moon and, even further, to Mars. We have invited Dr. Kristina Beblo-Vranesevic and Dr. Ximena C. Abrevaya, experts from Germany and Argentina, to inform us on their latest research findings in the field of astrobiology. What have we learned this far from the planetary mission simulations? What do we still need to learn for successful extra-terrestrial colonies in the future? How can this knowledge improve our lives here on Earth? And, of course.. How can we detect extra-terrestrial life?
The Speakers:
Dr. Kristina Beblo-Vranesevic is an astrobiologist with 15 years of experience currently conducting her research at the Institute of Aerospace Medicine, German Aerospace Centre (DLR). She holds a Ph.D. in Microbiology and Astrobiology from the University of Regensburg, Germany. Kristina's current research interests include: the microbial ecology of the EDEN-ISS Greenhouse (a mobile test facility in Antarctica) for the development and optimization of new plant cultivation techniques for future space programs; high radiation, high salt, low temperature stress responses of anaerobic microorganisms collected from Mars analogue sites on Earth; archaea, extremophiles and space exploration
Dr. Ximena C. Abrevaya is an astrobiologist, senior research scientist at Institute for Research in Astronomy and Astrophysics (IAFE CONICET-UBA) and the founding director of the Argentinian Research Unit in Astrobiology. She holds a Ph.D. degree in Biological Sciences from the University of Buenos Aires, Argentina. Her current research interests are related to stellar radiation as a constraint for habitability in planetary bodies; radioresistant microorganisms as halophilic archaea, hypersaline environments as analogues of extra-terrestrial environments, and methods for the detection of extra-terrestrial life, among other
Share This Story, Choose Your Platform!