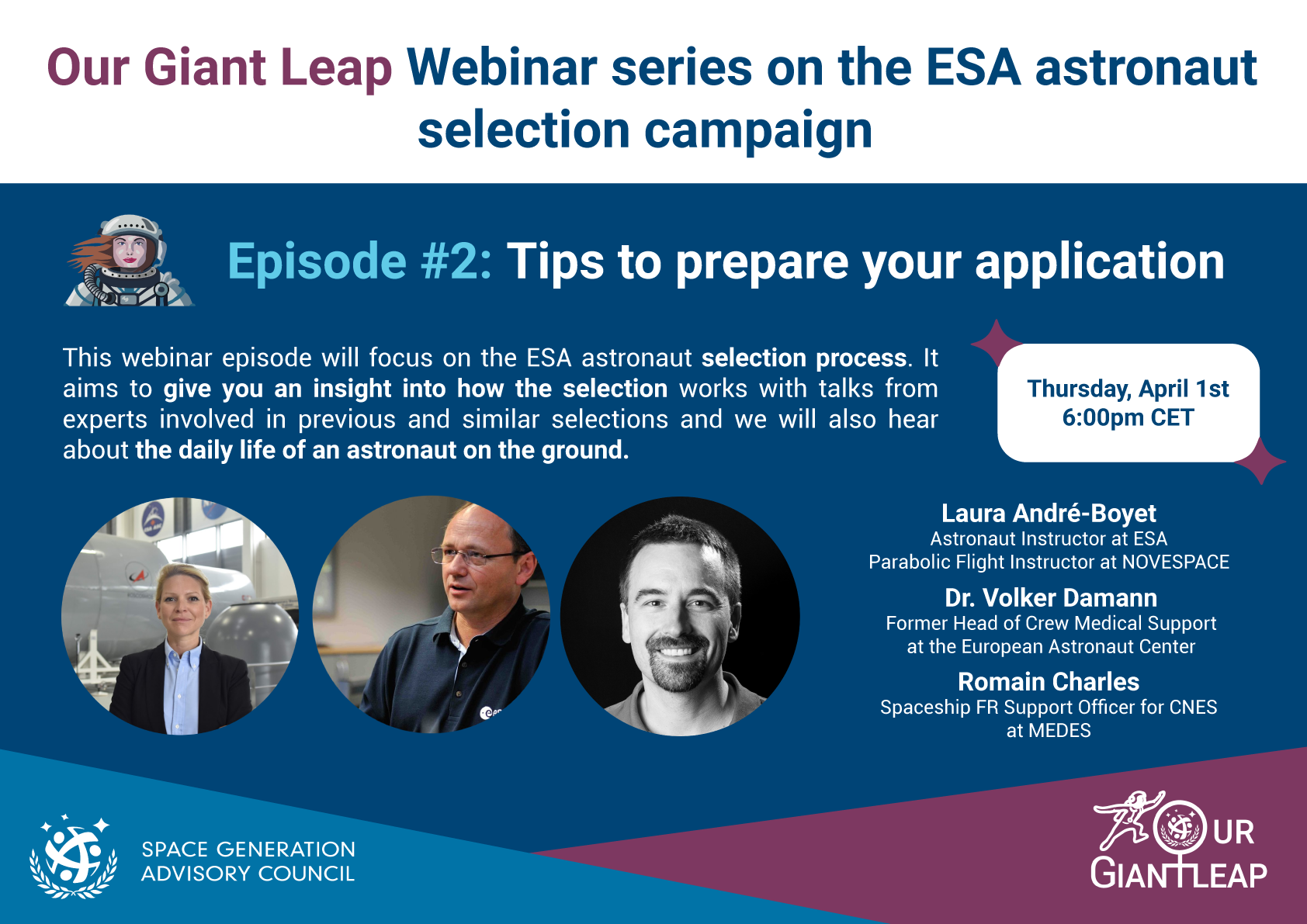 April 1, 2021 @ 6:00 PM

-

8:00 PM

CEST
The European Space Agency is recruiting its next generation of astronauts in 2021. Till date only 11% of astronauts worldwide have been women. Yet, to build a sustainable human presence in space, there is a need for more diversity in crews. ESA is highly encouraging women to apply to the upcoming selection, and at 'Our Giant Leap' we aim to encourage and support them in this process.
Through this series of webinars organised by the SGAC Our Giant Leap team, we will explain the current status of diversity in astronaut crews, and why an increase is needed. We will also support your application by sharing tips and insights from our experts. Finally, we want you to meet with applicants to the selection to learn more about their path in the process, and hopefully convince you that you might also have what it takes to be an astronaut !
This webinar will focus on the selection process. It aims to give you an insight into how the selection works with talks from experts involved in previous and similar selections and we will also hear about the daily life of an astronaut on the ground.
You can already participate in the event before it begins! Use #AskOGL to ask your questions about the webinar and to the speakers.
This event is the second episode of a series about the ESA astronaut selection. This webinar will be recorded.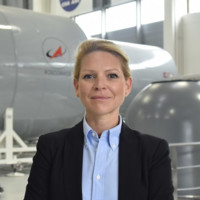 Astronaut instructor and Parabolic Flight instructor
Laura Andre‐Boyet, graduated in Physiology and Biomedical Engineering from Polytechnic School of Grenoble, in France and from Polytechnic School of Montreal, in Canada. She started to work at Medes for CNES in 2007, developing, handling and supporting in real‐time the Human physiology experiments performed on-board ISS.
In 2010, she participated in the Basic Training of the 2009 ESA Astronaut Class as an Anatomy and Physiology instructor and in the same year moved to Cologne to become an Astronaut Instructor and a Simulation Director at the European Astronaut Centre.
In 2012, Laura completed a Master in Business and Administration at the International Space University with her thesis on "Potential Medical Guidelines for commercial suborbital spaceflight participants".
In addition to her responsibilities at the EAC, she founded, in 2018, the PASI-Professional Association of Space Instructors and works as a Parabolic Flight Instructor for Novespace and Air ZeroG organisations.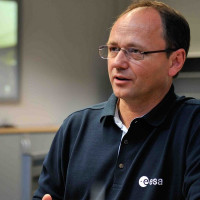 Former Head of crew medical support at European Astronaut Center –  Professor
Prof. Volker Damann has dedicated his career to Aerospace medicine. Starting in 1989 he served for 6 years as a space flight surgeon at the German Aerospace Research Center in 8 Shuttle and 2 Soyuz/MIR missions. In 1995 he became the lead flight surgeon and in 1998 the head of the crew medical support office at the European Astronaut Center of the European Space Agency (ESA) in Cologne.
In 2016 he became full professor for "Human Performance in Space" at the International Space University in Strasbourg. Volker is also a visiting lecturer at the Technical Universities in Dresden and Berlin and developed a new master program "Space Physiology and Health" with King's college, London. He is an AsMA Fellow since 2014, member of the AsMA Executive Committee and Vice President "International Services" since 2017.
Volker Damann retired from ESA in September 2020 and remains a faculty member of the ISU.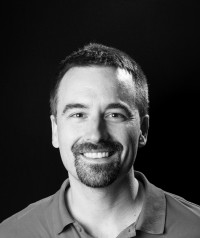 Spaceship FR – Support officer for CNES at MEDES – Institute for Space Medicine and Physiology
Romain Charles of French nationality received a Masters degree in Engineering from the French Institute of Advanced Mechanics in Clermont-Ferrand, France and worked for 6 years in the automotive industry as a quality engineer. In 2010, he was selected by the European Space Agency to become the Flight Engineer of the Mars 500 crew. This mission of 520 days simulated a journey to Mars between the 3rd of June 2010 and the 4th of November 2011.
For more than 7 years, he then worked as a crew support engineer at the European Astronaut Center in Cologne, Germany. His tasks covered the management of the European Space Food, the upload of private items for the astronauts, the organization and participation in the Launch and Landing campaigns in Kazakhstan and the organization of all the private video conferences between the astronauts' families and the ISS.
He's now helping CNES to create the "Spaceship FR" structure in Toulouse, France. The goal of the "Spaceship" network, coordinated by ESA, is to prepare the future of exploration.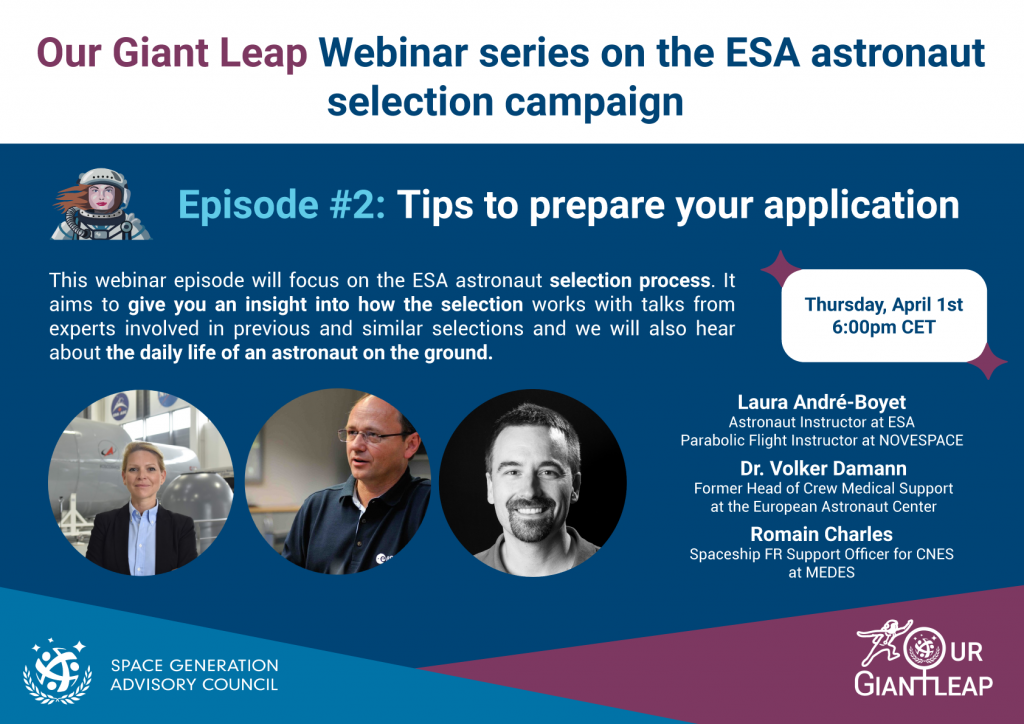 Share This Story, Choose Your Platform!