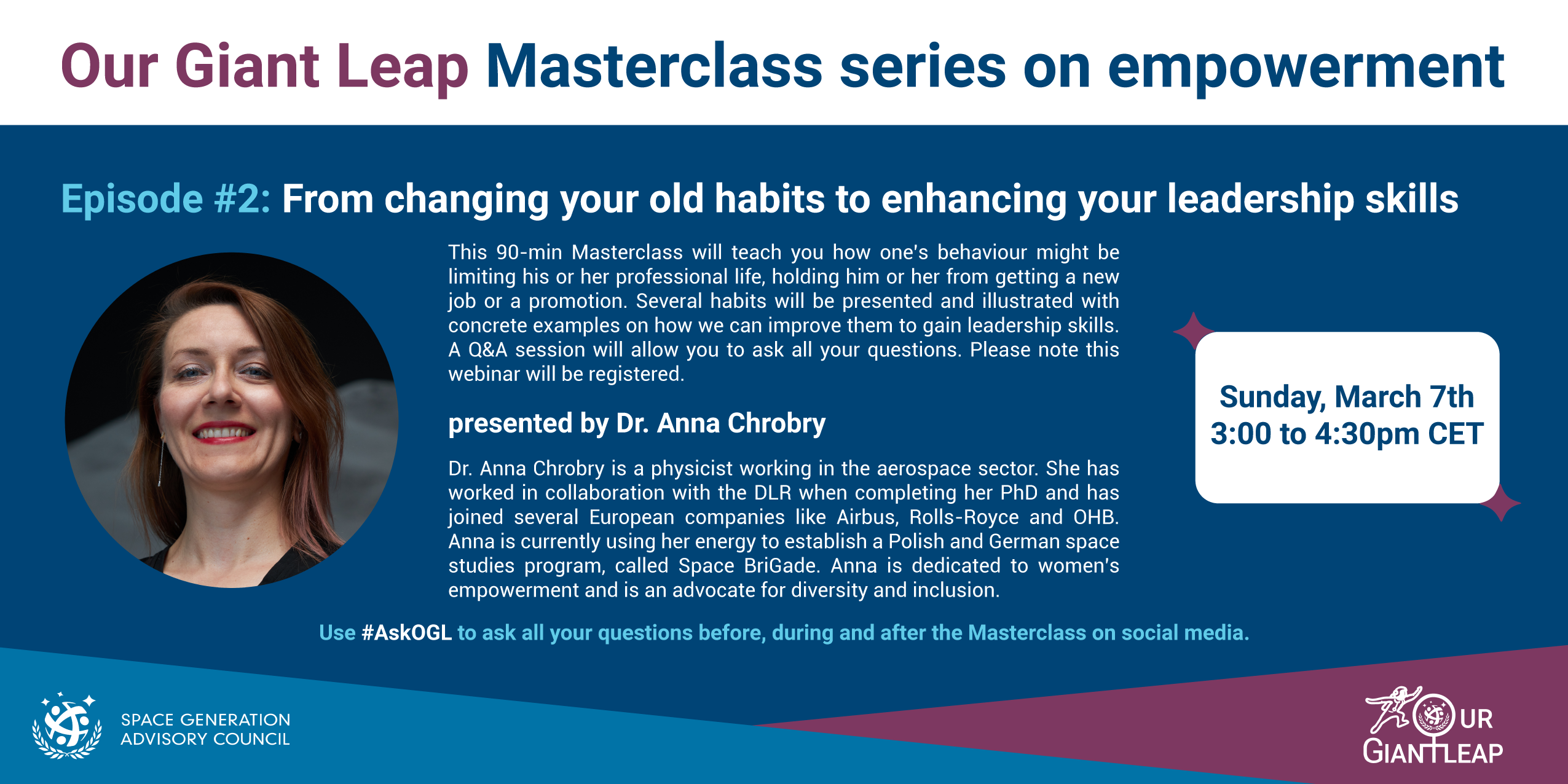 March 7, 2021 @ 3:00 PM

-

4:30 PM

CET
Presented by Dr. Anna Chrobry, part of the Our Giant Leap Masterclass Series on empowerment.
The Our Giant Leap team, initiative created as part of the Space Generation Advisory Council, is proud to introduce Dr. Anna Chrobry who will present modern leadership during a one hour and a half Masterclass.
This Masterclass will enable you to better understand how one's behaviour might be a limit in his or her professional life, holding him or her from getting a new job or a promotion. Several habits will be presented and illustrated with concrete examples on how we can improve them to gain leadership skills. A Q&A session will allow you to ask all your questions. Please note this webinar will be recorded.
You can already participate in the event before it begins! Use #AskOGL to ask your questions about the webinar and to Anna.
This event is the second episode of the series about empowerment. The impostor syndrome had been introduced in the first episode and will be made available on the SGAC YouTube channel soon. The second episode can be attended without viewing the first one.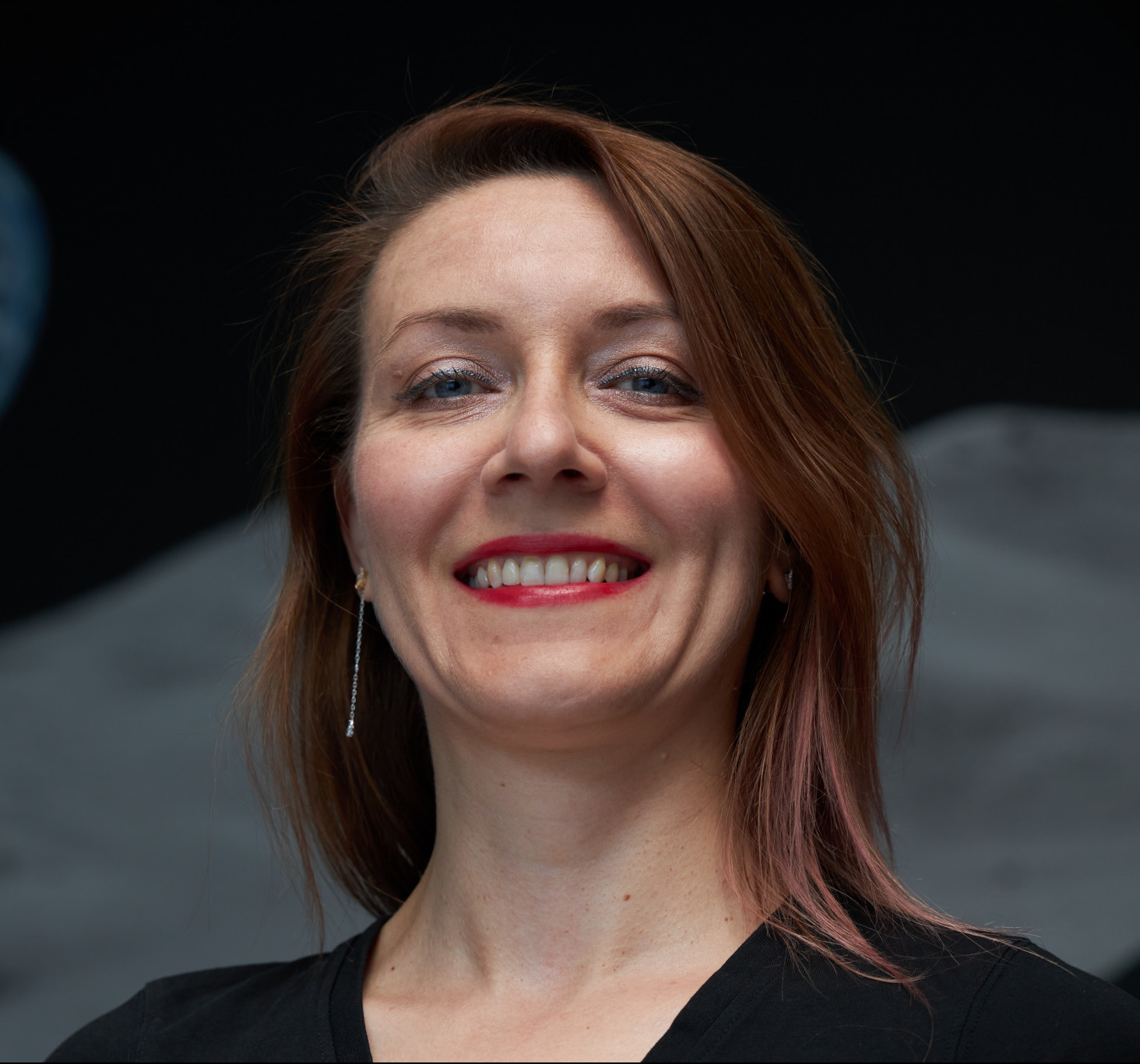 Dr. Anna Chrobry is a physicist working in the aerospace sector. She has worked in collaboration with the DLR when doing her PhD, related to understanding the impact of Humans on the atmosphere. She has joined several European companies like Airbus, Rolls-Royce, OHB. She is currently using her energy to establish a Poland and German study program with the theme of space studies Space BriGade.
Anna is dedicated to women's empowerment and is an advocate for diversity and inclusion. She is a STEM ambassador, volunteering in different organisations and projects, including Women In Aerospace.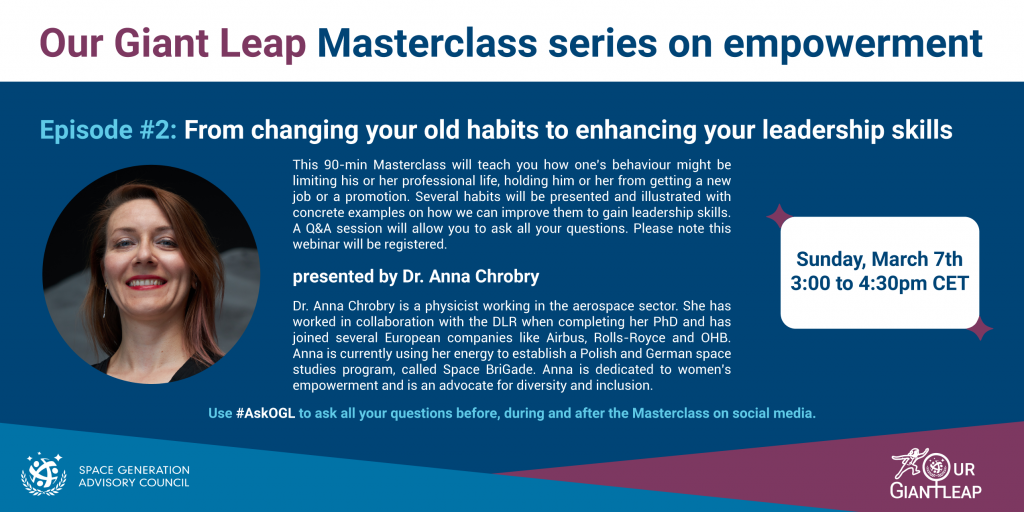 Share This Story, Choose Your Platform!