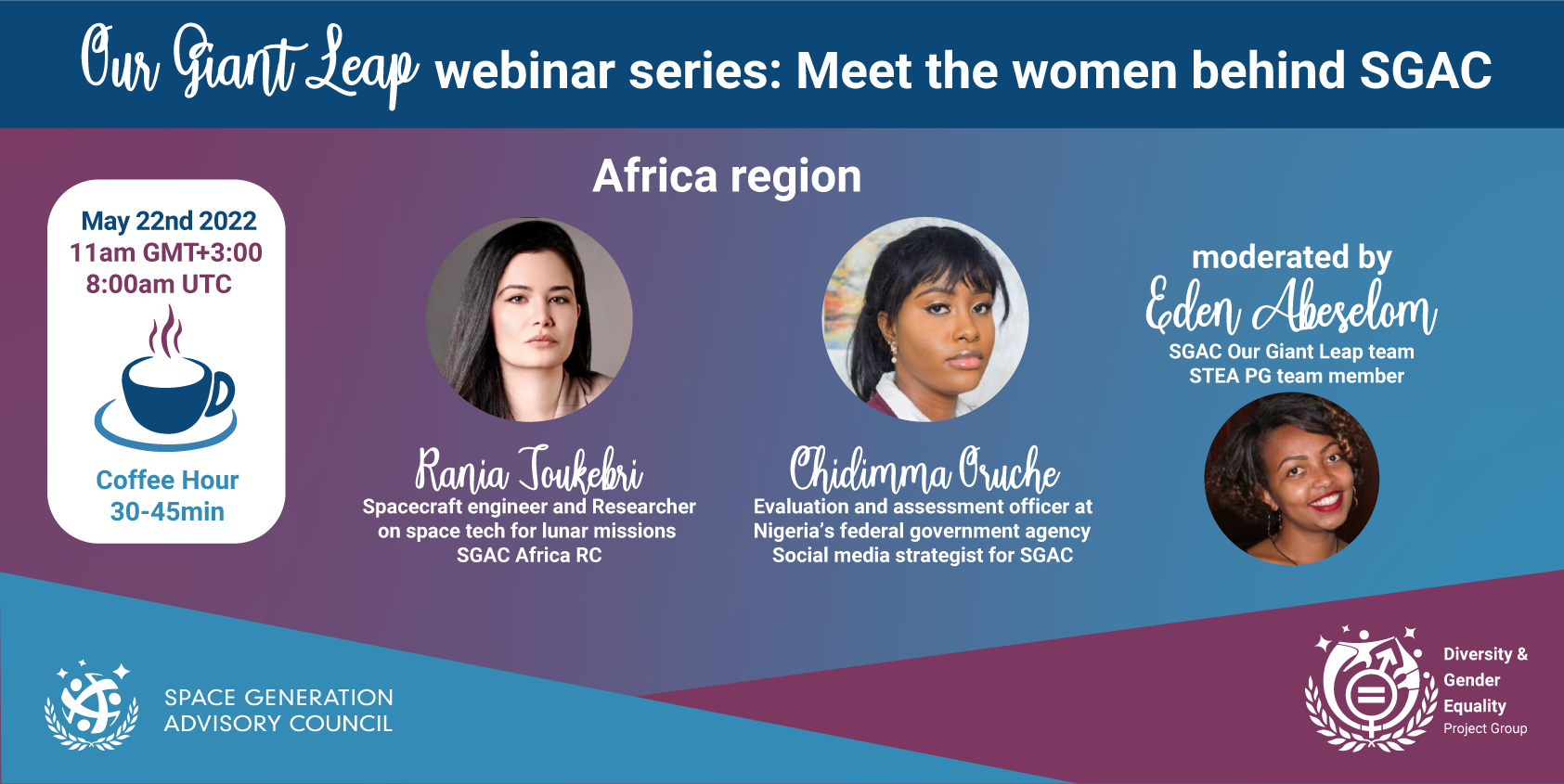 Our Giant Leap: Meet the women behind SGAC – Africa
May 22 @ 8:00 AM

-

9:30 AM

UTC+0
To commemorate Women's History Month as well as Diversity Month, the Diversity and Gender Equality Project Group from the Space Generation Advisory Council (SGAC) has come up with a series of webinars to showcase women of SGAC. For each webinar, 2-3 women from each one of the SGAC regions will speak about their background and professional experience, including their role within SGAC.
Join us during your lunch or coffee break and enjoy a nice 45 minutes of discussion with the panelists. You will be able to engage with them in the chat and ask your questions. 
This fourth episode will feature women from Africa.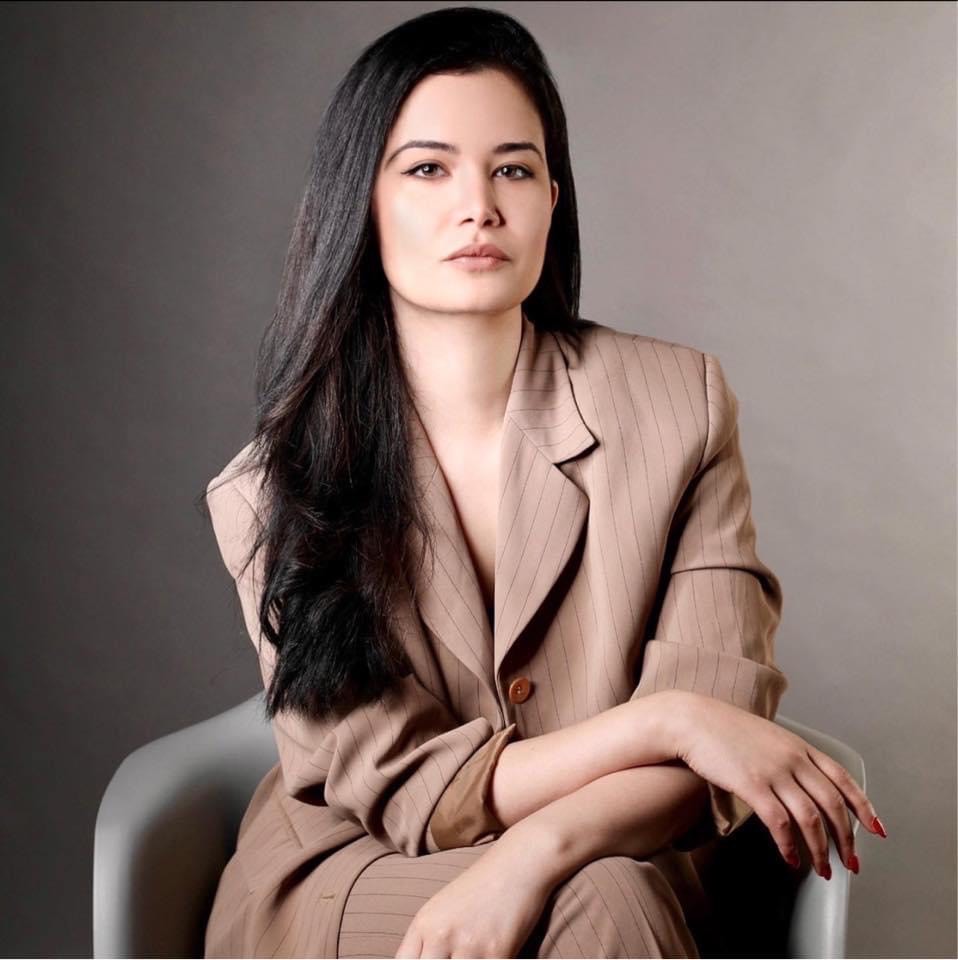 Rania is a Spacecrafts Engineer and Researcher on Space Technology for lunar missions. She is also a lecturer on Space Tech, Africa Regional Coordinator for Africa within the Space Generation Advisory Council (SGAC) and UNOOSA Space 4Women Mentor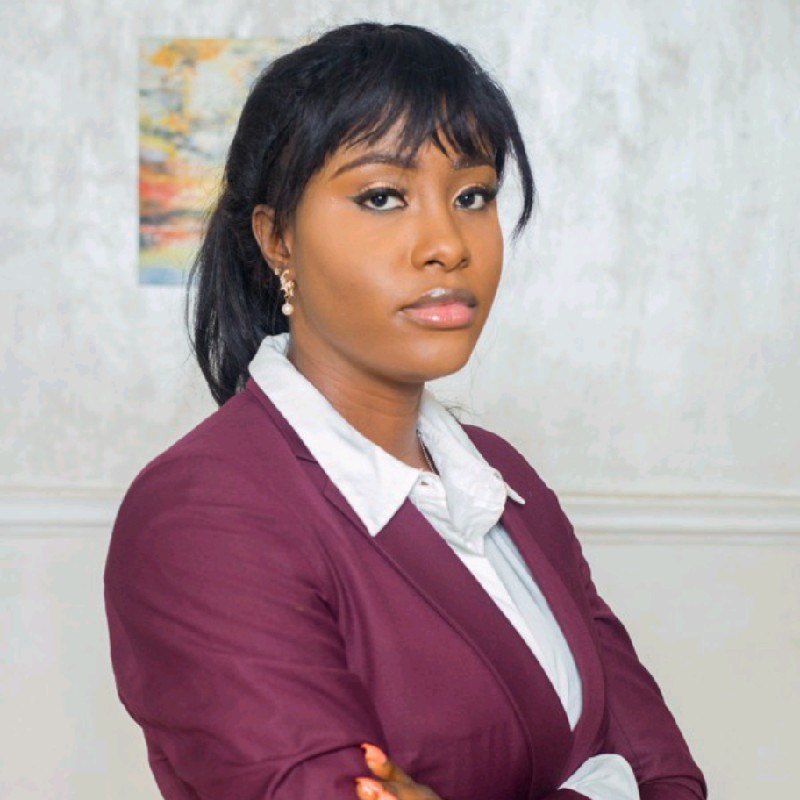 Chidimma, an alumnus of International Space University, is a Space Enthusiast who likes to use her skills as a Marketing Communication Specialist to help organisations like the Space Generation Advisory Council (SGAC) communicate effectively. As a Social Media Strategist, she helps build influence for great brand perception and strong online presence.
Her passion for space studies can be tracked to her internship days at the Strategic Space Application unit of the National Space Research and Development Agency (NASRDA), the National Space Agency of Nigeria. This has further feathered into other engagements in the space sector.
As a multi – experienced individual, Chidimma has carried out projects as a trained Environmental Engineer in oil spillage clean-up, environmental health and safety, Environmental Impact Assessment (EIA) and land reclamation. She is interested in seeing a safer world and hence engages in addressing climate change, global warming, air and water pollution and environmental sustainability and helping out with proper objects recycling and waste disposal.
Currently the evaluation and assessment officer at Nigeria's federal government agency, Chidimma enjoys the dynamic nature of space studies. Chidimma plans to fulfil her career goal of becoming a SPACE DIPLOMAT.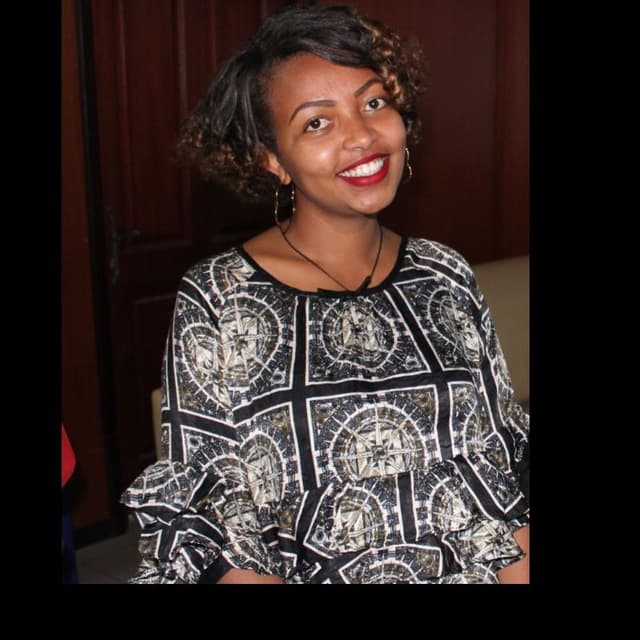 Habteslasie, Eden Abeselom is a graduating student with a Bachelor of Electrical and Computer Engineering with industrial control stream (Honor) at the Debre Berhan University, Ethiopia. She is an Assistant Researcher in the Department of Aerospace Engineering Research and Development Directorate at the Ethiopian Space Science and Technology Institute. She's a coordinator at the Ethio Space Kids Club (ESKC) program and a program coordinator in the Women in Space and Engineering (WiSE) project. She's received recognition certificates for training Ethio Space Kids Club (ESKC) members and for her contribution to the first-ever Ethiopian Remote Sensing Satellite.
Share This Story, Choose Your Platform!