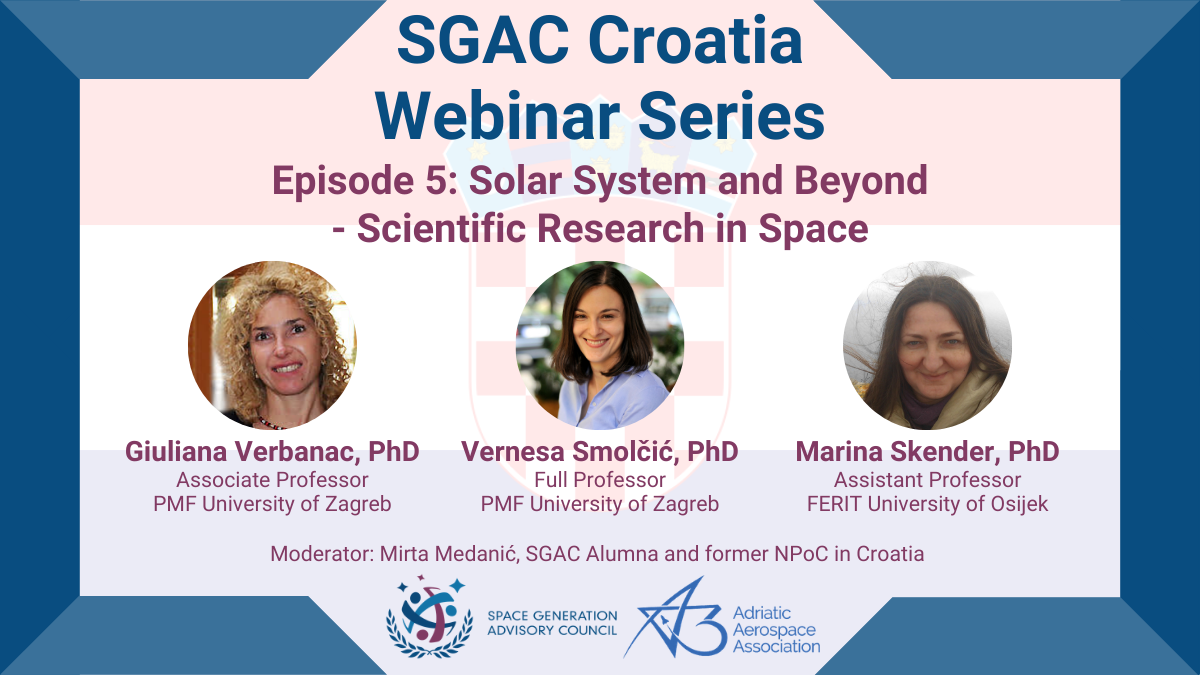 SGAC Croatia Webinar Series #5
April 15, 2021 @ 6:00 PM

-

7:00 PM

CEST
The SGAC Croatia Webinar Series aims to inspire and motivate university students and young professionals in Croatia and abroad to grow a career in the space industry.
Inspired by the motivational stories from talented SGAC members from all around the world, the SGAC team in Croatia aims to bring the same excitement about space and self-development in Croatia and the region.
A series of 8 webinars will host local experts in various fields such as space science and engineering, space policy, space business and others, and give them a floor to share their projects, ideas, and experiences with the community.
Everyone is welcome to attend and will be able to interact with lecturers at the end of each webinar session.
The first four episodes in the series were held during February and March:
Are you curious and interested to learn more about our solar system, the Sun, space environment and the galaxies? If the answer is yes – this webinar is for you!
The fifth episode of the SGAC Croatia Webinar Series will cover the topic of space science including scientific research of the Sun, photosphere, and solar wind. Terms like solar activity, planetary magnetic field and space weather will be introduced. We will also talk about the overview and evolution of distant galaxies and how we can observe them with satellite technology. The guest speakers are three distinguished Croatian scientists, who will make an introduction to the respective fields of space science and present the overview of the current scientific missions, with the gaze to the future of deep space exploration.
Join us together with our speakers:
Marina Skender, PhD Astrophysics, Assistant Professor, Faculty of Electrical Engineering, Computer Science, and Information Technology (FERIT), University of Osijek, Croatia
Giuliana Verbanac, PhD Physics, Associate Professor, Faculty of Science (PMF), University of Zagreb, Croatia
Vernesa Smolčić, PhD Astronomy, Full Professor, Department of Physics, Faculty of Science (PMF), University of Zagreb, Croatia
Webinar host and moderator:
Mirta Medanić, SGAC Alumna and former National Point of Contact in Croatia
This webinar is hosted in partnership with Adriatic Aerospace Association, A3.
Notice: This webinar will be held in Croatian.
Confirmed Speakers for this Webinar: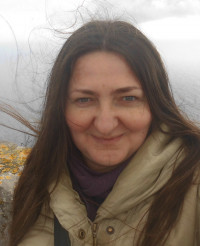 Marina Skender is an assistant professor with a PhD in astrophysics obtained at the Ruđer Bošković Institute in Croatia. She is currently working at the Faculty of Electrical Engineering, Computer Science, and Information Technology (FERIT) in Osijek. As a postdoc she spent about ten years researching at some world-renowned scientific institutions like Leibniz Institute for Astrophysics Potsdam, Institute for Astronomy in Honolulu, KU Leuven Centre for Mathematical Plasma-Astrophysics, Queen Mary University of London and INAF – Observatory of Capodimonte in Italy.
Marina is very active in education and outreach of young generations of future scientists and engineers, which makes her a perfect speaker for this episode of SGAC Croatia Webinar Series.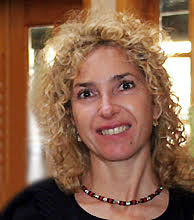 Giuliana Verbanac is an associate professor at the Faculty of Science, University of Zagreb. She obtained the master's degree in atomic and molecular physics and astrophysics and a PhD in physics, a branch of geophysics.
As winner of American and European scholarships, she has developed and gained scientific skills at varied institutions and universities. She has been a visiting scientist at the Department of Astronomy, University of Berkeley and Lawrence Livermore National Laboratory in California, Geophysical Institute in Trieste, Potsdam Geophysical Institute in Germany, and Belgian Institute for Space Aeronomy in Brussels. Her fields of research are interdisciplinary, embracing space physics, with the major focus on the Sun-Earth interactive system, magnetospheric physics, and planetary magnetism.
Giuliana is actively involved in the popularization of science. She has given a series of popular science lectures and has published popular papers.
Giuliana holds the position of a national point of contact of the Europlanet Space Society.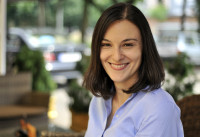 Vernesa Smolčić is a full professor at the Physics Department, Faculty of Science University of Zagreb. Her main area of research is astrophysics, and in particular observational, big data studies of galaxies, and their evolution in time, from early epochs of the universe until today. She held one of the most competitive European research grants (the European Research Council Starting grant), that allowed her to build an international team of researchers at the University of Zagreb (2014-2019). She is a member of the scientific steering committees of the international research projects COSMOS and XXL, and one of the three leaders of the COSMOS team, she is the head of the graduate studies module 'Astrophysics' at University of Zagreb and the Physics Council for Doctoral Studies at the Faculty of Science University of Zagreb.
Having returned to Croatia in 2013, she spent almost a decade developing her career abroad, in Germany, the USA, and Australia.
Profile photo taken by Bruno Konjević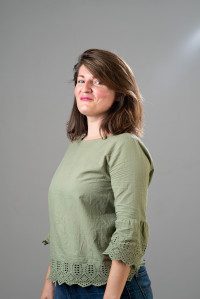 Mirta Medanić is a program manager at Amphinicy Technologies, a satellite software company from Zagreb and Luxembourg. At Amphinicy, she manages several EU-funded projects. One of them is Blink, a software solution for ultra-fast acquisition and processing of Earth observation data, granted by the Horizon 2020 program for innovative SMEs in the Space sector.
She holds a master's degree in Telecommunications and Computing from the Faculty of Electrical Engineering and Computing, the University in Zagreb (FER). She completed the Space Studies Program 2019 at the International Space University in Strasbourg and calls herself a Space Optimist.
Mirta is an SGAC Alumna and a former SGAC National Point of Contact in Croatia. She promotes space science and education among the young community in the country. Mirta is passionate about working with people and travelling.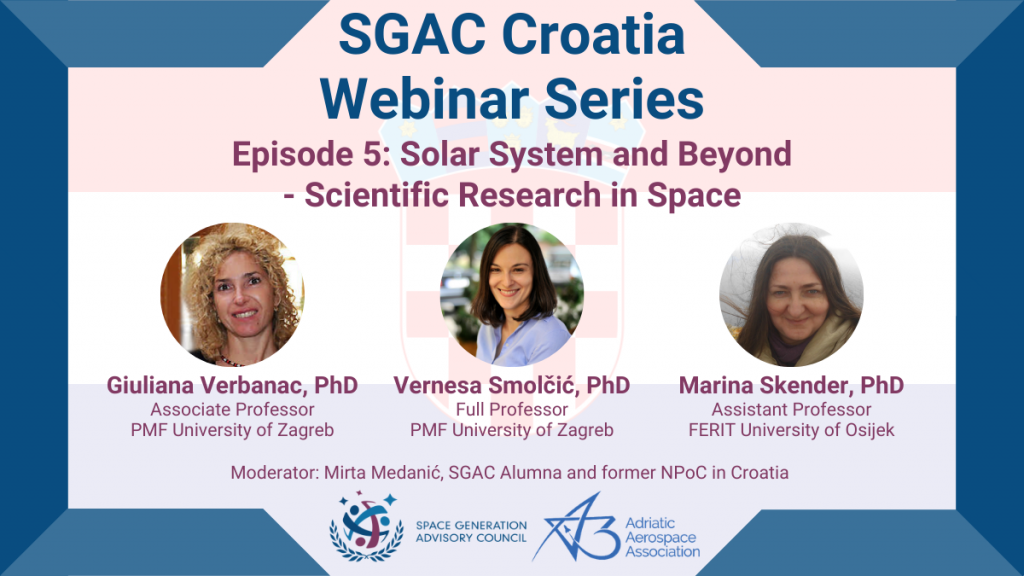 Share This Story, Choose Your Platform!