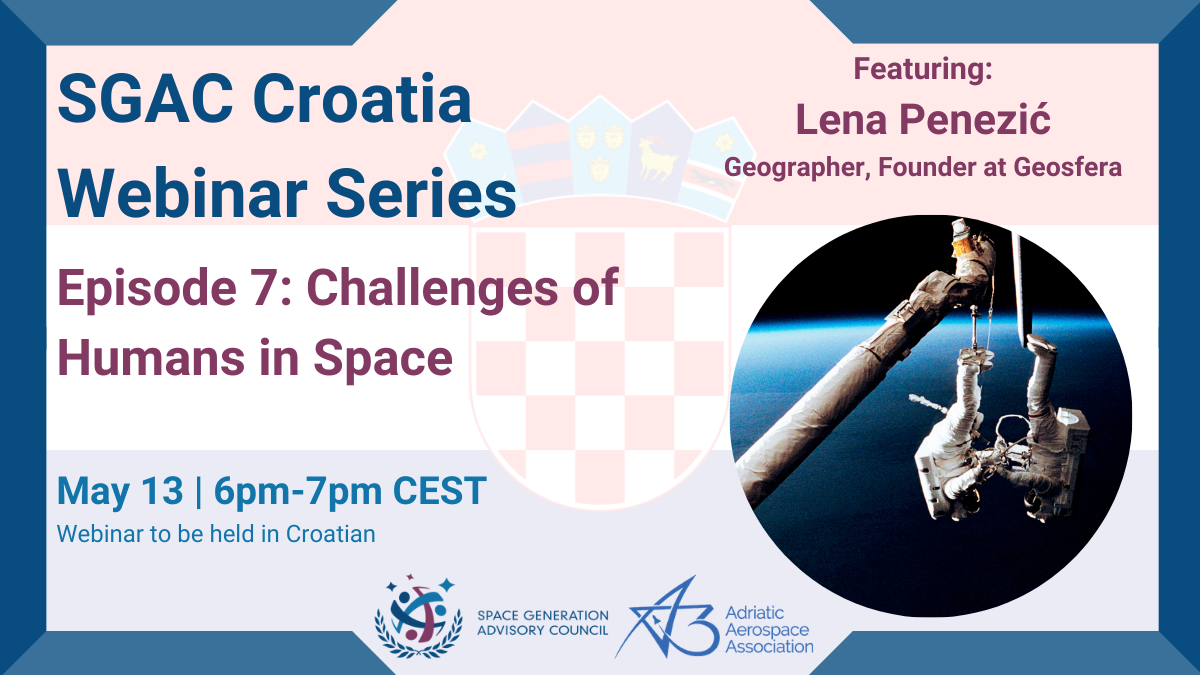 SGAC Croatia Webinar Series #7
May 13, 2021 @ 6:00 PM

-

7:00 PM

CEST
The SGAC Croatia Webinar Series aims to inspire and motivate university students and young professionals in Croatia and abroad to grow a career in the space industry.
Inspired by the motivational stories from talented SGAC members from all around the world, the SGAC team in Croatia aims to bring the same excitement about space and self-development in Croatia and the region.
A series of 8 webinars will host local experts in various fields such as space science and engineering, space policy, space business and others, and give them a floor to share their projects, ideas, and experiences with the community.
Everyone is welcome to attend and will be able to interact with lecturers at the end of each webinar session.
The seventh webinar with the title "Challenges of Humans in Space" will cover key challenges that humans face when planning a mission in space such as healthy nutrition, functional habitats, lack of light, agoraphobia, claustrophobia, zero gravity, radiation and long periods under stress.
Meet the speakers:
Antonia Cvrk, BSc. Nutrition Sciences Vice President at PROBION, a Students'​ Association of Faculty of Food Technology and Biotechnology, who will present: "Nutrition and Food for Space"
Alma Kugić, MSc Textile Design, Student at the Vienna University of Technology and Co-author of Origo+, an in-situ printed and robotically assembled Mars habitat, with the presentation: "Introduction to Space Architecture"
Dalibor Paar, PhD, Assistant Professor at the Department of Physics, Faculty of Science, University of Zagreb, who will speak about: "Speleology and Space Expeditions"
Lena Penezić, MSc Geography, Founder at Geosfera, with the presentation: "From Aquanauts to Astronauts"
Moderator:
Lena Penezić, SGAC Croatia Member
Webinar Host:
Mirta Medanić, SGAC Alumna and former National Point of Contact in Croatia
This webinar is hosted in partnership with Adriatic Aerospace Association, A3.
Notice: This webinar will be held in Croatian.
Have a closer peek at our recent webinars :
1st  Webinar: "SGAC, the Space Industry for Young Professionals", was held on 11th February 2021. The recording is available here: https://youtu.be/OowrJfK7lUw.
2nd  Webinar: "UN COPUOS and UNOOSA – Space and International Cooperation", was held on 25th February 2021. The recording could be found here: https://youtu.be/aiFin12T37s
3rd  Webinar:  "Space is (not) Hard – Space Systems and Engineering", was held on 11th March 2021.
Please visit: https://youtu.be/3_rwBx1QsCg.
4th Webinar: "From Sputnik to Starlink – Space and Entrepreneurship", was held on 25th March 2021. The recording is available here:
https://youtu.be/S-qix1p2opc.
5th Webinar : "Solar System and Beyond – Scientific Research in Space", was held on 15th April 2021, with the recording on YouTube channel: https://youtu.be/L2EWU2CMPdk.
6th Webinar:  "Space Applications in Everyday Life – Satellite Data and Systems" will be held April 29th, 2021. The recording:
https://youtu.be/c8B5jn-f8Og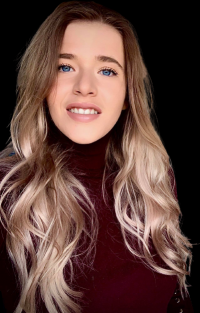 Antonia Cvrk is a graduate student of Nutrition at the Faculty of Food Technology and Biotechnology, University of Zagreb. She is a member of the Association of Students of the Faculty of Food Technology and Biotechnology PROBION, currently holding the position of Vice President of the Association. Although she is "only a student", she has a number of projects implemented within the Association such as "I cook for my heart", "Dietary-pharmacological approach", Symposium "Nutrition and Health" and many others, and is also one of the initiators of the PROBIONline platform which enables the Association to organize numerous domestic and international webinars during the pandemic. The importance of proper nutrition and education, both for fellow students and the general population, brought her to the position of "Junior Conference Anchor" within ENDietS (European Network of Dietetic Students.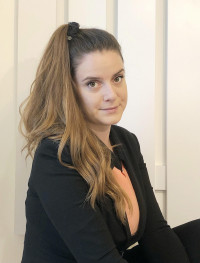 Alma Kugić was born in Pula on November 1, 1989. She graduated in fashion design at the TTF (2015) in Zagreb and decided to study architecture at the Technical University of Vienna. During both studies she was active in the field of design and art and worked in numerous theatres in Austria and Germany. She had several art exhibitions in the Pula area, and since 2015 she has been a member of the Croatian Design Society.
Her study of architecture took her to a completely new and insufficiently researched branch of design – space architecture. Alma has recently become a member of Adriatic Aerospace Association, A3. She plans to continue her research into space and the role of architecture in this fascinating field.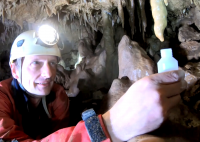 Dr.sc. Dalibor Paar, Assistant Professor at the Department of Physics, Faculty of Science, University of Zagreb, holds a PhD in solid state physics – superconducting microwave spectroscopy, and specializes in NMR and NQR research on solid materials. A more recent area of his research is multidisciplinary scientific research in karst with an emphasis on physical processes in caves and pits as complex systems. He participated in a series of speleological research with special emphasis on deep caves and pits as natural windows into the Earth's interior through which it is possible to study physical, geological, hydrological, chemical and other properties and processes. Dalibor is the initiator of projects in the field of popularization of science and early scientific (STEAM) education.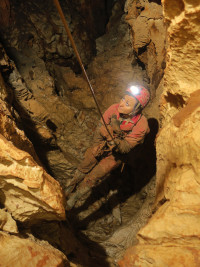 As a geographer, Lena Penezić is a passionate diver and caver, who finds her inspiration in nature. She is active in numerous associations in which she participates in underground and underwater research. Through the webinar she will bring us closer to the weightlessness of the experience of divers. Lena is the owner of Geosfera, through which she develops her knowledge and skills in the application of GIS, drones and environmental research. She is currently working in "Priroda", a public institution for the management of protected nature areas in the Primorje-Gorski Kotar County.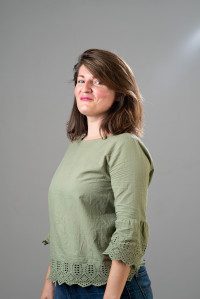 Mirta Medanić is a program manager at Amphinicy Technologies, a satellite software company from Zagreb and Luxembourg. At Amphinicy, she manages several EU-funded projects. One of them is Blink, a software solution for ultra-fast acquisition and processing of Earth observation data, granted by the Horizon 2020 program for innovative SMEs in the Space sector. She holds a master's degree in Telecommunications and Computing from the Faculty of Electrical Engineering and Computing, the University in Zagreb (FER). She completed the Space Studies Program 2019 at the International Space University in Strasbourg and calls herself a Space Optimist. Mirta is an SGAC Alumna and a former SGAC National Point of Contact in Croatia. She promotes space science and education among the young community in the country. Mirta is passionate about working with people and travelling.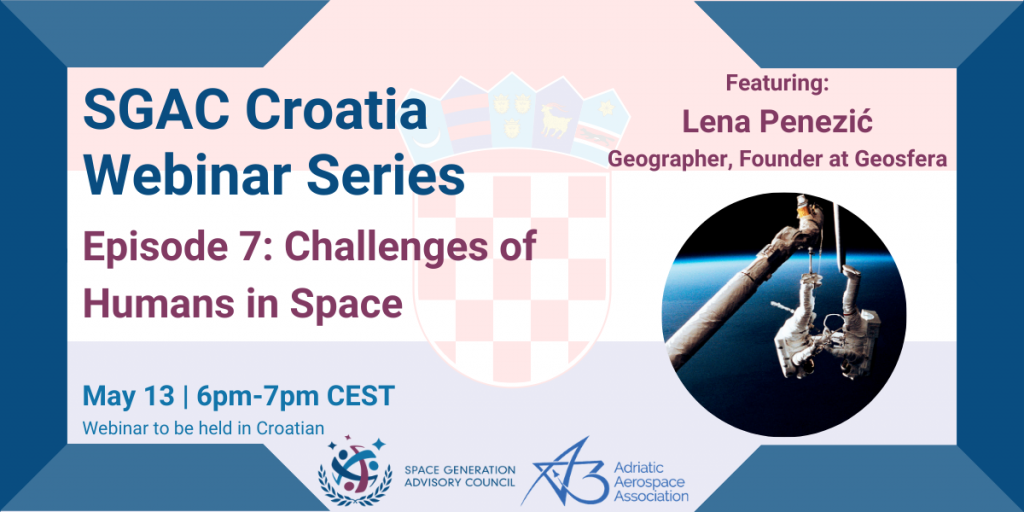 Share This Story, Choose Your Platform!