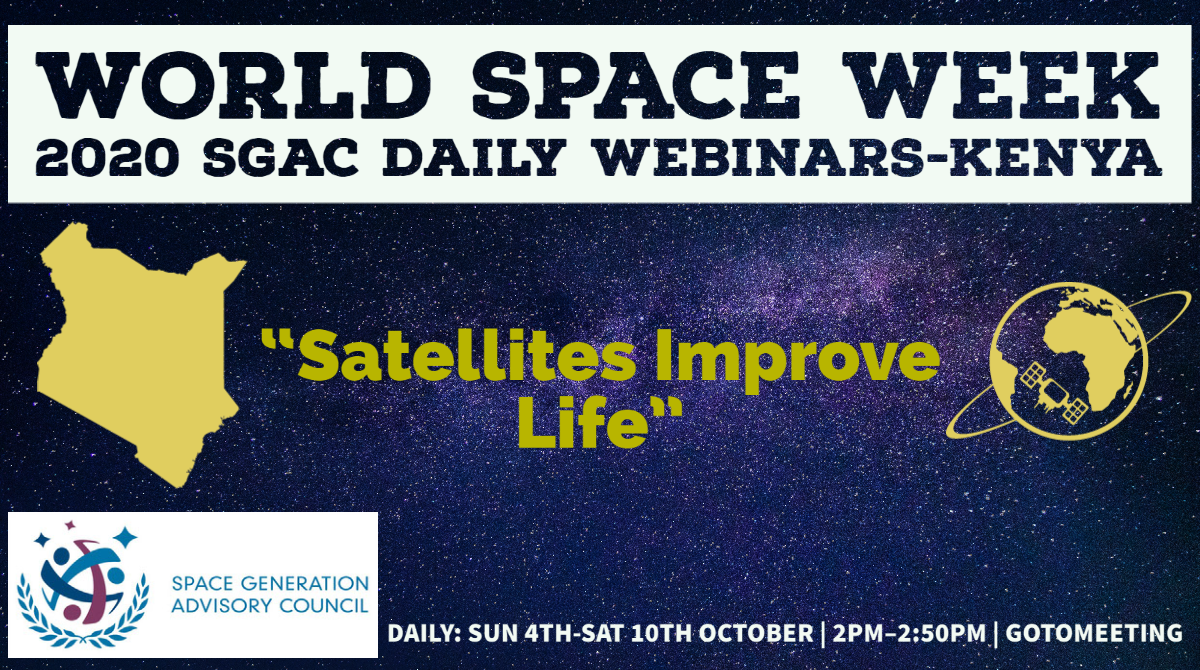 SGAC Kenya World Space Week 2020 Webinar Series
October 4, 2020 @ 2:00 PM

-

October 10, 2020 @ 2:50 PM

EAT
KENYA WORLD SPACE WEEK 2020 WEBINAR SERIES
About World Space Week (WSW)
The largest space event on Earth, UN-declared World Space Week is celebrated October 4-10 annually. World Space Week consists of a myriad of space-related activities held by space agencies, aerospace industry, schools, planetaria, museums, and astronomy clubs in a common time frame to achieve greater student and public impact through synchronization.
Objective of the Webinar Series
SGAC Kenya WSW 2020 Daily Webinars
SGAC Kenya plans to run a 50 minute daily webinar for the entire World Space Week, aligning with the global theme, "Satellites Improve Life". The specific aims include:
Provide an opportunity to university students and young professionals to get to know about SGAC.
Bring in the space industry players, enthusiasts and professionals to know about each other's work and network.
Assess the atmosphere of Kenya's geospatial industry by identifying gaps and opportunities, and draw lessons from best practices.
Expected Outcomes
E1. 'Break the ice' and demystify the complexity of the space and geospatial industry
E2. Strengthen the Kenya space and geospatial industry.
E3. Expose students and young professionals including women to news, events and opportunities in the Kenyan space arena and beyond.
Date and Time
Date: 4th – 10th October 2020
Time: 11:00am to 11:50am GMT Daily