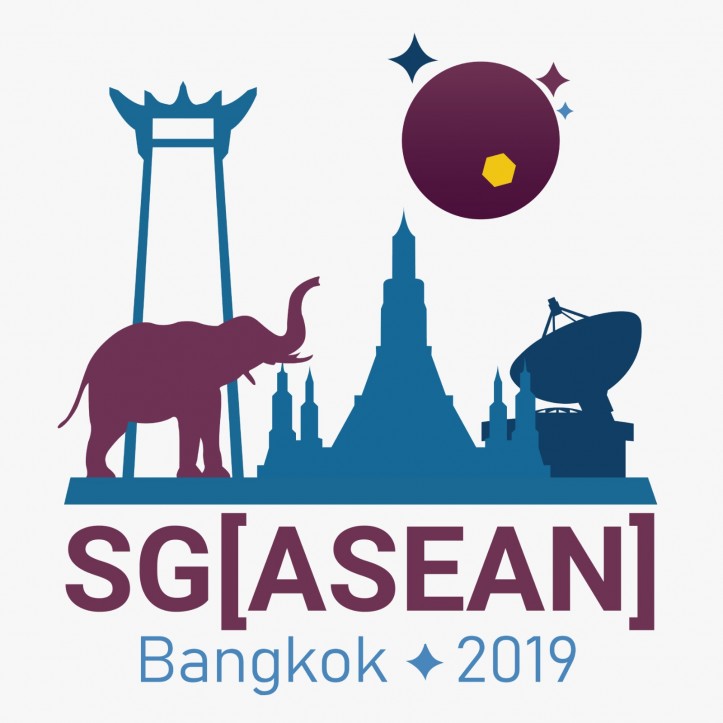 SG[ASEAN] 2019
August 23, 2019

-

August 25, 2019
Building on the success of the first SG[ASEAN] event which took place last year in Singapore, the SG[ASEAN] is a two-day workshop focused on enhancing the understanding of students and young professionals in space in Thailand.
Happening on 23-25 August 2019, the event would witness at least 40 delegates (aged 18-35 years) and guests from space agencies, embassy space attaches, and space industry representatives. SG[ASEAN] features panel discussions, keynote speeches, and intensive working group discussions on the following topics: (1) Capacity-building for the ASEAN space sector (special focus on Thailand) (2) Space for society, (3) Space policy, transparency and safe practices, and (4) Space collaboration among ASEAN countries.
The event also highlights its side event, a speed mentoring session, happening on 23 August 2019 to allow the delegates to engage with today's space industry leaders.
This event is supported by the Geo-Informatics and Space Technology Development Agency and the U.S. Department of State.
External space-related events that will take place in the area include the U.S. Thai 2nd Civil Space Dialogue (21-23 Aug) and the Multi-GNSS Asia Conference (26-28 Aug).
More details to come.
Tentative Programme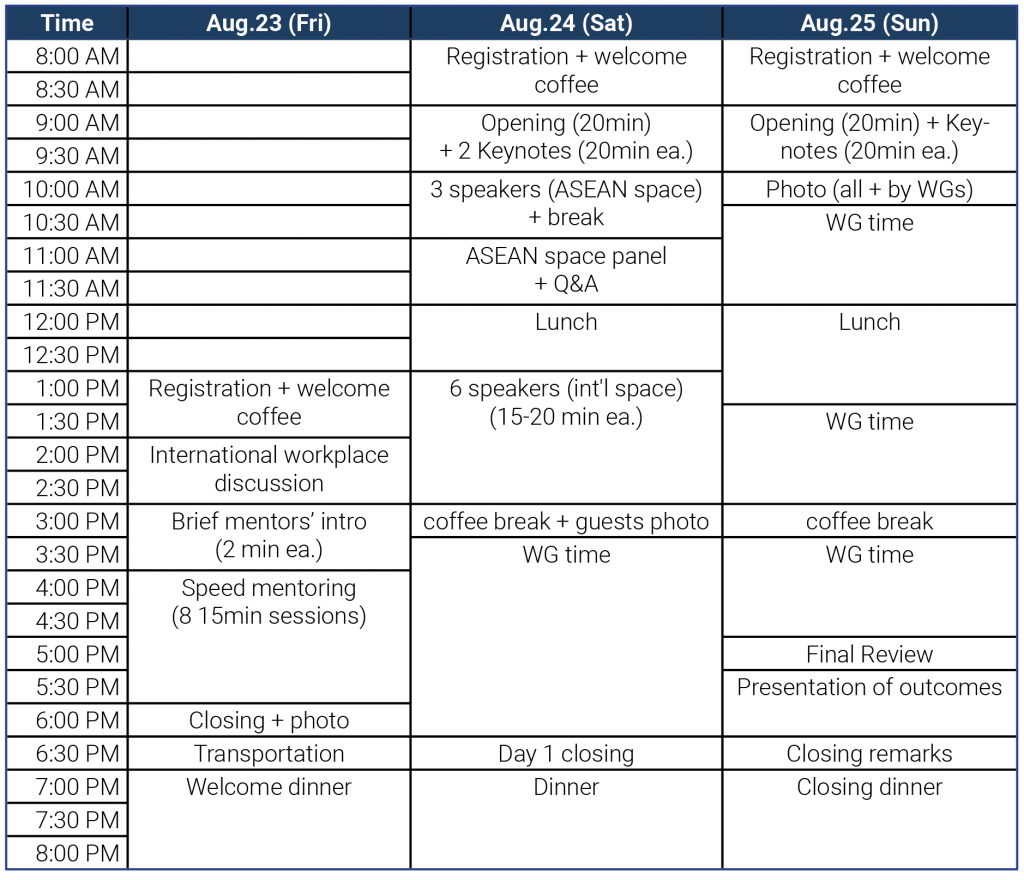 *Programme subject to changes
The event is free of charge!
*The application is tentatively open on a rolling basis for applicants who are based out of Bangkok or can prove that they can be in Bangkok for the duration of the event.
Your ticket includes 2 lunches, 2 coffee breaks, and 1 dinner.
Note: You must be logged in to access the registration page. Please log in or create an account.
Working Groups
Capacity-building for the ASEAN space sector (special focus on Thailand);
Space for Society
Space Policy, Transparency, and Safe Practices
Space Collaboration among ASEAN Countries
Want to apply as Moderator? You have time until June 18  July 1, 2019. Moderator applicants must fill out this short moderator application in addition to the normal delegate application:
SG[ASEAN] and the SGAC
Following the successes of previous SGAC SG[country] events and the Asia-Pacific Space Generation Workshop series, the SG[ASEAN] aims to continue empowering the next generation of youth involved and interested in space, and become a platform for regional collaboration. Asia-Pacific being the largest region for space growth, there is a need to continue building a community of practice in the region to capitalize upon opportunities. Space activities have been growing in Asia-Pacific with Thailand being an emerging regional leader in space technology. This upcoming event would provide a platform for the students and young professionals to directly engage with today's industry leaders and exchange ideas on salient issues in the regional and Thai space industry.
SG[ASEAN] Goals
To strengthen the network of the students and young professionals in the ASEAN region;
To allow tomorrow's leaders to have the opportunity to interact with today's space leaders and professionals in the region through the cooperation; and
To enhance the understanding of the space sector for young professionals in Thailand and relevant partner countries, with the goal of providing 4 concrete set of recommendations to be delivered to the relevant stakeholders.
Organizing Team
If you have any questions about the event, please feel free to contact the Event Managers or Local Organizing Team Lead for support.
Share This Story, Choose Your Platform!