In times of COVID-19, SGAC doesn't stop. Make sure to check our running webinars and online events.
You can read the SGAC Chairs' Letter on the status of our activities.
If you want to organize a webinar, don't hesitate to reach out to [email protected] for further information and support.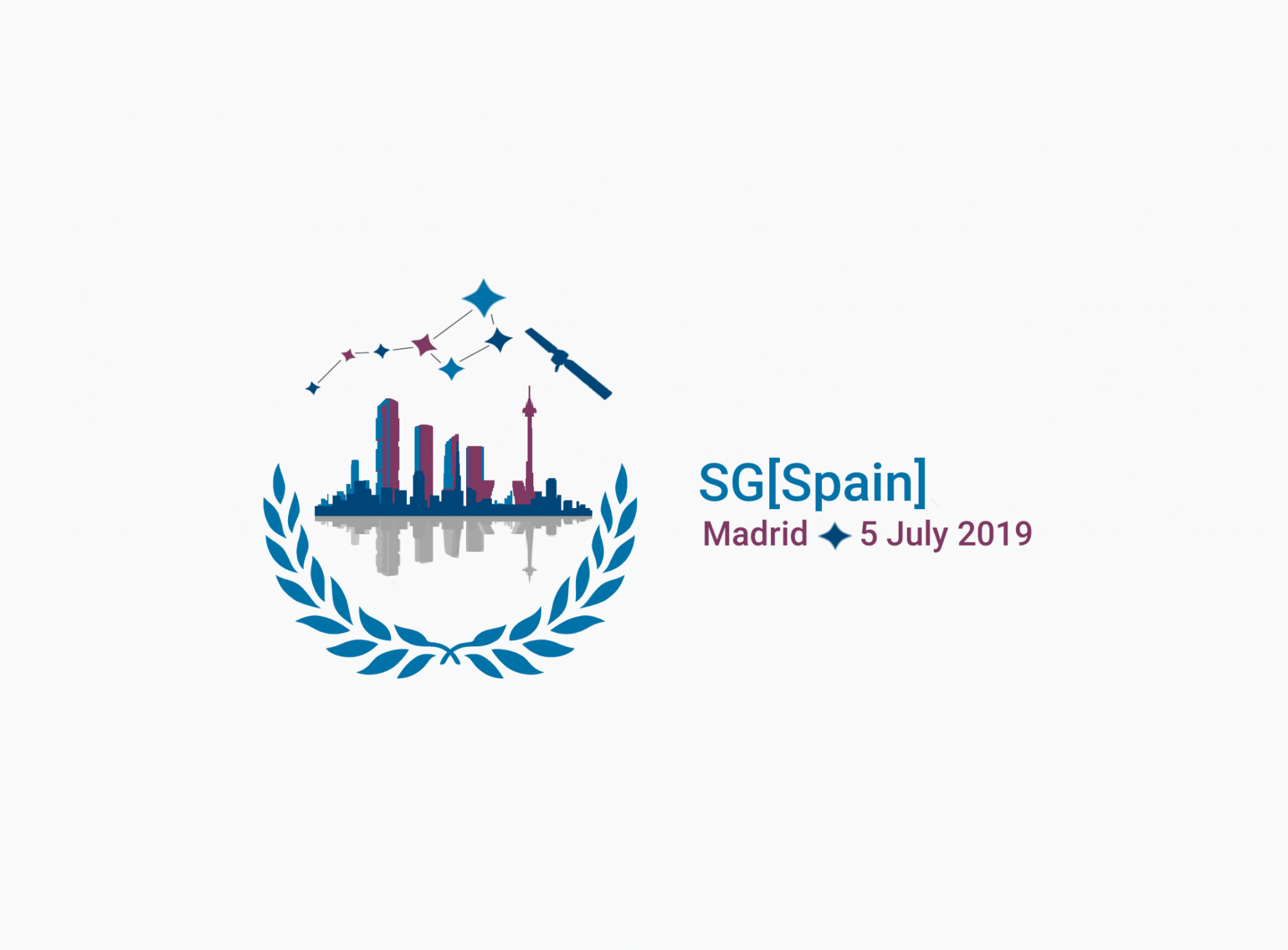 SG[Spain] 2019
July 5, 2019 @ 8:30 AM

-

6:00 PM

UTC+0
Following ESA's Intermediate Ministerial Meeting, held in October 2018 at ESA's European Space Astronomy Centre near Madrid, Spain is preparing to host the next ESA Council meetings at both, ministerial and ordinary levels, called "Space19+" on 26-27-28 November 2019 in Seville. "Space19+" will bring together all ESA Member States and will be a milestone for the European space agenda as it will allow ESA's Director General to submit the future ESA space programmes roadmap and to agree on EU financial contribution.
The presidency of the Community of Ariane Cities (CVA) will be held by the Seville City Council in 2019, with the collaboration of the Space Forum of the City of Seville. Additionally, if the forecasts are met, 2019 will be the year in which Spain will host the first commercial launch of The European Suborbital Rocket, the Microlauncher designed and manufactured in Spain.
In this very special year for the space sector in Spain, the Space Generation Advisory Council (SGAC) is organizing its first SG[Spain] local event.
This inaugural one-day event will be held in Madrid on July 5th. The event is intended for university students and young professionals (aged 18-35 years) and guest speakers from the space industry, space agencies, space non-governmental organizations and research laboratories. The purpose of the event is to gather together people who are passionate about space coming from different backgrounds to enhance interdisciplinary professional network and exchange of ideas regarding the future of the space field.
The event will be held in Spanish
Selected participants will contribute to boosting the impact of space in our society and to incentivising the Spanish footprint in space-related activities. Major focus will be placed on understanding International Space Policies, ESA's Space19+ and the new era of global space exploration with new challenges as the Moon-Gateway and in-orbit services development.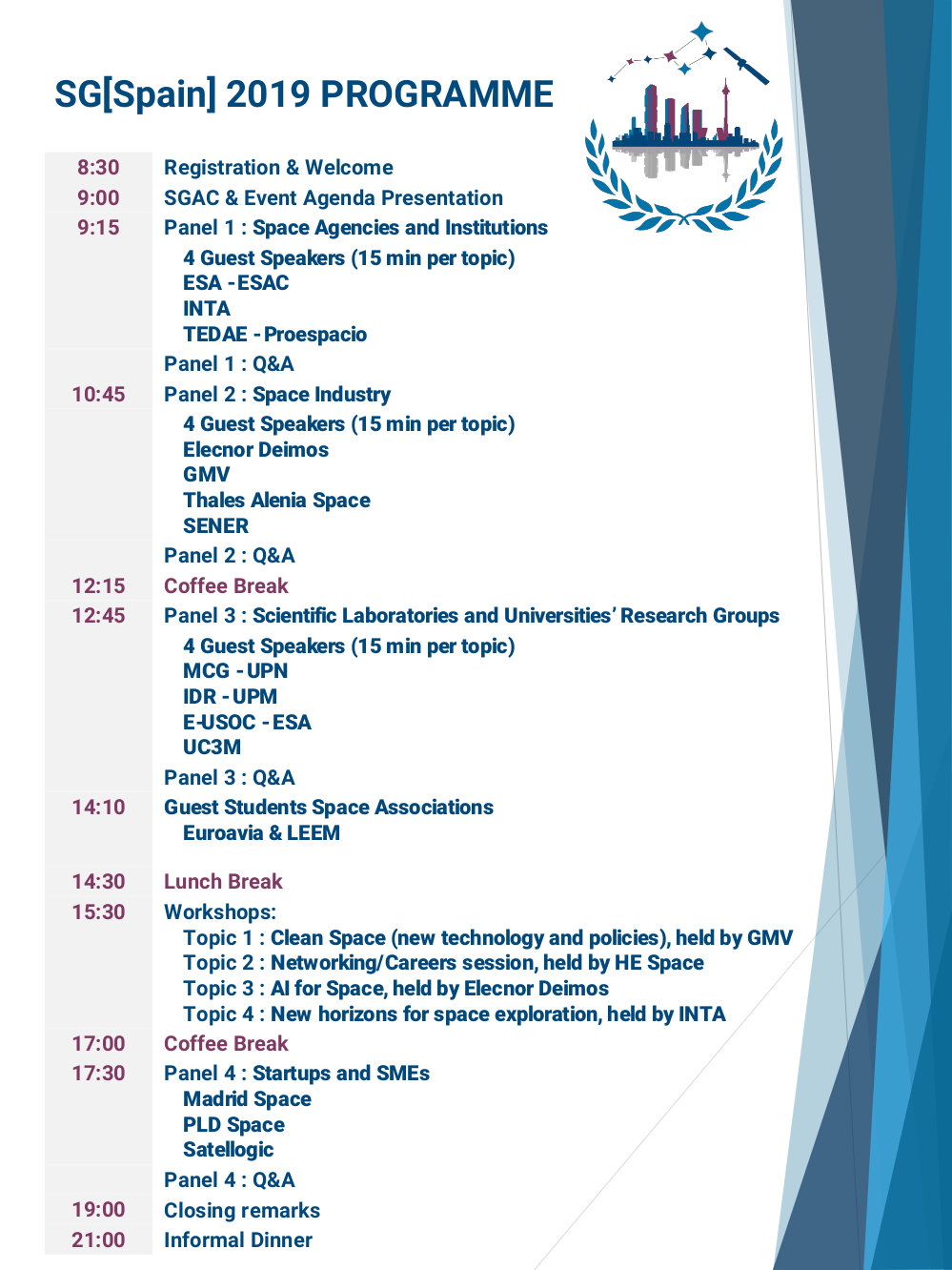 https://spacegeneration.org/event/sgspain-2019
SGAC is looking for energetic and motivated volunteers to join the SG[Spain] organising team and help to organise the 1st SGAC event in Spain in 5th July 2019! Do take into consideration that the event will be held mainly in Spanish. Make sure to check the roles below and to contact us if you are interested:
Social media team : help the organising team to share the event on social media and let other people to be informed of the most important moments and top discussions during the day.
Photography team : help the organising team to capture the event's most special moments and to share it with all events participants and help them to promote newcomers events.
Visit logistic team: help the organising team to get the most out of the event and to organise additional space related inspirational visits to different institutions or observatories.
Event logistic team: help the organising team to coordinate all the different tasks during the events and give support for activities such a attendees registration, auditorium sound and light control, attendees support providing, etc.
Want to help? Contact us! Emails are at the bottom of the page!
Venue & Logistics
Escuela Técnica Superior de Ingeniería Aeronáutica y del Espacio,
Universidad Politécnica de Madrid,
Pza. del Cardenal Cisneros, 3
[email protected]
Registration for SG[Spain]
The registration process will open up on May 15th 2019. The Organising Team anticipates participation of up to 50 delegates. Delegates selection will be based on the registration form adequacy taking into account criteria such as motivation, delegate contribution to space activities,background and gender equality.
Registration is closed.
The registration is free of charge and it covers the assistance to speakers' lectures and round tables.
The event also highlights its side event EUCASS 2019, the 8th European Conference for Aeronautics and Space Sciences, happening on July 1st-5th 2019, in Madrid, Spain. /p>
Stay up-to-date with event-related news by joining us on Facebook using #SGSPAIN2019.
SGAC MEDIA RELEASE – https://spacegeneration.org/media-policy 
SGAC PRIVACY POLICY – https://spacegeneration.org/privacy-policy
LIABILITY – The SGAC and/or SG[Spain] Organisers shall not be held liable for personal accidents, losses or damage to the private property of SG[Spain] delegates.
INSURANCE – The SGAC and/or SG[Spain] Organisers cannot accept liability for personal injuries sustained, or for loss or damage of property belonging to the SG[Spain] delegates (or their accompanying persons), either during, or as a result of SG[Spain]. Delegates and their accompanying guests are strongly advised to purchase adequate travel insurance for the duration of their travel, the SG[Spain] and connected activities.
Sponsors