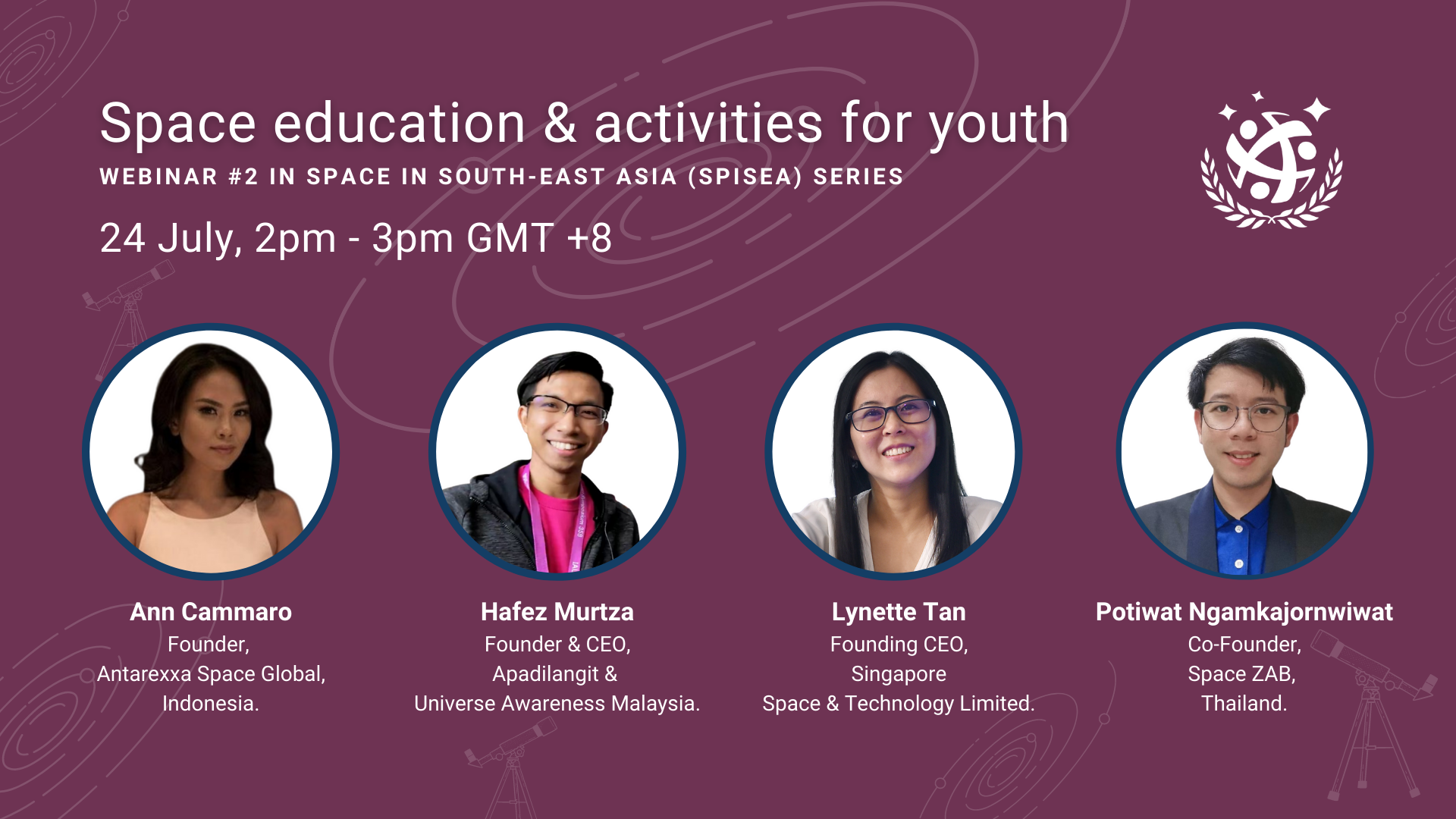 Space in South-East Asia (SpiSEA) Webinar Series #2
July 24, 2021 @ 2:00 PM

-

3:00 PM

SMT
SpiSEA Webinar 2: Space Education and Activities for Youths
The second in a series of virtual discussions, this webinar will discuss space education and opportunities for youth in Southeast Asia as well as the ongoing outreach activities to develop interest for space. The session will feature a panel discussion involving space education leaders from Indonesia, Malaysia, Singapore and Thailand, followed by a Q&A session from the floor. Full speakers' list and biographies can be found below.
Register below to save your seat in this upcoming discussion. See you there!
Space in South-East Asia (SpiSEA) Series
SpiSEA is a series of webinars to educate and raise awareness on space, space-based services and the benefits that they bring to humankind. 
Space assets and their applications significantly impact society by contributing to global GDP and covers around 40% of the SDG targets. They are indispensable for gathering data on the majority of Essential Climate Variables (ECVs) and are critical to managing disasters at all levels. Innovation drives new downstream applications and services across a wide range of sectors. Yet, billions of people still do not have access to these benefits.
This webinar aims to propel discussions towards bridging the space divide – to build up knowledge, opportunities, and access to space and its services, particularly across the Asia Pacific region. 
Don't forget to keep a lookout on this page in the coming months for upcoming episodes in this webinar series:
21 August – Space Opportunities & Careers in South-East Asia

25 September – World Space Week Special: Gender Diversity in Space and Space Science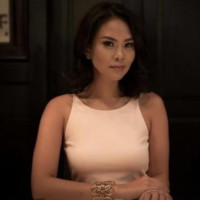 Ms. Ann Cammaro is the Founder of Antarexxa Space Global, a New Space start-up based in Bali, Indonesia focusing on increasing public interest and awareness in the space industry by connecting space enthusiasts, educators and industry professionals globally.
She hopes to inspire the Artemis Generation from emerging countries in succeeding the Space Leadership, as a multicultural perspective and international cooperation is needed for a successful and prosperous global space economy.
Ann is also active as a Senior Business Development for Biteback Biotechnology Pte. Ltd., an insect biorefinery start-up company based in Singapore that is converting agro-industrial waste into a healthier drop-in replacement for palm oil, biofuels, and other functional ingredients such as alternative protein for future space food.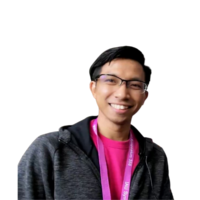 Mr. Muhammad Hafez Ahmat Murtza is the Founder & CEO of Apadilangit and Universe Awareness Malaysia. Apadilangit (translated as What's in the sky) is a space science education programme which he founded back in 2016  in Malaysia, meanwhile Universe Awareness Malaysia is another educational program focusing on astronomy, which he founded in collaboration with Leiden University and UNESCO. He is actively involved in space education and outreach programmes in Malaysia and also in the international astronomy community as part of the International Astronomical Union (IAU).
Apart from that, he also holds several key portfolios such as the President of Malaysia Space Initiative (MiSI), National Coordinator for Astronomer without Borders (AWB) and Board Director of SpaceIN, a satellite building company in Malaysia.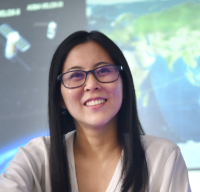 Ms. Lynette Tan is the founding CEO of the Singapore Space & Technology Limited, which also serves as the trade federation for the Singapore space community. She develops and leads the various programmes of SSTL, including providing business match-making, accelerator programmes, technical training for the industry. Lynette also oversees the mentoring of start-ups and adopting new technologies into the sector, for example AI, machine learning for space.
Another key mission of SSTL, which Lynette is extremely passionate about, is to promote the interest in Science, Technology, Engineering and Mathematics, to grow talents for the space industry.
Dr. Potiwat Ngamkajornwiwat is the co-founder of Space ZAB, a company that focuses on space education and research in Thailand. At Space ZAB, he leads Space*Lab, a virtual lab and a learning platform for middle-income countries. This online space education experience is an effort to reduce barriers to access space information and technology among the countries.
He also has served as the Junior Science Talent Project (JSTP) at the National Science And Technology Development Agency (NSTDA) in Thailand. He brings with him his design expertise, combining art, science and technology at each camp to inspire the children. In addition, he holds a PhD in Robotics and Automation and was a postdoctoral fellow at Nanjing University of Aeronautics and Astronautics, China (2019-2021).
Space in South-East Asia (SpiSEA) Team
SpiSEA is brought to you by SGAC's National Point of Contacts for Malaysia and Singapore, and the Regional Communications Manager for Asia-Pacific. Please feel free to reach out to us if you have any queries, or if you would like to discuss speaking opportunities at our upcoming webinar sessions:
Marco Marsh, SpiSEA Organiser & NPoC, Malaysia – [email protected]
Brelveenraj Kaur, SpiSEA Co-Organiser & NPoC, Malaysia – [email protected]
Gillian Chin, SpiSEA Local Coordinator & NPoC, Singapore – [email protected]
Faith Tng, SpiSEA Local Coordinator & NPoC, Singapore – [email protected]
Sathesh Raj, Regional Communications Manager, Asia-Pacific – [email protected]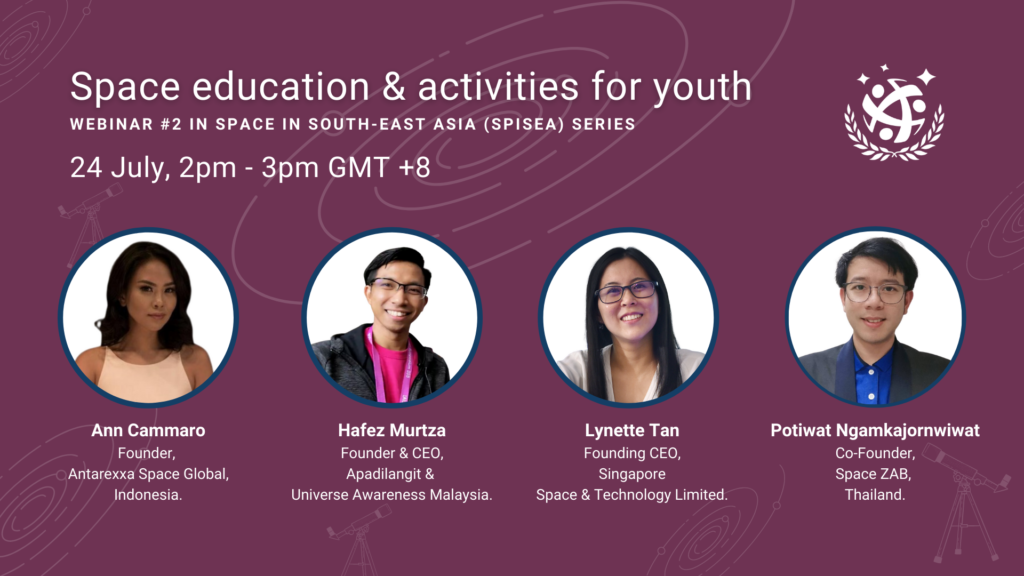 Share This Story, Choose Your Platform!