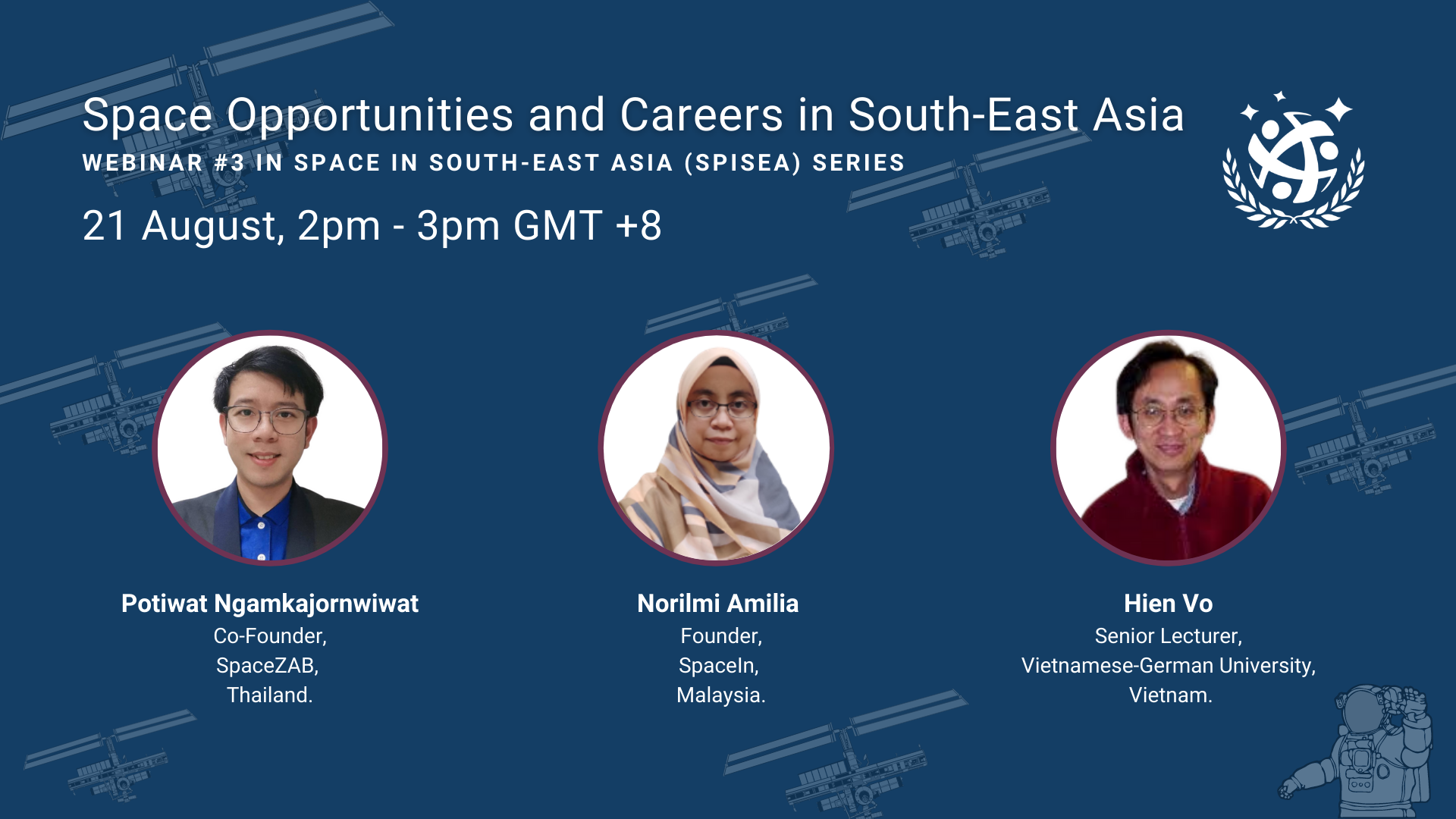 Space in South-East Asia (SpiSEA) Webinar Series #3
August 21 @ 2:00 PM

-

3:30 PM

SMT
SpiSEA Webinar 3: Space Opportunities and Careers in South-East Asia
The third in a series of virtual discussions, this webinar will discuss the opportunities and careers in the region's space sector, and discuss the challenges and paths that can be paved along the way. The session will feature a panel discussion with esteemed speakers from academia and industry. Full speakers list and biographies can be found below.
Register below to save your seat in this upcoming discussion. See you there!
Space in South-East Asia (SpiSEA) Series
SpiSEA is a series of webinars to educate and raise awareness on space, space-based services and the benefits that they bring to humankind. 
Space assets and their applications significantly impact society by contributing to global GDP and covers around 40% of the SDG targets. They are indispensable for gathering data on the majority of Essential Climate Variables (ECVs) and are critical to managing disasters at all levels. Innovation drives new downstream applications and services across a wide range of sectors. Yet, billions of people still do not have access to these benefits.
This webinar aims to propel discussions towards bridging the space divide – to build up knowledge, opportunities, and access to space and its services, particularly across the Asia Pacific region.
Don't forget to keep a lookout on this page in the coming months for upcoming episodes in this webinar series:
25 September – World Space Week Special: Gender Diversity in Space and Space Science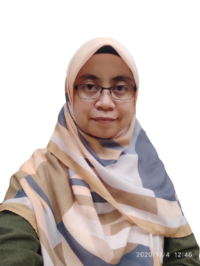 Norilmi Amilia Ismail is a dedicated academic in the School of Aerospace Engineering, Universiti Sains Malaysia (USM) and the founder of SpaceIn, a spinoff company of USM. She graduated in Aerospace Engineering from Universiti Sains Malaysia in 2004.
After two years of working in the automobile industry, her interest in Aerospace made her leave the industry and further her studies at the University of Glasgow, United Kingdom. She was awarded MSc in Space Mission Design and Analysis in 2007 and PhD in Mechanical Engineering in 2011.
She started her teaching career in USM in early 2011 and with her passion for teaching she drove the interest of the undergraduate students and public in Space. She is actively involved in the outreach program organised by the university and the local community in space education in Malaysia. 
She was one of the Emerging Space Leader Grant recipients by IAF in 2014, and in the same year, she became involved with SGAC. She was the founding President of the Malaysia Space Initiative (MiSI), an NGO which aims to connect space enthusiasts in Malaysia.
Her journey as an entrepreneur started in 2020 where she founded SpaceIn together with other four young space enthusiasts from Malaysia. Her goal is to give opportunities and show the way to the younger generation to be more involved in the space industry.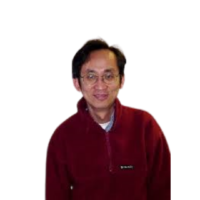 Professor Hien Vo began his space science research using the auroral imaging database from the global ultraviolet imager onboard the Swedish VIKING satellite way back in 1986 as a graduate student at the University of Calgary in Canada, where he also completed both his undergraduate studies in Physics and postgraduate studies in Space Physics.
Presently he is a senior lecturer at the Senior Lecturer at the Vietnamese German University (VGU), Binh Duong, Vietnam where apart from teaching undergraduate and graduate classes, he conducts research on internet of thing products such as mobile low cost dust sensors (in collaboration with University of Southampton, United Kingdom), and near IR spectrometer for quick diagnostics of chemical contents of food product.
He also works with the University of Paris 7 on the IGOSat cubesat (a small satellite of 4 kg mass) project, igosat.fr. where he is responsible for the attitude determination and control system. The project is near the critical design review phase by CNES – the French space agency.
Professor Hien Vo also passionately guides his students on mechatronics projects such as quadcopter, and mobile robots and under his  guidance, the students have successfully clinched awards at the national level such as the second prize of the Texas Instrument Vietnam competition in 2018, and the first prize at the Smart city hackathon of Binh Duong new city in 2018.
Dr. Potiwat Ngamkajornwiwat is the co-founder of Space ZAB, a company that focuses on space education and research in Thailand. At Space ZAB, he leads Space*Lab, a virtual lab and a learning platform for middle-income countries. This online space education experience is an effort to reduce barriers to access space information and technology among the countries.
He also has served as the Junior Science Talent Project (JSTP) at the National Science And Technology Development Agency (NSTDA) in Thailand. He brings with him his design expertise, combining art, science and technology at each camp to inspire the children. In addition, he holds a PhD in Robotics and Automation and was a postdoctoral fellow at Nanjing University of Aeronautics and Astronautics, China (2019-2021).
Space in South-East Asia (SpiSEA) Team
SpiSEA is brought to you by SGAC's National Point of Contacts for Malaysia and Singapore, and the Regional Communications Manager for Asia-Pacific. Please feel free to reach out to us if you have any queries, or if you would like to discuss speaking opportunities at our upcoming webinar sessions:
Marco Marsh, SpiSEA Organiser & NPoC, Malaysia – [email protected]
Brelveenraj Kaur, SpiSEA Co-Organiser & NPoC, Malaysia – [email protected]
Gillian Chin, SpiSEA Local Coordinator & NPoC, Singapore – [email protected]
Faith Tng, SpiSEA Local Coordinator & NPoC, Singapore – [email protected]
Sathesh Raj, Regional Communications Manager, Asia-Pacific – [email protected]