National Points of Contact
Angola
Welcome to the SGAC Angola Website! Space Kambas
Space activities in Angola started in the 70's with the installation of a 32 meters diameter antenna, but it was not until 2013 that angola started taking the first concrete steps towards becoming a space faring nation with the creation of the Angolan Space Program Management Office.
This page is dedicated to promoting Space Activities, Education and Outreach programs in Angola. We welcome every space professional, student or enthusiast to join us in what we are doing or inviting us to support your ideas and initiatives.
We aim at creating a healthy ecosystem of individuals coming together for a common cause, we hope to grow our space community and cultivate interest for space exploration and use it's benefits for the betterment of mankind, most specifically in our country to create solutions for sustainability by achieving the 17 SDGs established by the UN.
We welcome you and count on you, we offer a platform for your work to be seen, please share your articles, images, activities with us. "Space Kambas"
You will find information on events and opportunities related to space activities in Angola and what Angolans are doing abroad.
Young Space Activities Overview in the Angola
Launch of the 1st edition of a comic book "KIDs and Satellites"
Launch of the model of the first Angolan space short film to raise fundings for further development of a space education comic animation movie.
Cansat Leadership Training Program June 2018.
Launch of the 2nd edition of the comic book "KIDs and Satellites".
World Space Week October 2018.
Cansat Leadership Training Program June 2019.
World Space Week October 2019.
ANGOTI 20 18: The emergence of the first space startups in Angola
4 "Kandengues Cientistas" participate in the KIDS2MARS project from Innovaspace
Young Angolans present their solutions for planetary defense in the context of the NEO Renaissance challenge organized by SGAC's NEO PG.
Marco recruited Eldrige for NPoC of SGAC in Angola.
Upcoming Events 
SGAC

| | | | |
| --- | --- | --- | --- |
| Events Name | Event Host City | Event Date | SGAC link |
| SGAC & OpenCosmos Academy Ambassadors workshop in Angola | Luanda | TBD | TBD |
| SGAC Space Webinars in Portuguese. | Luanda | TBD | TBD |
| Launch and presentation of the Namibe Desert Analog Mission concept. | Luanda | TBD | TBD |
| Actinspace Angola | Luanda | TBD | TBD |
| Launch of the Mars Society Angolan Chapter | Luanda | TBD | TBD |
Industry

| | | | |
| --- | --- | --- | --- |
| Events Name | Event Host City | Event Date | Event webpage/event link |
| ANGOTIC -Angolan ICT Forum 2021 | Luanda | TBD | |
Visuals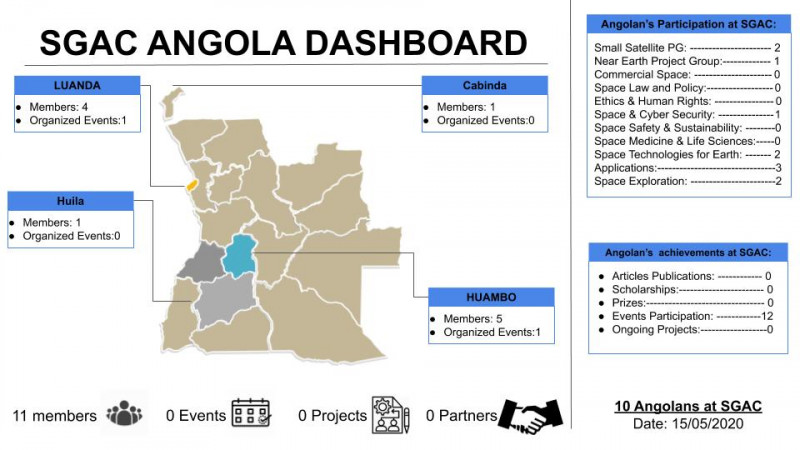 Actual Dashboard