National Points of Contact Ghana
Welcome to the SGAC Ghana page.
You have found the best place to inform yourself about space activities in Ghana. As the global community approached the end of the 20th Century and the birth of a new millennium, it has become apparent that effective space partnering is taken a stronghold in Africa especially in Ghana. Though Ghana has not experience much in space related events and does not have a major presence in the global space stage, its socio-economic advancement and sustainability depends largely on the use of space technologies, application and services. The government has thus far made significant effort to promote and establish the Ghana Space Science and Technology Centre (GSSTC) which seeks to become a centre of excellence in space science and technology to foster teaching, learning and commercial application of space science research for the economic transformation of Ghana and the Sub-region, to uncover and exploit the capabilities of space technologies to accelerate national development through education and cutting edge research. This center is to be hosted by the Ghana Atomic Energy Commission (GAEC) which would play a leading role in the establishment of the center. Young professionals, the youth and student participation in space related events has been very minimal but with gradual improvement in recent years. There appears to be a young generation of space enthusiast in Ghana, hence amongst some of our aims and objectives is to strive to educate many Ghanaians about space, its related applications and peaceful use. SGAC offers a good foundation for young professionals and students interested in this field from an increasing global community of talented professionals who share a common vision about space. Interested persons could also benefit from activities which bring together experts to discuss events and issues which influence our global world which could be useful to the Ghanaian populace. Find out more about opportunities for space related technologies in our region especially the Ghana page for youth involvement in space events with SGAC Ghana team.Do contact any of the NPoCs anytime for more information.
Do contact any of the NPoCs anytime for more information.
Young Space Activities Overview in the USA
2013 commemorates an exciting year for space activities in Ghana. Besides participating in SGAC Ghana activities, students and young professionals can meet during Yuri's night and World Space Week to share ideas, learn and work on projects related to space.
Upcoming Events/Projects/ Activities
1. SGAC Ghana in collaboration with the GSSTC plans to embark on outreach activities with exciting educative programs from April 2013 and will undertake and coordinate public lectures, TV/radio talk shows, school visits, formation of more space clubs and societies, regular workshops, seminars and competitions. 2. GSSTC plans to run postgraduate programmes in collaborations with South African Universities and other institutions within the framework of the Square Kilometre Array (SKA) projects. 3. Ghana Space Project – Conversion of a "dormant" communication satellite into a radio telescope at 'NKUNTUNSE' with support from SKA team South Africa. 4. International Astronautical Congress (IAC) to be held in Beijing, China from 23rd – 27th September, 2013 . SGAC Ghana hopes to inspire curious minds and help great awareness about space and its terrestrial benefits. We hope to improve on our membership and get more youth groups involved in the activities of SGAC.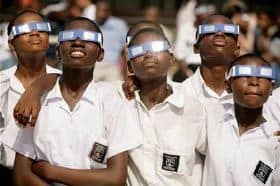 Objectives of SGAC Ghana
Encourage and engage students, young professionals and the youth to partake in space initiatives. Serve as a platform to motivate members to participate and contribute towards active space discussions and policies and expand their knowledge. Carry out outreach programs and also organise capacity building programs to promote space science to students.
Country-Specific Events in 2013
Quiz competition for Ghana Space Clubs on the topic "Astronomy and its Truths" to be held on 15th March.
SGAC Ghana in collaboration with GSSTC will organise space-based outreach campaigns for young students and the general public to recognise the importance of science and technology, engineering and maths to spark the interest and creativity among students which could be a potential career opportunity.
Yuri's night 2013 (12 April): Yuri's night is a celebration of humanity's achievement in space. It marks the launch of the first human into space, Yuri Gagarin on April 12, 1961 and the launch of the first Space Shuttle, STS-1 on April 12, 1981.
Global Youth Service Day: A forum (April) will be organized to inspire more people to join SGAC Ghana.
World Space Week (4-10 October): WSW is a global space celebration of international space science and technology achievements. More information on this event will be posted soon. We would like to hear from you on ideas concerning WSW celebrations in Ghana.
African Leadership Conference, November, 2013.Interesting Web Links for the Young Generation in the USA
Interesting Web Links for the Young Generation in Ghana
Ghana Planetarium Science project Yuri's Night World Space Week International Universe Awareness programme NASA Kids Club ESA Kids Astronomers Without Borders Cassini Scientist for a Day
Education
Most of these universities are yet to implement Space Science (Astronomy, Astrophysics, Space Technology, Engineering etc.) as part of their curricula. University of Ghana University of Cape Coast Kwame Nkrumah University of Science and Technology All Nations University University of Development Studies
Facilities and Industry
Ghana Space Science and Technology Center Ghana Atomic and Energy Commission Centre for Remote Sensing and GIS (CERSGIS) Ghana Civil Aviation Authority Council for Scientific and Industrial Research (CSIR)