National Points of Contact Libya
Welcome to SGAC Libya!
The population of Libya is much less in comparison to its area, so the big cities are away from each other with enough space for everyone to see the clear skies without the light and noise of the cities.
Whether you are in the desert, the mountains or the sea coast, anywhere in Libya, you can see the stars clearly, where you can monitor the Milky Way, meteor showers and other astronomical events. The beautiful views of the sky inspire many young people to move towards space applications but they lack opportunities, because of the lack of amateur associations and academic institutions for space in Libya.
So the Space Generation Advisory Council in Libya seeks to attract attention to this field, and the establishment of associations, astronomical institutions, and the promotion of the name of Libya in the Space world.
Young Space Activities Overview in the Libya
Astronomical events in Libya are limited to astrophotography and the monitoring of astronomical events such as eclipses and comets individually.
Libyan government's focus was on monitoring Crescents, due to the start of the Arab months and it's Crescent correlation.
Upcoming Events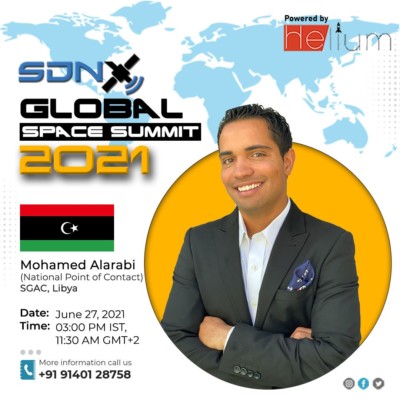 Country-Specific Events in 2017
Monitoring the Crescent every Arabic month beginning of the lunar calendar: The Islamic countries follow the lunar calendar system, so the Crescent monitoring process is very important to determine the beginning and end of the month. Monitoring involves dates pairing, the birth of the Crescent, the duration of its stay in sight and the ability to see it .
Solar eclipse: March 20 – Libya will see a partial eclipse of the sun in March, is an opportunity for amateur astronomers to take pictures of the eclipse.
Yuri's Night: We will celebrate this event in primary schools on April 12.
GAM: We will celebrate this event with Astronomers Without Borders activities throughout April, the month of astronomy.
Lunar eclipse: September 30 – Libya will witness a full lunar eclipse on this date
World Space Week: October 4-10 – World Space Week events will be held in some Libyan cities, will feature meetings and seminars and workshops on the proposed main theme, as well as generally on space science and applications.
Visuals
| | | |
| --- | --- | --- |
| Monitoring the birth of Crescent | Milky Way visible from Libya | World Space Week 2013 celebration in Libya |
|   | World Space Week 2014 |   |