SGAC Malawi
Welcome to the Malawi page!
We most warmly and most excitedly welcome you to visit Malawi. We have some of the clearest skies so that you observe the majestic night skies. The space industry is in its infancy but many partnerships are being formulated to enable the nation to participate across the entire value chain of the space industry and make space one of the priority industries.
Malawi is looking forward to becoming a space hub that attracts talent from around the world to merge with the local talent in order to conceptualize, design, and operate space applications. Well, at least this is the vision for the NPoCs and the SGAC team in Malawi! Its very vibrant and energetic, yet small, space community has dreams far beyond the stars. While not yet formally organized under an agency, there have been grassroots initiatives to share about the wonders and benefits of space. Such initiatives include participation in secondary school fairs and  get-togethers to use the telescopes.
National Points of Contact
Malawi
Young Space Activities Overview in Malawi
Our goal these past few months has been to establish long term partnerships with schools and other entities. We have initiated conversations with Central High International School in Blantyre, to whom we provided a telescope in order for them to excite the students. We are also in the process of formalizing a partnership with an Astronomy society with very enthusiastic members from across the country. Our discussions with the Malawi University of Science and Technology
are just taking off.
We organized a small conference where the SGAC NPoCs for Malawi presented on how the country can get into the space industry (that is, careers in space engineering, science and applications) as well as specific use cases with regards to remote sensing. The Regional Coordinator for Africa was also one of the presenters at this event where she spoke about what SGAC is about.
Upcoming Events
| | | | |
| --- | --- | --- | --- |
| Events Name | Event Host City | Event Date | SGAC link |
| 1. Conference on the State of the Space Industry in Malawi | Online | March 2022 | |
| 2. Build a CubeSat | Thyolo, Malawi | Starting April 2022 | |
| 3. View from the Lake (with Telescope) | Lake Malawi | April 2022 | |
Interesting Weblinks
Visuals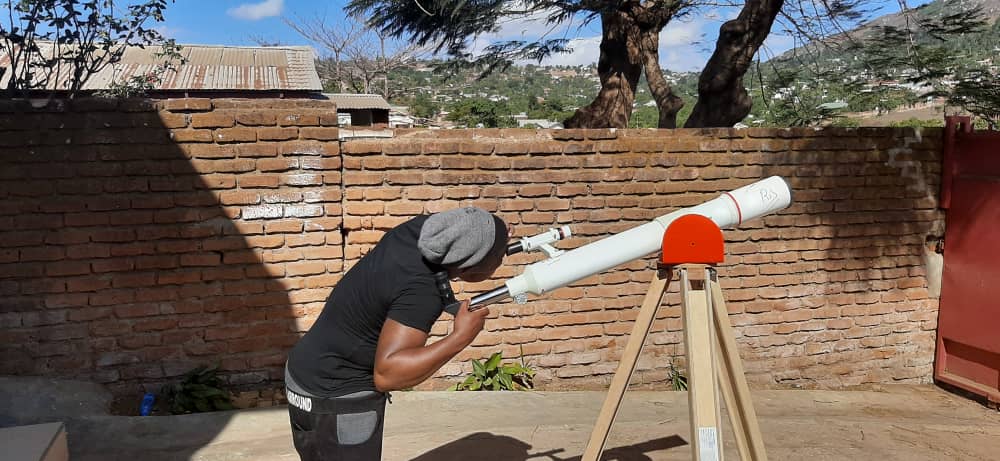 SGAC Malawi's Telescope being used to reach out to schools