Welcome to the homepage of the Space Generation Advisory Council (SGAC) in United Arab Emirates (UAE)!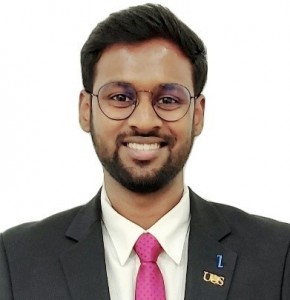 Sahith Reddy Madara
Research Assistant (Aerospace Engr.) – CubeSat Laboratory
National Point of Contact for UAE – Space Generation Advisory Council
Sharjah Academy for Astronomy, Space Sciences and Technology (SAASST)
 University of Sharjah (UoS), Sharjah, United Arab Emirates
    Email: [email protected] | Phone: +971556427741
        Personal Blog: www.sahithreddy-aero.com
Today, space is considered a bridge between humanity and the future. Exploring space is a perfect example of international collaboration and truly a source of inspiration. As a result, the interest among nations to explore space has increased globally in recent years, with now more than 60 countries developing space programs and conducting space-related activities. This includes the UAE, which has become a key regional and international player within the space sector.
The UAE has a historical affinity with outer space. Long ago, its people developed their knowledge of astronomy and navigation, which they used to travel by land and sea. The founder of the United Arab Emirates, the late Sheikh Zayed bin Sultan Al Nahyan, was a visionary and welcomed a NASA delegation as early as 1976. Since then, the UAE has been able to build a strong economy, as well as robust infrastructure and national competencies, which have made it a regional leader in space activities. Now, before the golden jubilee of the nation's foundation, we are capable of contributing to the exploration of outer space and will continue to benefit economically and technologically from the industry.
The UAE has the largest space sector in the region in terms of both diversity and size of investments. The sector is driven by several leading space centers, institutions and companies that include the Mohammed Bin Rashid Space Centre (MBRSC), Sharjah Academy for Astronomy, Space Sciences and Technology (SAASST), Al Yah Satellite Communications Company (Yahsat), and Thuraya Telecommunications Company. The state now owns and operates more than six satellites for different uses—soon to increase to ten satellites—and boasts more than AED 20 billion of national investments in space technologies.
The establishment of the UAE Space Agency and the Mars Hope probe project symbolize the ambitious UAE Vision 2021, which will see the establishment of a more diverse and sustainable economy that is based on knowledge and innovation. This will bring more prosperity to the people and a stronger presence of the UAE on regional and global echelons. It will also serve as a beacon of light and hope for the youth of the region, showing hem what can be achieved through ambition and hard work.
PREVIOUS SGAC EVENTS IN UAE
1)      SGAC has be involved and participated in Global Aerospace Summit (Young Space Leaders Forum) at Saadiyat Island – Abu Dhabi – United Arab Emirates from 30th April – 2nd May 2018. The event was hosed by Mubadala and UAE Space Agency.
Topic: Roundtable on 'How to prepare the next generation of emerging space nations?
2)      SGAC has be involved and participated in Global Space Congress (NEXT GEN SPACE – Youth Based Activities Taking Place at the Congress) from 19 – 21 March 2019 | St. Regis Saadiyat Island Resort, Abu Dhabi, United Arab Emirates
Topic: Elements in Partnership with SGAC (Speed Mentoring; The Role of Risk-taking and Effective Leadership – Panel and Group Discussions)
UPCOMING AEROSPACE-RELATED EVENTS IN UAE
1) Gulf Astronomy Colloquium (September 28th – 29th 2019)
http://scass.sharjah.ac.ae/en/Pages/reg.aspx
The Gulf Astronomy Colloquium has been organized since 2001 to get all the Gulf astronomers to know each other better and to open new windows of cooperation in the field of astronomy. As usual, this colloquium is self-sponsored. Each participant is responsible for his/her expenses in terms of air travel and accommodation. The host (University of Sharjah [UoS] and the Sharjah Academy for Astronomy, Space Science, and Technology [SAASST]) will provide lecture rooms, coffee break, and a lunch. This is a preliminary call to all astronomers in the Gulf region to participate in this important astronomy gathering.
2) Space Pavilion Tech Talks (17th – 21st November 2019) – DWC, Dubai Airshow Site, Dubai, https://www.spaceuae.aero/space-tech-talks
3) The Mohammed Bin Rashid Space Centre (MBRSC) is organizing the Young Professionals in Space (YPinSpace) conference in collaboration with IEEE UAE Section from the 4th to 6th of November 2019 at Dubai World Trade Centre, United Arab Emirates. https://ypinspace.ae/
Young Professionals in Space (YPS) is an initiative to bring scientists, practitioners, engineers and leaders of space industry and agencies together in a single platform to discuss recent research breakthroughs, technical advances, existing opportunities and emerging space technologies. Such platform will provide the young generation with a holistic view of the science, engineering and space technology fields and provide access to professionals and experts from around the world.
4) 7th World Aviation Safety Summit is organized by Dubai Civil Aviation Authority (DCAA) from December 9-10, 2019 | Dubai | United Arab Emirates https://worldaviationsafety.com/
Bringing together safety professionals and senior leadership from airlines, airports and aviation authorities, the World Aviation Safety Summit is the definitive meeting place in the Middle East for all those for whom safety is a critical function. The great opportunities for growth in aviation also mean significantly increased threats as budget and time are increasingly constrained. The World Aviation Safety Summit is built to support safety professionals and give you the tools you need to ensure ever safer travel.
5) The International Academy of Astronautics will hold its 22nd Humans in Space Symposium (HIS) in Dubai, United Arab Emirates from November 11th to November 14th, 2019. http://www.his2019.com/
This conference aims to continue to provide a forum for discussion about fundamental and timely issues and trends as well as for developing collaborations through the exchange of research results and ideas in the field of space life sciences.
6) The Mohammed bin Rashid Space Centre and the International Astronautical Federation, IAF, signed an agreement to host the 71st International Astronautical Congress IAC, from 12th to 16th October 2020, in Dubai, UAE. https://mbrsc.ae/iac2020/
INTERESTING WEBLINKS FOR THE YOUNG GENERATION IN UAE
Khalifa University of Science, Technology & Research (KUSTAR)
Department of Aerospace Engineering
Yahsat Space Laboratory at Masdar Institute Campus
http://www.yahsat.com/en/space-program
United Arab Emirates University (UAEU)
National Space Science and Technology Center (NSSTC)
https://www.uaeu.ac.ae/en/dvcrgs/research/centers/nsstc/
University of Sharjah (UoS)
Department of Physics and Astronomy
http://www.sharjah.ac.ae/en/academics/Colleges/Sciences/dept/ap/Pages/ov.aspx
Sharjah Academy for Astronomy, Space Sciences and Technology (SAASST)
http://scass.sharjah.ac.ae/en/Pages/default.aspx
Department of Aerospace Engineering
https://amityuniversity.ae/pages/B.Tech-Aerospace-Engineering/53/2
Emirates Aviation University
Department of Aerospace Engineering
Space Agencies, Astronomy Observatories and Research Centers:
Mohammed bin Rashid Space Centre (MBRSC)
Sharjah Academy for Astronomy, Space Sciences and Technology (SAASST)
http://scass.sharjah.ac.ae/en/Pages/default.aspx
Dubai Astronomy Group (Al Thuraya Astronomy Centre, Mushrif Park)
Al Sadeem Astronomy – Astronomy and observatory