Results of Regional Coordinator Election in the Middle East Region
SGAC held elections in August 2023 to elect the next Regional Coordinator (RC) in the Middle East Region. We are happy to announce the election of Niki Sajjad (Iran) as the new Regional Coordinator for the Middle East.
Detailed election results and the profile of the applicants follow.
Election Report
The election received one application for one regional coordinator position.  
3 votes were received in the election. The election concluded with the following result:
Niki Sajjad (Pakistan) (3 votes – 100%)
Niki Sajjad is therefore declared the winner of the election for Regional Coordinator of Middle East Region.  
SGAC congratulates all candidates who took part in this election. Thank you for your participation and involvement.
About Niki Sajjad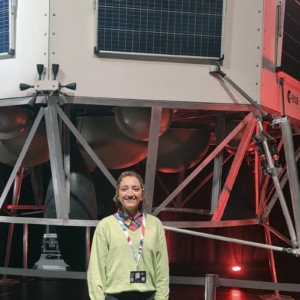 Niki Sajjad is a PhD student in Space Engineering at K. N. Toosi University of Technology. She has been a visiting researcher at the University of Luxembourg since March 2023 and EPFL (École Polytechnique Fédérale de Lausanne) since September 2023. 
Niki became a member of SGAC in 2020, where she has played roles such as being the National point of contact for Iran from 2021 to 2023 and taking the lead in the United Nations Sustainable Development Goals (UN SDGs) project within the Space Safety and Sustainability Project Group over the last year.
In her engineering life, Niki focuses on projects related to satellite Attitude Determination and Control Systems, as well as Space Situational Awareness missions. In parallel, Niki's passion revolves around promoting space education in non-space-faring regions. She strives to bridge the gap between space and the general public, bringing the wonders of space-based knowledge to life and raising awareness about the critical situation of our space and Earth environment through tangible assets, such as art.
This is what Niki had to say about her election
"I am truly honored to have been chosen as the Regional Coordinator for the Middle East. This appointment brings me joy and a deep sense of duty to connect with the diverse communities in our region. The Middle East is thriving in the space sector at an astonishing pace, but not all countries are involved in it. To sustain and accelerate this progress, collaboration among youths of the region is essential. It is my firm belief that by working together, we can achieve significant and positive transformations within the space sector. Collaboration is key – as we share knowledge, combine resources, and foster unity, we unlock the vast potential that the Middle East holds in contributing to the advancement of space exploration and innovation. Together, we can shape a brighter future for our region and bridge the gap between countries to achieve common goals."