SGAC election for a new Co-Chairperson in 2021 has been completed and we are pleased to welcome Anthony Yuen (Australia) as the new Co-Chair of SGAC.
Election Report
After an extensive period of discussion and interaction between the candidates and the Executive Committee, all Regional Coordinators cast their votes.
Out of all 12 votes, candidates received:
Anthony Yuen (Australia) – 83%
Hamza Hameed (Pakistan)– 8%
Oscar Ojeda (Colombia) – 8%
Alessandra Vernile (Italy) – 0%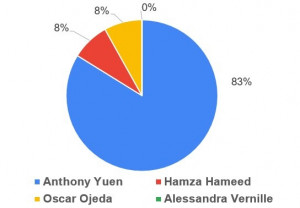 We are happy to announce that Anthony Yuen will be the new Co-Chairperson of the Space Generation Advisory Council! He will be working alongside the Chair, Harriet Brettle (UK).
About Anthony Yuen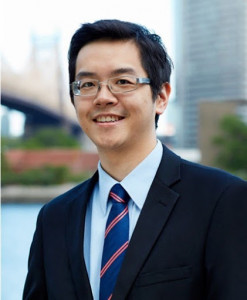 Anthony is an emergency medicine physician and space medicine researcher at Weill Cornell Medicine in New York City.  An active member of SGAC since 2014, he attributes much of his space career successes through the SGAC network. He had served in many roles within SGAC, including as the Web Coordinator, SGFF Organising Team Member, Treasurer, and most recently as the co-founder and co-lead of the Space Medicine and Life Sciences Project Group. He is currently coordinating the year-long virtual Systematic Review Workshop with Dr Rochelle Velho, guiding nine projects to summarise the state-of-the-art in various areas within the fields of space medicine and life sciences. Anthony earned his medical degree (MD) and his Bachelor of Mechanical and Space Engineering from the University of Queensland in Brisbane, Australia. His interest is in translating emerging technologies from informatics, digital health, and artificial intelligence into effective solutions in healthcare and space medicine.
When informed of the results, Anthony had this to say:
I am incredibly honoured and grateful to be elected as the next Co-Chair for SGAC. Thank you for this invaluable opportunity to lead our truly amazing organisation. For me, the opportunities, peer support, and community offered by SGAC are what helped launch my space career.  My seven years with SGAC have been a transformative experience and my goal is to share this opportunity with everyone who is passionate about space around the world. I am looking forward to working with our Regional Coordinators, Executive Committee and each and every member of SGAC towards our shared passion for space. I also want to thank Arnau for his excellent leadership over the last 3 years and look forward to working closely with Harriet, Davide and Valentina.  My door is always open and I would love to hear your thoughts and ideas. I believe there is a great deal that we can achieve together towards our vision of "Space for All".
Arnau Pons, Former Chair and Election Officer mentioned: 
I would like to congratulate Anthony on his election as Co-Chair of SGAC. Anthony has developed an extensive experience in SGAC from a variety of positions, which have prepared him for this new endeavour. I believe Anthony will bring fresh ideas and experience to the Co-Chair position and I am completely sure that the organisation will be in good hands under this new leadership!  
Harriet Brettle, current Chair, had this to say:
I would like to extend my sincere congratulations to Anthony on his election as SGAC co-chair! Anthony has gained extensive SGAC experience from numerous roles within the organisation. His clear vision of "Space for All" aligns with SGAC's mission to support, empower, and connect students and young professionals across the globe and will take SGAC to new heights. I'm very excited for Anthony to join the SGAC leadership as co-chair and I'm very much looking forward to our work together!
Davide Petrillo current Executive Director, added:
I would like to express my warmest congratulations to Anthony on this well deserved success with his election as SGAC Co-Chair. I had the pleasure to work together with Anthony since 2016 through different avenues and he has always shown outstanding leadership skills being extremely supportive for the benefit of the SGAC members. I am extremely looking forward to working together with Anthony as part of the SGAC Leadership. I am sure we will accomplish great things together for the benefit of our Students and Young Professionals from all over the World.
Valentina Luchetti, current Operations Manager, had this to say:
Despite having been the Operations Manager for SGAC for just a few weeks, I have already seen the incredible amount of activities Anthony is involved in. I truly think that thanks to his expertise, commitment and professionalism, Anthony, together with Harriet, will bring SGAC to the next level. I congratulate Anthony on this election result and I wish him all the best in his new role.