SGAC announces the winners of the North, Central America and Caribbean Space Leaders Award for 3rd NCAC-SGW
SGAC is proud to announce the winners of the 2022 North, Central America and Caribbean Space Leaders Award 2022 who will be sponsored to attend the 3rd NCAC-SGW event, held June 24-25, 2022 in Houston, Texas, USA.
This award recognises the achievements made by the winners and their contributions to SGAC and their regional space community. The award will contribute to round trip travel expenses to attend the event for the four winners. Congratulations to our winners!
Itzel Rocillo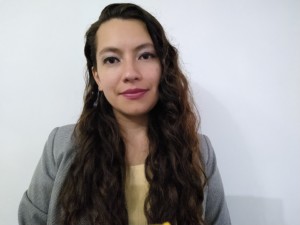 Itzel Rocillo is an autodidact pioneer in space law and policy in Latin America.
She studied law at the National Autonomous University of Mexico (UNAM) where she obtained her degree with the research "The generation of international legal norms to regulate suborbital flights: a study of the development of space tourism by Virgin Galactic". She also studied innovation in the public sector and intellectual property.
In 2021 she presented the uses of blockchain in space activities during the "28th Workshop on Space Technology for Socio-Economic Benefits…" organized by UNOOSA and IAF in Dubai.
She was an advisor to the first team to win the LATAM round of Manfred Lachs Space Law Moot Court Competition. She also organized the first WSW of the UNAM Law Faculty, with relevant actors from her region. This is one of the few events on the subject in Spanish.
Additionally, Itzel was an advisor for the Mexico City Congress to create an agreement to promote cooperation between the Public Communication System and the Mexican Space Agency for disseminate information about space activities in the country. She was a member of Space4women (UN), Sustainable Development Solutions Network (UN) and the Parliamentary Debate Club of the US Embassy in Mexico.
Itzel was recognized as Young Leader for Mexico by Konrad Adenauer Foundation (Germany). Her work has been presented at multiple conferences around the world.
"Youth need support to achieve their goals. SGAC is an example for the international community of the power of young people to create opportunities that bring us closer to those goals. I want to thank all the team whose hard work makes this support network possible. Ad astra!"
Elizabeth Barrios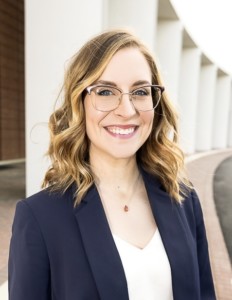 Dr. Elizabeth Barrios is a Materials Research Engineer with the National Institute of Aerospace residing at NASA's Langley Research Center. She focuses on developing new technologies for the automation of surface preparation and adhesive bonding of carbon fiber composites and atomistic modeling of all solid-state lithium ion batteries.
Previously, she was a Materials & Process Engineer trainee at NASA's Kennedy Space Center focusing on material selection and failure analysis of carbon fiber composites and non-metallic components of spaceflight hardware. She recently completed her PhD at the University of Central Florida through a NASA Space Technology Research Fellowship where she focused on demonstrating the feasibility of utilizing polymer and ceramic composites for lightweight, non-toxic thermoelectric materials.
Elizabeth currently serves as the Chair for the IAF Launchpad Mentorship Programme and as a Regional Coordinator for SGAC. She is a member of the IAF YPP/WD Committee and has previously served as a member of the Workshop Organising Team for the IPMC Young Professionals Workshop (2018, 2019) and on the Space Generation Congress Organising Team (2019).
Elizabeth has also spoken in the Next Generation Plenary (2020). Beyond her involvement with the IAF, Elizabeth also serves on the Board of Advisors for SEDS-USA.
"I am excited to utilize this scholarship to meet with many of the folks from the region I lead, many for the first time. I have been leading this region for two years now and look forward to some face-to-face interaction to continue growing this region."
 Erin Austen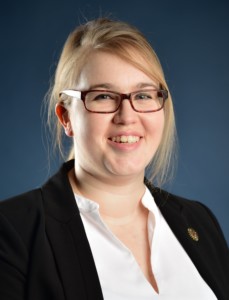 Erin Austen is an aerospace engineer with a passion for space vehicle design and adapting space technology for social good on Earth. She earned her Bachelor's in Mechanical Engineering at the University of Alberta (Edmonton, Canada) and her Master's in Aerospace Engineering at Carleton University (Ottawa, Canada), where her thesis focussed on the mathematical modeling of a large 4-wheel planetary rover.
While pursuing her BSc in Mechanical Engineering at the University of Alberta, Erin was involved in the AlbertaSat student vehicle project where she served as the Mechanical Team lead during the design phase of the Ex-Alta 1 cubesat. She was the first female technical lead in the project's history, and she also completed individual undergraduate research in cubesat boom deployment.
Erin attended her first SGAC events, SGFF and SGC, as a virtual delegate in 2021. She enjoyed working with her fellow delegates so much that she has continued to work with them on SGAC projects InTeRCEPT and ACHIEVE as a member of the HOPE mission.
Erin currently utilises her mechanical design skills to improve access to healthcare for remote communities by designing medical products that can be 3D printed from a digital library. She continues to be involved in local initiatives supporting and advocating for women in STEM fields, and strongly believes that advancements in human space exploration can only be achieved when everyone is included.
"I am truly honoured to receive the North, Central America and Caribbean Space Leader Award and contribute to the 3rd North, Central America, and Caribbean Space Generation Workshop. It's been a privilege to attend SGAC events and collaborate with other young space professionals to shape the future of the space industry. I look forward sharing ideas and working with the other dedicated SGAC members at this year's workshop."
José Gerardo Mora Almanza
José Mora is a Mexican physician currently enrolled in the Translational Nutritional Sciences Ph.D. program at the University of Guadalajara. He joined SGAC in 2016 when he was awarded a scholarship by the Mexican Space Agency (AEM) to participate in the SGC 2016 as a rapporteur. Since then, he has been an active member of different groups in SGAC, such as Space Safety and Sustainability in the Human Space Flight & Space Environment working group and, more recently, in the Space Medicine and Life Sciences (SMLS) Project Group by participating in the SGAC Systematic Review Workshop 2020/21. The work derived from these groups has been presented in different editions of the International Astronautical Congress (IAC) or published in peer-reviewed scientific journals.
José contributed to establishing a space-dedicated student community at the University of Guadalajara called UDEG SPACE, which seeks to create space technology by participating in international challenges and inspiring young generations to pursue space careers. In this community, he was the coordinator of the Space Health division, where last year managed a team to participate in Phase 1 of the Deep Space Food Challenge organized by NASA and CSA. Also, he was the editor of the first twenty episodes of a Podcast created at UDEG SPACE named "Dialogos Espaciales" that raises awareness of science and space-related topics to inspire young generations to pursue STEAM careers.
He believes that space has the potential to inspire us all to solve the big problems on Earth and, at the same time, to solve the challenges ahead for future space exploration missions.
"I am truly honored to receive the NCAC Space Leader Award. SGAC has been a game-changer in my life. I have nothing but gratitude to all the volunteers who make it possible for this organization to exist. I will continue working to inspire and help younger generations pursue space-related careers."