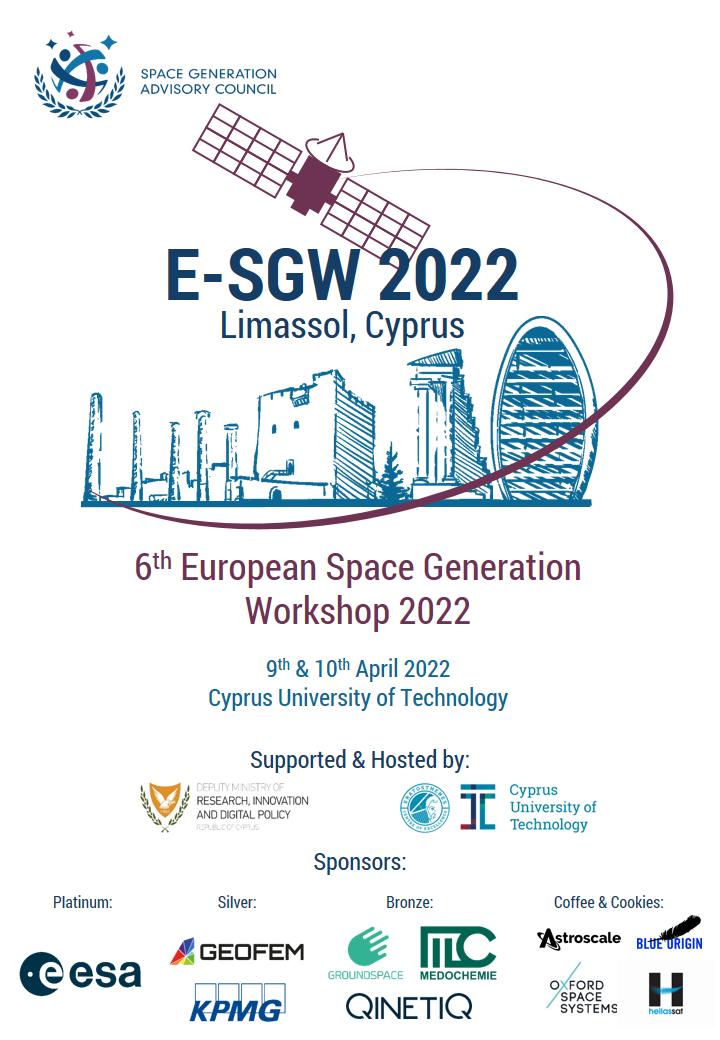 The 6th European Space Generation Workshop
(#ESGW2022)
Limassol, Cyprus
9-10 April, 2022
Supported by
The Cyprus Deputy Ministry of Research, Innovation, and Digital Policy
Hosted by
The Cyprus University of Technology
&
The Eratosthenes Centre of Excellence
The European Space Generation Workshop (E-SGW) is an international event that aims to bring together students and young professionals to think and collectively create Europe's future in space.
The 6th edition of the European Space Generation Workshop will be held  on  the 9th and 10th April 2022 in Limassol, Cyprus. Delegates will get the opportunity to share ideas on sustainable space applications and the future of space sector – topics in which the interest has substantially increased over the past few years.
During the two days students and young professionals (18-35 years of age) will discuss and shape the future of space in Europe together. There will be talks and panels by experts and professionals from the leading European companies and agencies, and working groups where the delegates will discuss diverse space topics moderated by industry experts. It is a great opportunity for young space enthusiasts to learn about the latest space developments and to engage and discover the opportunities in the space field. Space companies and agencies will be interested to recognize talent and obtain insight on innovative ideas and the opinion of the next generation of space professionals. You can learn more on the Regional SGAC Events by following this link. 
Stay up-to-date with event-related news by joining us on Facebook and Twitter using #ESGW2022 @sgac.
Attendees Application

[Deadline Extended!]
The deadline for Applications has been reached.
The event is expected to gather international students and young professionals (18-35 years of age). The selection of participants (also known as delegates) will be based on the registration form adequacy taking into account criteria such as motivation, delegate contribution to space activities, background, and gender equality. Once the applicants have been selected, registration through Eventbrite will open to secure the spot and pay the E-SGW ticket. 
For information on the application process visit E-SGW Applications page.
Scholarships – European Space Leaders Award 
The deadline for Applications has been reached.
The SGAC Scholarships Team has allocated 4000$ which will be split amongst a number of winners to be decided depending on the applications.
Have a look at the E-SGW 2022 Scholarships Call and make sure to submit both the applications in due time. 
COVID-19 message from our Event Managers
Dear colleagues,
Your safety is our top priority. We hope that the Pandemic situation will allow us to welcome you in Cyprus and give you an unforgettable experience. Although we are planning for our event to happen physically at the premises of the Cyprus University of Technology, we will monitor the COVID-19 situation carefully and we are preparing a contingency plan to deal accordingly. In the case where the event will have to be postponed or transferred to an online format we will inform you in due time. 
With the current status of the pandemic, in order to be allowed to access the event, attendees must present a valid Covid-pass. For a Covid-pass to be valid, one shall either have completed his/her vaccination scheme (fully vaccinated) or have a negative laboratory test result of either PCR or Rapid Tests no older than 48hrs. In case this situation changes will update the website so make sure to check frequently. 
We want to ensure a great quality event. The organizing team is working hard to make the 6th E-SGW an event to remember for all delegates, speakers, and sponsors!
We can't wait to meet you, hopefully in person!
Michalis and Eleni