SGAC Announces the Winners of the 2019 African Space Leaders Award
SGAC is pleased to announce Timothy Kuhamba, Rayan Imam, Ramasamy Venugopal and Ahmed Barka as the winners of the 2019 African Space Leaders Award.  The winners will be sponsored to attend the 3rd African Space Generation Workshop (AF-SGW) on the 30th November – 1st December 2019 to be held in Addis Ababa, Ethiopia.
This award will be used towards covering expenses incurred to attend AF-SGW in Ethiopia, where the winners will take place in the two-day regional event that will bring together students, young professionals and experts from academia, space agencies and industry. We congratulate our winners and hope they will have a great time in Addis Ababa!
Timothy Kuhamba is the National Coordinator for World Space Week Zimbabwe since 2014. Kuhamba funded the World Space Week celebrations from 2014 to 2017 until the Government of Zimbabwe realized his efforts single efforts by sponsoring the World Space Week Quiz 2018 which was aired on National Television. Mr Kuhamba holds a Bachelor Honours in Applied Physics from National University Science in Zimbabwe and Post Graduate in Satellite Communication from African Regional Centre for Space Science Technology Education English where he was the best graduating in 2013. He also holds in diploma in Freedom of Expression …….He is currently studying a Master in Communication Engineering at the University of Zimbabwe. Kuhamba is the first graduate from Zimbabwe of the Can Satellite Leadership Program (CLTP-10) at Nihon University Japan 2019. He is also a contributor for space technology for articles to the Africa online space magazine https://africanews.space/.
"I am deeply honoured to receive the Africa Leadership Award. Since 2014 I have been working on space education awareness and this award gives me recognition of the efforts I have made over the years."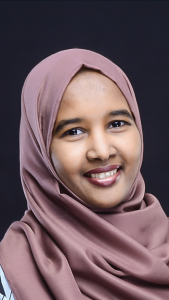 Rayan Imam is an Electronic Engineer with postgraduate degrees in Space Technology and Satellite Navigation. She is currently a PhD student at Politecnico di Torino (Italy) carrying out her research in the opportunistic use of the Global Navigation Satellite Systems (GNSS) signals for remote sensing applications. Prior to starting her PhD studies, she worked as a Research Engineer at the Space Research Centre of University of Khartoum developing cubesat technologies for educational purposes. Beside that, she conducted studies on the utilization of space technologies for sustainable development in Africa generally, with focus on Sudan higher education institutions. She was also teaching Electronics at the Department of Electrical and Electronic Engineering at the same university. Rayan currently holds the position of Co-lead for SGAC Near Earth Objects (NEO) project group (2018-2019) and was previously the National Point of Contact (NPoC) for Sudan (2016-2018).
"I am deeply honored to be awarded the African Space Leader Award. It has been my pleasure to be part of such a diverse and passionate space community, and to be able contribute to it. I am looking forward to the 3rd African Space Generation Workshop."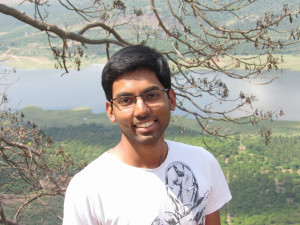 Ramasamy works at the IAU Office of Astronomy for Development, based in Cape Town, South Africa, dedicated to using astronomy and space to drive positive benefits to society. He has a background in space studies from the International Space University and electronics engineering from India with experience in the field of telecommunications. He has been an active member of SGAC since 2016, serving in various capacities – as the executive secretary, then on the organizing teams for the first and second Space Generation Workshops in Africa and the SGAC anniversary event during UNISPACE+50.
He is passionate about applying space technology and services to solve many of the challenges plaguing our planet. He firmly believes that we are all global citizens and that the youth in the space sector must lead the way.
"I am thankful to SGAC and the community in Africa for this recognition. The award gives me the opportunity to attend the most prominent space gathering for youth and learn from the best of Africa."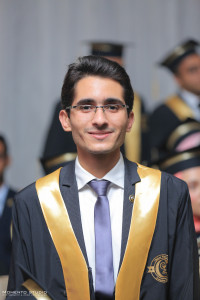 Ahmed Baraka is a clinical pharmacist and drug information specialist at Ahmed Abdelaziz Hospital, Alexandria, Egypt, SGAC Regional Communications Manager for the Middle East and Founder and leader of AMSRO regional chapter at Alexandria University, Egypt. He holds a bachelor's degree of clinical pharmacy and he is extremely interested in space neuroscience, and space sciences. His hope, since his childhood, to be one of those who will make Humans a multiplanetary species someday and making deep space exploration a reality. Ahmed is an active member of the Society for Neuroscience, the Egyptian Pharmacist Syndicate, Alexandria Syndicate of Pharmacists, -our organization- Space Generation Advisory Council (SGAC), The Planetary Society, Aerospace Medical Association (AsMA), Space Medicine Association (SMA), Aerospace Medicine Student and Resident Organization (AMSRO), AMSRO International Outreach Committee and the Royal Aeronautical Society. Recently, he established the first regional chapter -outside the USA- for Aerospace Medicine Student and Resident Organization (AMSRO) at Alexandria University, Egypt. Additionally, he is a part of a movement to establish the Egyptian Aerospace Medical Association, the Arabian Aerospace Medical Association and to include Egypt in the Aeromedical Association in the Middle East under the supervision of Aerospace Medical Association (AsMA).
"I am so grateful to SGAC to be selected to receive the African Space Leaders Award. For me this means a lot and will encourage me to work harder to expand SGAC activities in Africa and worldwide. "