SGAC Announces the Winner of the 2023 SGFF – NASA Exploration Scholarship 
SGAC in cooperation with the National Aeronautics and Space Administration (NASA) are pleased to announce Clare Luckey as the winner of the 2023 SGFF – NASA Exploration Scholarship. Through this scholarship, SGAC has partnered with NASA to support the attendance of a student or young professional to the SGFF2023 in Colorado Springs, USA on 14-17th April 2023!
Congratulations Clare!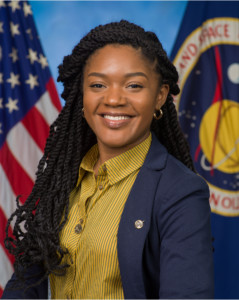 Clare Luckey (United States of America)
Clare Luckey hails from Southfield, Michigan, and currently works as a systems engineer at NASA's Johnson Space Center in Houston, Texas. She received her Bachelors of Science in Space Weather Engineering from the University of Michigan in 2017, and her Masters in Space Architecture from the University of Houston in 2019. Since then, Clare has worked in various capacities at JSC, including serving as a cargo integration lead for resupply flights to the International Space Station, and for the first commercial crewed flight in November 2020. Clare currently supports both the Mission Analysis & Integrated Assessments (MAIA) team and the Mars Architecture Team (MAT) within the Exploration Mission Planning Office. Her work includes performing mission planning and architecture integration across NASA's Exploration portfolio, co-leading the development of a transit operations timeline for future crewed Mars missions, and supporting educational outreach to engage various communities in NASA's plans to explore the Moon, Mars, and deep space.
"I am honored to have been selected as a 2023 NASA Exploration Scholarship winner. I look forward to contributing to, and learning from the next generation of space leaders at the Space Generation Fusion Forum!"