SGAC announces the winner of the Merck Scholarship for E-SGW 2019.
SGAC and the Merck are proud to announce that Zainab Mavani will be sponsored to attend the 4th E-SGW 2019 event in London, UK.  
The award from Merck will partially cover the expenses up to a maximum amount of 300 EUR incurred to attend E-SGW (round trip travel via airfare, accommodations, visa costs, and the registration fees).
Zainab Mavani (United Kingdom)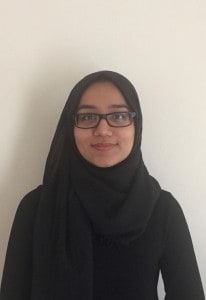 Zainab Mavani is an undergraduate Neuroscience student at the University of Leeds and a committee member of UK Space LABS, a UK based organisation dedicated to the advancement of space life and biomedical sciences research and human spaceflight activities. Her role involves outreach and engagement with the UK student body interested in space medicine and the promotion of this sector through event organisation. She has explored her passion for space physiology by attending the ESA/ELGRA Gravity Related Research Course in 2018 and has a particular interest on the effect of microgravity on the functioning of the nervous system. Following her dissertation on biomarkers for brain traumas, Zainab's interest in medical technology led to participation in a design project to solve the reusability issues associated with endoscopes, and she is interested in exploring the uses of diagnostic technology in the context of space.
"I'd like to express my sincerest thanks to SGAC and Merck for awarding me this scholarship to attend the E-SGW. I look forward to connecting with like-minded students and professionals who are also passionate about the space industry, and hope to learn a great deal from this exciting opportunity."