After a successful event in Cyprus this year, the next SGAC's European flagship event is coming and will take place in Bari, Italy. The two-day event will gather more than a 100 students, young professionals, experts from the industry and space agencies. This will create a unique platform to exchange ideas and network between each other and prominent speakers to further nurture the next generation's views on space matters.
Each bid for this next European edition has been evaluated by SGAC Executive Council members, along with a regional selection committee. This evaluation was performed considering several criteria:  programme, location, budget, working groups, among others.
This workshop is scheduled for the first half of 2023, with a call for the supporting organising team to be advertised soon. The organising team will be led by Ada Ranieri and Giuliana Rotola as Event Managers. Meet them down below!
Ada Ranieri 
Ada Ranieri is a mechanical engineer from Italy who graduated from Polytechnic University of Bari in 2021. She is currently enrolled in an industrial PhD program at the same university, funded by an Italian aerospace company: Sitael SpA. She works between academia and industry in order to develop a predictive method for shock loads on a multi-application satellite.
She is involved in several space-related activities, attending international conferences and courses like ESA Academy and the Space Studies Program 2022 of International Space University. Ada is an active member of SGAC: in April 2022, she was in the 6th Space Generation Workshop organising team of the previous E-SGW and now she is the Deputy Event Manager of the fourth edition of the Italian Space Startup Competition.
Her curiosity for Science, Technology, Engineering and Mathematics (STEM) brought her to deepen a wide range of interests; she is particularly focused on structural dynamics and industrial manufacturing, with an eye toward long-term sustainability. Enthusiastic about policy and space law.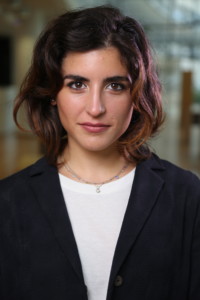 Giuliana Rotola
Giuliana Rotola is a space law and policy researcher. She is a Ph.D. student in Sustainable Development and Climate Change at Sant'Anna School of Advanced Studies, a Research Fellow at the Center for Space Governance, and she works as Implementation Support Officer for the Global Expert Group on Sustainable Lunar Activities (GEGSLA). She worked at European Southern Observatory on the impact of satellite constellations on astronomy and as a summer research fellow with the Legal Priorities Project. Furthermore, she holds a joint bachelor's and master's degree from the University of Trento in Comparative, European, and Transnational Law and a Master of Space Studies from the International Space University (ISU). 
Before joining ISU, she conducted research at the European Centre for Space Law (ECSL – ESA) and in the Institut du Droit de l'Espace et des Télécommunications (IDEST), and worked at the Leuven Centre for Global Governance Studies. Giuliana was also a research fellow at the Open Lunar Foundation and a 2020 Fellow in Space Studies at the Foresight Institute. Within the Space Generation Advisory Council (SGAC), she serves as Policy and Advocacy Coordinator and as Space Law and Policy Project Group Co-Lead.