The event's theme "Space for Earth and Humanity" will be the common ground for all the Working Groups in the European Space Generation Workshop 2020.
Concerns for our climate and environment have never been as pressing and current as now. We aspire to highlight and discuss sustainable solutions in this years edition of the ESGW in how space applications can be used and / or developed to not only continue supporting our modern, digital and connected societies but to help shape a modern clean and sustainable world. The vast majority of space applications today are not developed for deep space exploration but for life here on Earth. It's 2020, a new decade is ahead of us, let's take this to the next level and use space applications to ensure we can stay on this planet!
The Workshop Topics are currently under development by the Program Organizing Team together with the collaborating sponsors.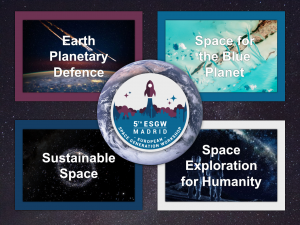 Potential working group topics that could be addressed are the following:
Space & Oceans
Space for Life Science
Space and Quantum Technology
Space for Environmental Planet Protection
AI for space