After a very thorough selection process that lasted two months, we are thrilled to announce that the SGAC Selection Committee has chosen Victor Dennis to become the first SGAC Remote Intern, the third full-time employee of SGAC.
The Remote Intern Selection Committee was formed by the following members:
SGAC Co-Chairs: Harriet Brettle and Anthony Yuen
SGAC Executive Director: Davide Petrillo 
SGAC Operations Manager: Valentina Luchetti
A total of 45 candidates applied for the position, from 25 different countries and 6 Regions. The selection process entailed several phases with detailed evaluations and analysis by the Selection Committee members, which resulted in the final candidate selection by consensus.
We warmly welcome Victor to the team!
About Victor Dennis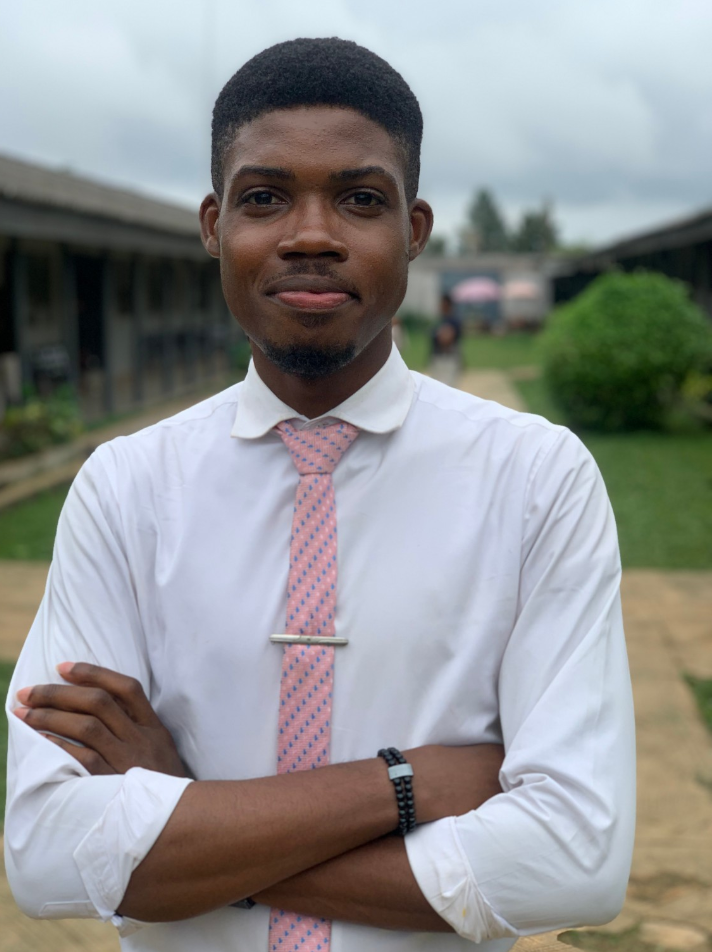 Victor is a Physics Electronics graduate from the Federal University of Technology, Akure with interests specifically in Research, Aerospace and digital marketing fields. As a goal-oriented Aerospace Enthusiast with an optimistic approach towards the future, he seeks a wider means to gain more knowledge and contribute to the productivity of his environment and community at large. In 2018, he participated in the NASA space apps challenge in which he and his team provided solutions to space-related problems. Also in 2018, he joined SGAC and also participated in the Google Development Festival as a coordinator, he supported the organisational committee in ensuring the effective coordination and productivity of the event. In 2019, he worked as a Technical Assistant intern at Total Energies, Nigeria where he was able to set up and maintain contracts and procurements activities and tasks between the company and contracted staff from partnering companies. In the same year, he worked as an Instrumentation Engineer at EGINA FPSO which is an offshore oil production vessel. His main goal is to become a successful professional in the marketing, Aerospace, and research fields in a practical and fast-paced environment and to also improve my current skill set along the way.
Victor Dennis says:
I'm really excited and honoured to be selected as the remote working intern at SGAC. It has really been my desire as an Aerospace Enthusiast to get involved in the Aerospace industry and to also contribute to the productivity of the industry. I am looking forward to starting this journey and adding to the efficiency and profitability of SGAC.
Davide Petrillo, SGAC Executive Director, says:
We are very excited to welcome Victor as our new SGAC Remote Intern! Victor has very solid qualifications and a great potential to contribute to the progress of SGAC. With his addition to the team we will open a new chapter with new energy and passion.

Moreover, this is the first time in the history of SGAC that we are hiring a third full time employee acknowledging the growth of the organisation that is continuing to expand while maintaining its good spirit and professionalism. I am sure that Victor's experience will bring SGAC to new heights!
Harriet Brettle, SGAC Chair, says: 
We're thrilled to welcome Victor to join SGAC as a remote working intern! Victor impressed us during the application process with his great knowledge, relevant experiences, and terrific attitude. We're confident that he will be a fantastic addition to the SGAC team. Victor will be working alongside Valentina and our wider teams to improve SGAC's infrastructure and processes to support the smooth running of our organization, and we're excited to see the value he brings to SGAC. 

As a worldwide organisation, it is important to recognise the significant milestone of hiring truly talented staff from outside of Europe, paving the way for future professional development opportunities on an international scale. This reflects the global nature of SGAC which is a cornerstone of our organisation. On behalf of the SGAC family, welcome, Victor! It is great to have you on board! 
Anthony Yuen, SGAC Co-Chair, says:
SGAC is incredibly excited to have Victor join our team as our full time Remote Intern. Victor has a fantastic technical skill set and passion that we really value in our staff and volunteers.  He has quite a challenge in front of him helping us to improve the vast virtual infrastructure that is the backbone of SGAC.  We are confident that he will make a huge impact on our organisation. 

Further, SGAC wants to recognise that Victor is our first full time hire outside of Europe.  This is quite a milestone for SGAC as we realise the global and diverse nature of our organisation and remove barriers to allow us to tap into the global talent pool.  Leveraging the explosion of remote work opportunities since the COVID-19 pandemic, SGAC is excited to support this work environment that enables our work as a truly international organisation. Congratulations Victor!
Valentina Luchetti, SGAC Operations Manager, says:
I am very glad to start working with Victor. Having a third full-time employee will tremendously help SGAC in improving its infrastructure and operations. Moreover, an important aspect of this international hiring is that myself and Victor in the first place, and SGAC as a consequence, will be able to learn from each other's culture and get an incredibly wider vision on everyday aspects.
The SGAC Remote Intern is accountable for supporting the management of SGAC operations. The selected candidate supports different SGAC Executive Office Teams to ensure that communication and workflow is streamlined. The SGAC Intern is responsible for identifying process improvement opportunities that will lead to year-over-year enhanced operations, reduced workload, and make sure that all ongoing work is delivered timely meeting SGAC quality standards.
The SGAC Intern works with the Executive teams and reports to the SGAC Operations Manager.