Students for the Exploration and Development of Space (SEDS-Zimbabwe), a club at the Midlands State University (MSU), unveiled a Satellite Ground Station Kit which they received from the Space Generation Advisory Council, at an unboxing ceremony held at the University's Campus in Zimbabwe on the 16th of June 2022.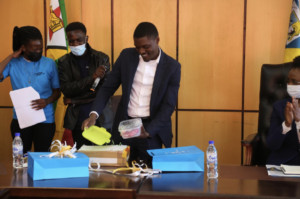 From Left: Tamara Muongeni (SEDS Chinhoyi University of Technology chapter representative), Brandon Bande (SEDS-Vice-president) and Jonathan Nyoni (SEDS-president) taking the delegates through the kit components while Professor G Mugumbate and the rest of the delegates applaud. 
SEDS is an independent, student based nonprofit organization that promotes the exploration and development of space. SEDS pursues this mission by educating people about the benefits of space, supporting a network of interested students, providing an opportunity for members to develop their leadership skills, and inspiring people through their involvement in space-related projects. 
The student-led club at the institution which is also part of the larger and global SEDS network is the first academic institution in Zimbabwe to set up a Satellite Ground Station. 
Speaking at the unboxing ceremony, MSU Pro-Vice-Chancellor Research, Innovation and Industrialization, Professor Grace Mugumbate said that the kit will help students, the nation and the world at large, explore boundless knowledge and possibilities.
Midlands State University Pro-Vice Chancellor for Research, Innovation and Industrialization Professor Grace Mugumbate delivering her opening remarks. 
Professor Mugumbate also said that the introduction of SEDS-Zimbabwe at MSU will give students a chance to explore beyond their wildest dreams by venturing into space and learning how they can use that information to make a positive impact in their communities.
For scalability, sustainability and innovation, the institution's Innovation Hub has offered the initiative operating space within its innovation and ideation premises which will go a long way in fostering and breeding the culture of innovation through space. 
Jonathan Nyoni, the SEDS-MSU president and Brandon Bande, the SEDS-MSU deputy-president, took the delegates through a presentation on what SEDS is and how it will benefit the University community, business, agriculture and the world at large.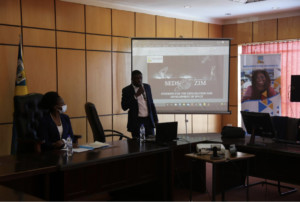 SEDS-MSU president Jonathan Nyoni taking the attending delegates through a brief presentation of what SEDS is all about and why space is important. 
Giving closing remarks, Dean of Students, Ms F Chakauya said that the kit has shown that the University has the capacity to lead in satellite technology and learning. This is in line with MSU's key result areas number 3 and number 4 which talk about enhanced critical thinking, innovative, technological and entrepreneurship skills and competence.
The unboxing ceremony event has opened doors for young people that are interested in space technology at the institution and in Zimbabwe to keep their dreams and ideas alive.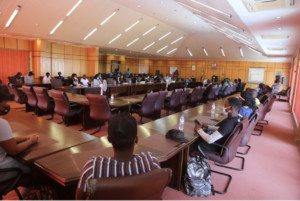 Attending delegates during the Kit Unboxing Ceremony comprising students, academia and University staff. 
Students at the MSU in Zimbabwe intend to leverage on this Global Satellite Tracking Initiative opportunity offered by SGAC and its partners to promote agricultural activities in local communities and also implement measures and strategies for disaster preparedness and mitigation through earth observation data. 
While innovating around space and bringing solutions to the local communities, the initiative also aims to promote space education, exploration, development and technology for a sustainable future under the space for all initiative in Zimbabwe. 
The setting up of the kit at the Universities' Innovation Hub premises which has been delayed by complex student academic timetables and schedules is expected to be complete by September this year and will be fully operational.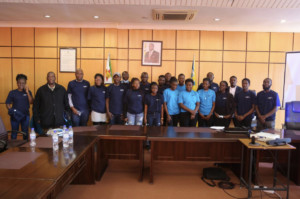 Students for the Exploration and Development of Space student club members and faculty staff posing for a photo after the Unboxing Event at Midlands State University.