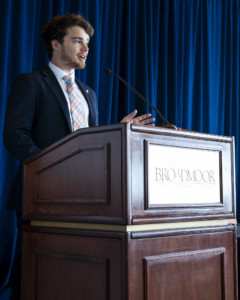 In 2012, Tasman attended his first SGAC event, the SGC in Naples, and said that after the event; "I knew the SGAC was something I needed to be a part of. Through the SGC and IAC, I learned very quickly that my passion lay within the engineering and science that made space travel a reality."
In 2015 Tasman moved from his home city of Melbourne, Australia to the United States to begin a PhD at Princeton University. The primary focus of his research has been on improving the numerical tools available for modeling and understanding the complex physical phenomena occurring within low-temperature plasmas, with specific applications to electric propulsion and compact fusion reactors. After completing his PhD in 2021 Tasman began a position as a Computational Research Associate at the Princeton Plasma Physics Laboratory to continue this research.
Tasman says that "one of the greatest advantages of the SGAC is that it provides you with an opportunity to connect with people from diverse backgrounds, as well as hone your communication skills and ability to convey important ideas to decision makers".
During his PhD, this motivated Tasman to simultaneously pursue policy research, specifically on the safety and economics of nuclear power systems for use in outer space. Leveraging connections through the SGAC he met with policy makers in Washington, D.C. and shared findings with the National Space Council. In 2020 the White House chose to formalise the policies he advocated for via Space Policy Directive 6, effectively banning the use of weapons grade uranium in future space reactors. While Tasman claims to have played only a small role in these outcomes, it is a stark reminder that those of us with non-policy or legal backgrounds can make a difference!
Tasman's goal for the next few years is to explore the possibility of creating a startup based around the software he is developing through his research. Here, again the SGAC has provided him with the necessary skills to give this a real shot. Being a delegate and volunteer gave him experience at being an effective communicator, planner and eventually manager of a small, but extremely capable team during the 2022 Space Generation Fusion Forum. Furthermore, the network and friends he made along the way have put him in a unique position to truly pursue this dream.
History with SGAC
I am fortunate to have been a part of the SGAC for nearly a decade now, with my first event being the SGC in Naples 2012. The SGAC changed everything for me, redefining where I wanted to go in my career, opening me up to exciting opportunities in the space sector, but perhaps more importantly introducing me to some of my greatest friends and colleagues. It took 5 years of SGAC events before I decided to finally give back as a volunteer as part of the 2017 SGFF organising team, where experiencing things from the other side felt like attending my first SGAC event all over again, and was even more rewarding! Since then I have strived to continue the work of countless incredible volunteers to improve the Fusion Forum into the event it has become today. I am particularly proud of my work with former manager Kristin Shahady, to deliver the first SGAC Global Event, and the first hybrid SGAC event following the onset of the pandemic. I am also proud to have been able to grow the presence of military participants and speakers at the SGFF since I believe that improving the understanding between the civil and military space sectors will improve our chances of maintaining peace in space. I am proud of the many hours spent working with the 2022 SGFF Deputy Manager Simon Shuham, as well as the SGx22 managers Ginny Randall and Cody Knipfer to improve our processes for attracting sponsors and running smooth and seamless events.
Receiving the SGAC Pioneer Award is nothing short of the highest honour, but it is only possible due to the support of so many SGAC colleagues and friends who I've worked with closely over the years. Despite being an SGAC dinosaur, I can't wait to continue giving back for the next few years and hopefully even more so beyond then!