National Points of Contact
Spain
Welcome to the Spanish SGAC webpage!
Spain is an active player in the Space industry since the early phases of the sector. Spain is a founding member of ESA being its 5th greatest contributor. It has a very strong and competitive space industry, that has contributed to the most difficult missions and developed complex spacecrafts in the space sector such us Rosseta, GAIA, LISA Pathfinder, or the GALILEO constellation.
It is worth mentioning that ESAC (European Space Astronomy Centre, Madrid) is one of the 8 sites ESA has stablished around Europe, being the Science Operations Centre of ESA Science missions for both astronomy and the Solar System.
The industrial development agency CDTI and the institute INTA are the ones that coordinate the space industrial efforts of Spain at the national level.
If you are passionate about space and you are a university student or a young professional, join us! We are giving voice to the space leaders of the future.
Young Space Activities Overview in Spain
Spain has a very active and numerous young community across the entire country. Several groups gather together students and young professionals with an interest in Space.
– LEEM(Laboratorio para Experimentación en Espacio y Microgravedad), the Laboratory for Space and Microgravity Research: LEEM was created by Spanish university students and young professionals interested in space projects and education. The main intention of the association is to support students and space enthusiasts wishing to initiate microgravity or space related projects. LEEM also develops its own projects in cooperation with other space organisations, industry and universities and is working towards achieving more ambitious goals. One of the main events they organise is the Spanish Space Students Congress. Connect with the LEEM social media page here.
– IIDAEAC, Instituto Iberoamericano de Derecho Aeronáutico y del Espacio y de la Aviación Comercial: IIDAEAC is a non-profit and a non-governmental international organization. The institute is concerned with matters falling within the competence of COPUOUS, namely the research and dissemination of Space Law in Spain and Iberoamerican countries.
– Spain Rocketry is an amateur group designing, manufacturing and testing amateur rockets.
– EUROAVIA: is the European Association of Aerospace Students, representing the interests of over 2000 students from 38 universities in 19 European countries. Established in 1959, EUROAVIA wants to be a bridge between companies, universities and students, being the main goal to promote European cooperation in the aerospace field by providing opportunities for our members to meet, exchange and learn on all levels. They also organise several events and workshops around Europe to promote this collaboration. There are several branches in Spain, some of them very active, including:
–> Euroavia Terrassa
–> Euroavia Valencia
–> Euroavia Madrid
–> Euroavia Sevilla
– SpaceUP events: This year the first stand-alone SpaceUp event took place in Barcelona. SpaceUp is an unconference, also known as a user-generated conference, for passionate people about space and related activities. There are no spectators at SpaceUp, only participants. All attendees are expected to give a demo, present a talk, or participate in a panel or roundtable. There is the idea to keep hosting in Spain SpaceUp events in the next years.
Country-Specific Events in 2018
Event list is being developed
Interesting Web Links for the Young Generation in Spain
Job Opportunities
– Young Graduate Trainee opportunities at ESA
– ESA Students internships
– Becas Sepi (mainly working for Airbus)
– Space Careers (one of the best portals to find space-related job opportunities)
Organizations coordinating Space Industrial activities in Spain with ESA and the EC
– Centre for the Industrial Technical Development (CDTI)
– Spanish Aerospace Technical Institute (INTA)
SpaceUP
Space-related Organizations  (students and professionals)
– Spain Rocketry
– LEEM
– IIDAEAC
– EUROAVIA
Studies
List with all the Universities in Spain offering the Degree (and M.Sc.) in Aerospace Engineering (updated 2016) are available here
Masters in Space Technology, organised by University Polytechnic of Madrid
Master in Aerospace Engineering, Universitat Politècnica de Catalunya (ETSEIAT)
Master in Aerospace Engineering, Universidad Politécnica de Valencia
Master in Aerospace Engineering, Universidad de Sevilla
Aerospace Engineering, organised by University Carlos III of Madrid
Aerospace Engineering, Universitat Politècnica de Catalunya (EETAC)
Masters in Remote Sensing and Geographical Information Systems, organised by Universidad de Oviedo
Master's degree in Geographic Information Systems, organized by ESRI España
Master's degree in Geospatial Technologies, organized by the University Jaume I from Castellón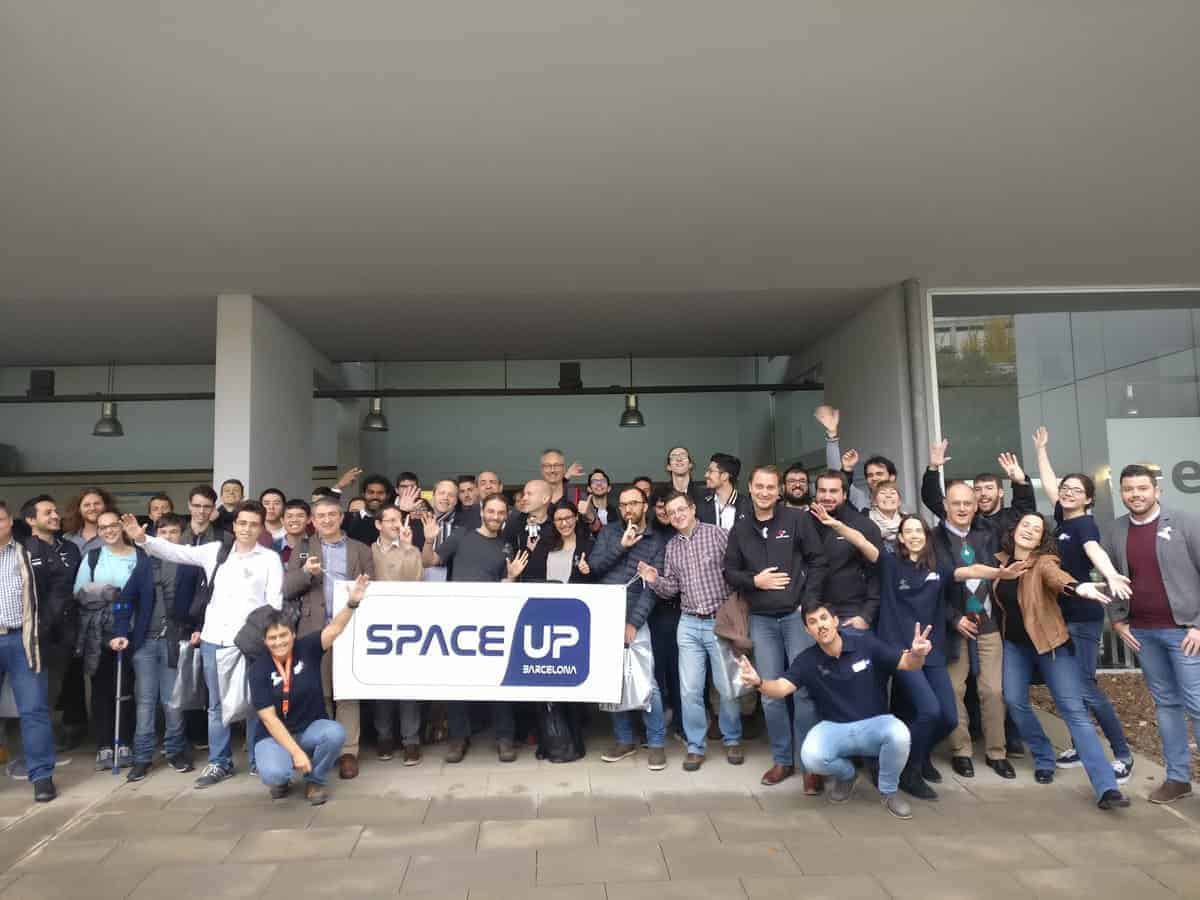 SpaceUP Barcelona – Nov. 2016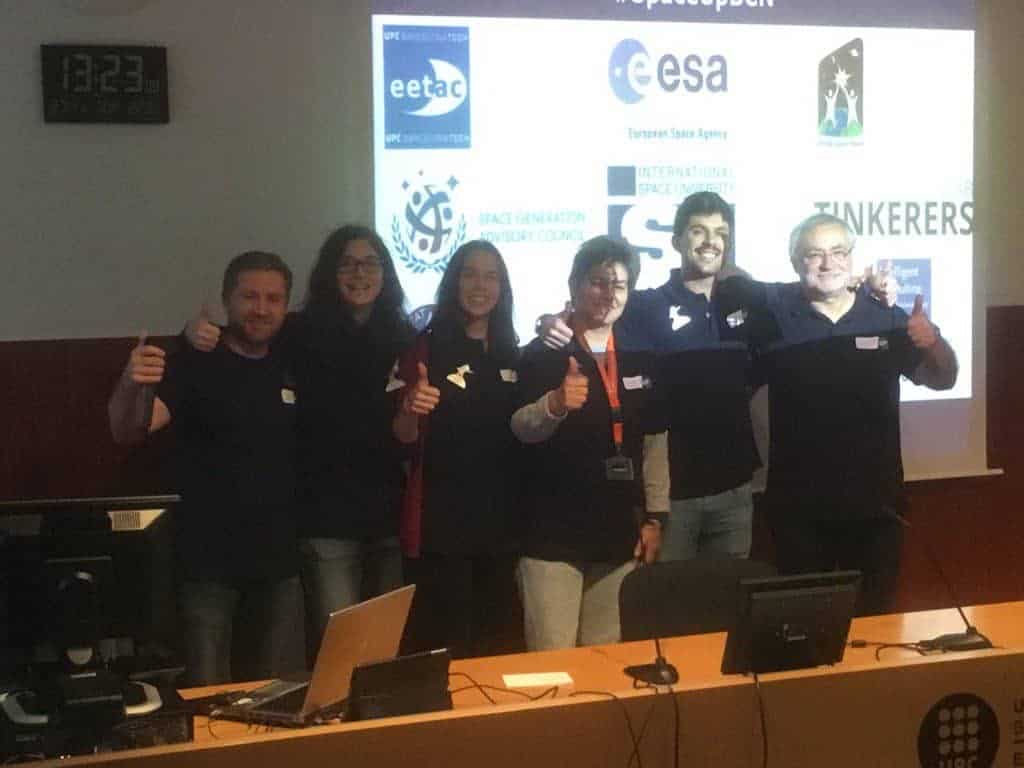 Organizers SpaceUP Barcelona – Nov. 2016