National Points of Contact Spain
Welcome to the country page of the SGAC [Spain]! The  main objective of the SGAC [Spain] is to reach and connect students and young professionals in order to inspire Spain's next space generation.
Spain is a relevant actor in the international space sector, being a founding member of the European Space Agency (ESA) and one of its largest contributors. The Spanish space industry has played a key role in many of the flagship space missions carried out within Europe, including the Galileo constellation, Copernicus, and scientific missions like Rosetta. At a national level, some recent milestones include the launch of the national SAR-based Earth Observation satellite Paz (Spanish for "Peace") in 2018.
Spain hosts the European Space Astronomy Centre (ESAC), located in the Madrid Region. Other ESA-related facilities in Spain include Cebreros Station, E-USOC, ESA BIC Barcelona, ESA BIC Madrid Region, ESA Innovation Partner, and ESERO.
The Spanish participation in ESA is coordinated by the Centre for the Development of Industrial Technology (CDTI), under the umbrella of the Ministry of Science and Innovation that is currently led by Pedro Duque, ex-ESA astronaut. Other relevant entities within the Spanish space sector are the National Institute of Aerospace Technology (INTA), TEDAE (Industry Organization), Centre of Astrobiology (CAB), MELiSSA (Autonomous University of Barcelona), Spanish National Research Council (CSIC), National Astronomical Observatory, and Institute of Astrophysics Canarias.
If you are a university student or a young professional passionate about space and interested in learning more about SGAC and its Spanish community, join us!
Young Space Activities Overview in Spain
Spain has a very active young space community, part of which gathered in Madrid during SG[Spain] 2019. Apart from SGAC, there are several other groups that may be of interest for young space enthusiasts, such as:
LEEM (Laboratorio para Experimentación en Espacio y Microgravedad), the Laboratory for Space and Microgravity Research: LEEM was created by Spanish university students and young professionals interested in space projects and education. The main intention of the association is to support students and space enthusiasts wishing to initiate microgravity or space related projects. LEEM also develops its own projects in cooperation with other space organisations, industry and universities and is working towards achieving more ambitious goals. One of the main events they organise is the Spanish Space Students Congress. Connect with the LEEM social media page here.
IIDAEAC, Instituto Iberoamericano de Derecho Aeronáutico y del Espacio y de la Aviación Comercial: IIDAEAC is a non-profit and a non-governmental international organization. The institute is concerned with matters falling within the competence of COPUOS, namely the research and dissemination of Space Law in Spain and Iberoamerican countries.
Spain Rocketry is an amateur group designing, manufacturing and testing amateur rockets.
EUROAVIA: is the European Association of Aerospace Students, representing the interests of over 2000 students from 38 universities in 19 European countries. Established in 1959, EUROAVIA wants to be a bridge between companies, universities and students, being the main goal to promote European cooperation in the aerospace field by providing opportunities for its members to meet, exchange and learn on all levels. They also organise several events and workshops around Europe to promote this collaboration. There are several branches in Spain, some of them very active, including:
Euroavia Valencia
Euroavia Madrid
Euroavia Sevilla
SpaceUp Barcelona: a two-days space unconference where participants decide the topics, schedule, and structure of the event. Everyone who attends SpaceUp is encouraged to give a talk, moderate a panel, or start a discussion. Sessions are proposed and scheduled on the day they're given, which means the usual hallway conversations turn into full-fledged topics. The last Edition of SpaceUp Barcelona took place in May 2018.
Country-Specific Events in 2020
5th European Space Generation Workshop: "Space for Earth and Humanity", 30-31 October, 2020, Madrid
III Congreso de Ingeniería Espacial: El espacio, la última frontera, 27-29 October, 2020, Madrid
Interesting Web Links for the Young Generation in Spain
Job Opportunities
– Young Graduate Trainee opportunities at ESA
– ESA Students internships
– Becas Sepi (mainly working for Airbus)
– Space Careers (one of the best portals to find space-related job opportunities)
Organizations coordinating Space Industrial activities in Spain with ESA and the EC
– Centre for the Industrial Technical Development (CDTI)
– Spanish Aerospace Technical Institute (INTA)
SpaceUP
Space-related Organizations (students and professionals)
– Spain Rocketry
– LEEM
– IIDAEAC
– EUROAVIA
Studies
List with all the Universities in Spain offering the Degree (and M.Sc.) in Aerospace Engineering (updated 2016) are available here
Masters in Space Technology, organised by University Polytechnic of Madrid
Master in Aerospace Engineering, Universitat Politècnica de Catalunya (ETSEIAT)
Master in Aerospace Engineering, Universidad Politécnica de Valencia
Master in Aerospace Engineering, Universidad de Sevilla
Aerospace Engineering, organised by University Carlos III of Madrid
Aerospace Engineering, Universitat Politècnica de Catalunya (EETAC)
Masters in Remote Sensing and Geographical Information Systems, organised by Universidad de Oviedo
Master's degree in Geographic Information Systems, organized by ESRI España
Master's degree in Geospatial Technologies, organized by the University Jaume I from Castellón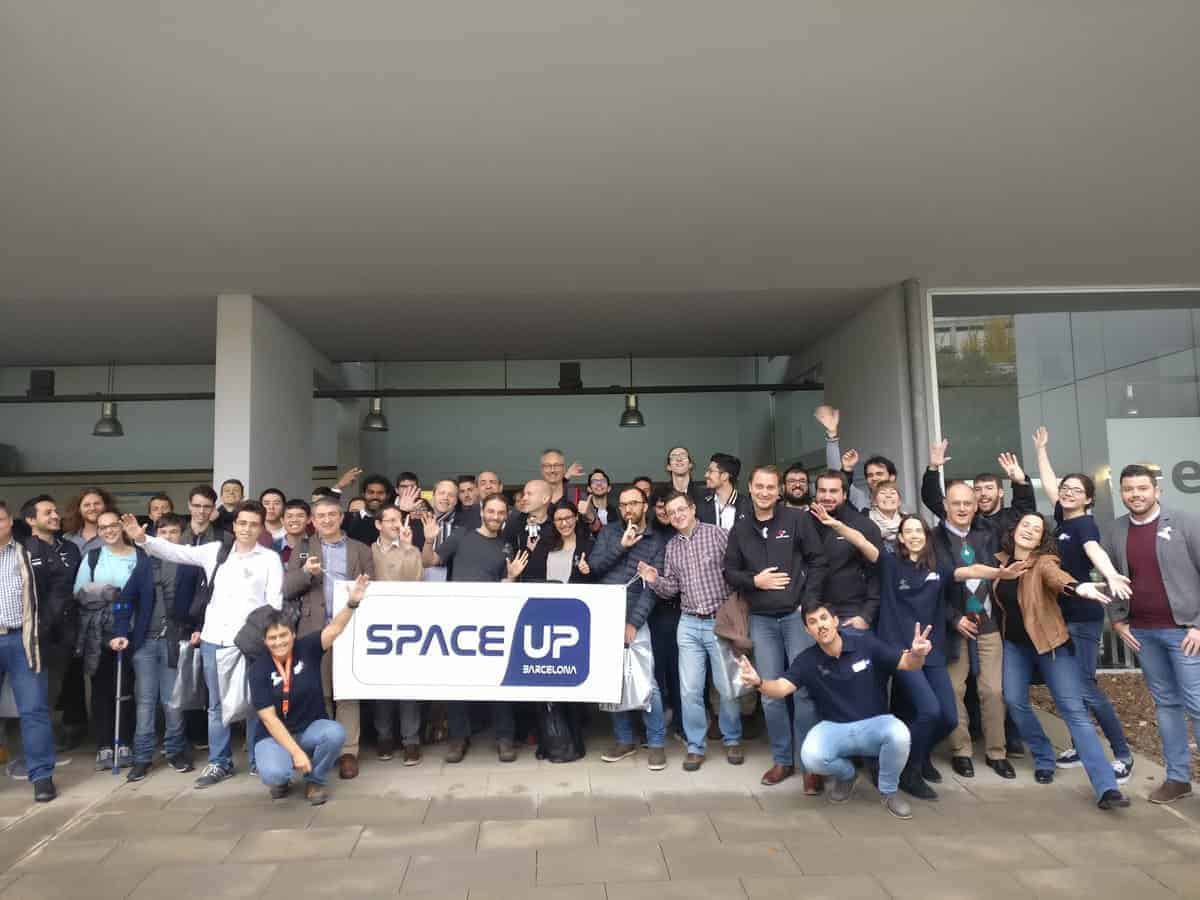 SpaceUP Barcelona – Nov. 2016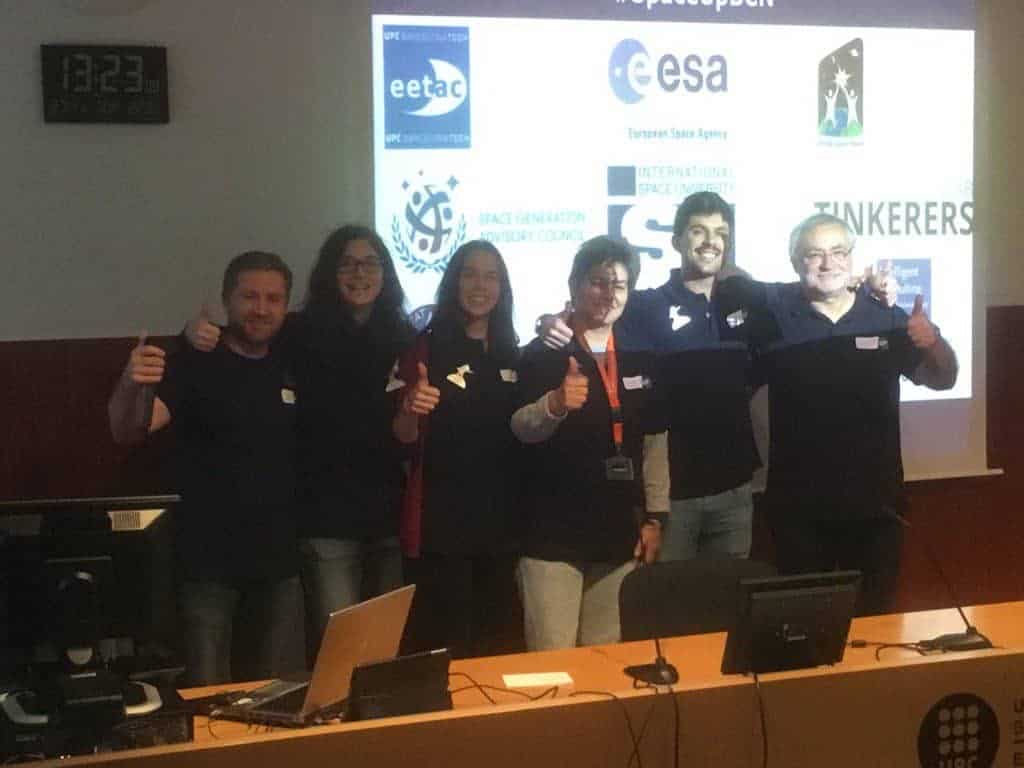 Organizers SpaceUP Barcelona – Nov. 2016