SGAC held elections in May to elect the next Regional Coordinator (RC) in the European Region.
We are happy to announce the selection of Eleonora Lombardi (Italy) as the new Regional Coordinator for Europe.
Detailed election results and the profile of the applicants follows. We would like to take this opportunity to thank outgoing Regional Coordinator, Joao Lousada (Portugal), for his two years of service in this role.
Election Report
The election received two applications for one regional coordinator position.
21 NPoCs out of 46 took part in the election, with the following result:
Eleonora Lombardi (Italy) – 61.9%
Ksenia Lisitsyna (Russia) – 38.1%
About Eleonora Lombardi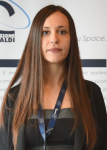 Eleonora joined the SGAC family as part of the organising team of the 4th European Space Generation Workshop in London. She is currently Technology Transfer Officer at Fondazione E. Amaldi. She worked and now collaborates with Research Consortium Hypatia where she is project manager for the Horizon 2020 programme SpaceUp. 
She is in charge of defining cross fertilisation activities, scouting new and innovative funding opportunities and supporting the quality of projects by Italian companies applying to the programmes in the frame of the New Space Economy. Graduated in International Relations, with a specialisation in International Space Law and Policy, she also holds a second Master's Degree of Economic Intelligence. Eleonora collaborated with the University of Edinburgh and the University of Paris Sud following the award of scholarships. In Paris, she joined the Strategy Department of the European Space Agency and Eurisy, a non-profit association of European space agencies to support satellite applications' end users.
This is what Eleonora had to say about her election:
"I am honoured and excited to be elected as European Regional Coordinator of our SGAC community. What makes it more exciting is that it is happening in conjunction with the launch of the celebration of the SGAC 20th anniversary and with many other anniversaries of the space race! I would like to thank all the National Points of Contact that are giving me this opportunity and that are the operational and core actors of the SGAC community activities. I cannot wait to work with you, the regional team, the Executive Committee team and all the members. I will put all my energy into supporting the community in enhancing internal and external communication, boosting the entrepreneurial and professional opportunities and bolstering the relationships with industry, SMEs, organisations and Institutions of the sector, and beyond. What is SGAC for me? An innovation community that enhance astropreneurship through cross-fertilisation!"