SGAC held elections in December 2019 to elect the next Regional Coordinators (RC) in North America, Central, And Carribean (NCAC) Region.
We are happy to announce the selection of Elizabeth Barrios (USA) as the new Regional Coordinators for NCAC. Detailed election results and the profile of the applicants follow. We would like to take this opportunity to thank the former Regional Coordinator, Kavya Manyapu (USA), for their service in this role.
Election Report
The election received four applications for two regional coordinator positions. 7 NPoCs out of 10 took part in the election, with the following result:
Elizabeth Barrios (USA) – 100%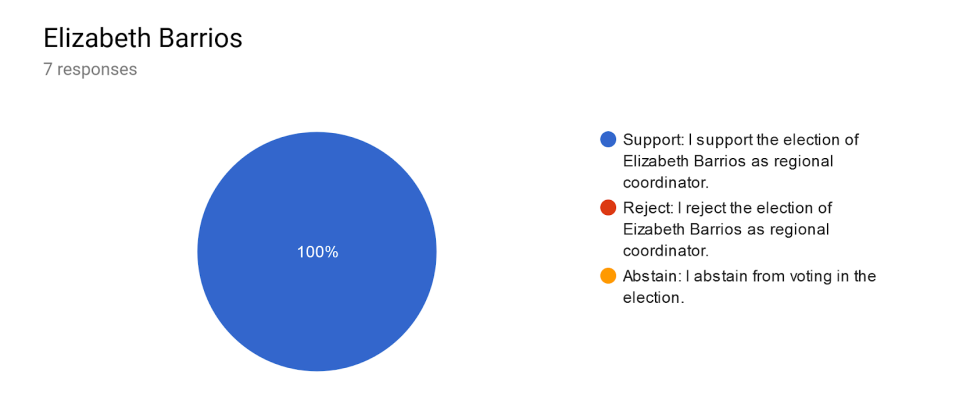 About Elizabeth Barrios
Elizabeth is currently a materials engineer working at NASA's Kennedy Space Center and a Ph.D. NASA Space Technology Fellow at the University of Central Florida. With a passion for advancing the technical capability of space exploration, her current work focuses on the development of lightweight, Earth-abundant materials for energy generation and storage applications. This interest in lightweight materials has also led to her past involvement in the fabrication of the Advanced Plant Habitat, recently installed on the International Space Station.
After attending the 2017 International Astronautical Congress in Adelaide, Elizabeth discovered a new interest in the global space network and engaging with young professionals around the world. Elizabeth joined SGAC that following year by participating in the 2018 Space Generation Workshop in Bremen and has since become involved with SGAC event planning, including participation in the organizing teams of SGC 2019 and the 2nd Space Generation Workshop of the NCAC region. By contributing to SGAC in the years to come, Elizabeth hopes to take her experience as an engineer and her passion for advancing spaceflight to inspire and guide future engineers and scientists in the aerospace industry while teaching them about the global impact of our industry. 
This is what Elizabeth had to say about her election:
I feel very honored to have been elected as the new Regional Coordinator for the North, Central America and Caribbean region of SGAC. The NCAC region houses some powerhouses of the global aerospace industry along with some budding space economies leading to an enormous impact on the future of space exploration. I am very much looking forward to growing the SGAC community in this region through improved communications, an academic network, and a focus on building and supporting our younger member countries. I'm excited to see how this region will grow over the next couple of years.