SGAC held elections in September and October to elect the next Regional Coordinator (RC) in the South America Region. We are happy to announce the selection of Matias Campos Abad (Ecuador) as the new Regional Coordinator for South America.
Detailed election results and the profile of the applicants follows.
Election Report
The election received two applications for one regional coordinator position. 7 NPoCs out of 11 took part in the election, with the following result:
Matias Campos Abad (Ecuador) – 4 votes (57.1%)

Camilo Reyes (Colombia) – 3 votes (42.9%)

Abstained – 0%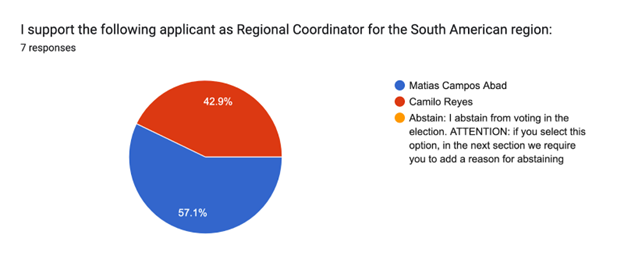 Matias Campos Abad is therefore declared the winner of the election for Regional Coordinator of South America.  
SGAC congratulates all candidates who took part in this election.  Thank you for your participation and involvement.
About Matias Campos Abad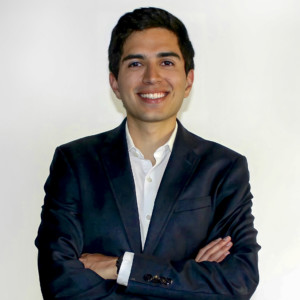 "Matias is an Ecuadorian engineer and space enthusiast. He graduated from Worcester Polytechnic Institute (USA), where he obtained both his Bachelor and Master of Science degrees in Aerospace Engineering and a Minor in Robotics Engineering. Additionally, Matias obtained a Physics teaching license from the state of Massachusetts. Matias started his career in Germany and then returned to Ecuador to become a space entrepreneur. Matias is the founder and CEO of Astralintu Space Technologies, which focuses on providing in-orbit services and ground segment tracking and operations to grant space access to emerging actors in Latin America and the world.
Additionally, Matias volunteers as the STEM Program Director for the Sideralis Foundation, acts as SGAC's Regional Coordinator for South America, is the current Vice-Chair of the IAF Administrative Committee for Developing Countries and Emerging Communities, and is the Chair of the IAF Latin American and Caribbean Subcommittee. Matias has been recognized as an Emerging Space Leader by the International Astronautical Federation and a Space Generation Leader by the SGAC. Through engineering and education, Matías looks to lead and promote the development of the New Space industry in Latin America so the region can attain all its benefits."
This is what Matias had to say about his election
"I am honored to be selected and trusted by the National Point of Contacts of the South American region to represent our continuous drive to bring more opportunities for students and young professionals in Latin America to become active actors of the space industry. I look forward to working with you and the extended SGAC community in making the space generation be a driver for change for our communities".