SGAC election for a new Co-Chairperson in 2019 has been completed and we are pleased to welcome Arnau Pons (Spain) as the new Co-Chair of SGAC.
Election Report
After an exceptionally long period of discussion and interaction between the candidates and the Executive Committee, 91.6% of all Regional Coordinators cast their votes.
Out of all 11 votes, candidates received:
Arnau Pons (Spain) – 91%
Olga Stelmakh-Drescher (Ukraine) – 9%
Kathryn Robison (USA) – 0%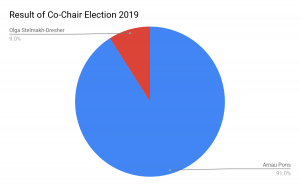 We are happy to announce that Arnau Pons will be the new Co-Chairperson of the Space Generation Advisory Council! He will be working alongside the Chair,  Matteo Emanuelli (Italy).
About Arnau Pons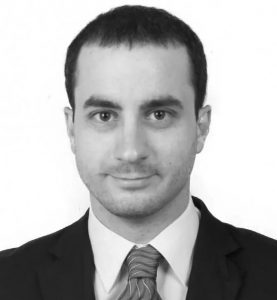 Arnau Pons is a Ph.D. candidate in Aeronautics and Astronautics Engineering at Purdue University in West Lafayette, IN and working at the Maurice J. Zucrow Laboratories. He has been awarded the "la Caixa" fellowship in order to research on rocket propulsion and combustion instabilities in aerospace propulsion systems. Arnau holds a Master's Degree of Aerospace Propulsion Theory and Engineering by Beihang University in Beijing, China. Furthermore, he received his Aeronautical Engineering degree (B.S. and M.S.) specialized in Space Engineering from the Polytechnic University of Catalonia (UPC) in Terrassa, Spain. He attended the International Space University Space Studies Program 2015 hosted by the Ohio University in Athens, Ohio, in partnership with NASA Glenn Research Center. In addition to his academic interests, Arnau is fully engaged with the SGAC community. He has been SGAC Interim Chair, Treasurer, Financial Comptroller, SGC 2017 Congress Manager, SGC 2016 Deputy Congress Manager, and SGC 2015 delegate. He is a glider pilot, loves playing soccer and doing trekking with his wife, Orzuri.
When informed of the results, Arnau had this to say:
"I have no words to describe how much SGAC has changed my life. I have been very fortunate to make lifelong friends, learn and grow from a myriad of experiences and different perspectives, and overall, I have enjoyed every minute working together with our passionate SGAC members from all over the world. I am deeply grateful and honoured for being elected as Co-Chair of SGAC. Over the past nine months, I have had the honor to work alongside Matteo, Clementine, the Regional Coordinators, Executive Committee and Teams of SGAC to contribute to the progress of SGAC. We have accomplished many things together and I look forward to work arm on arm with all our members to take SGAC to new horizons. I wish that all together we achieve for SGAC to be a community that empowers students and young professionals from all around the globe to pursue their dreams in the space sector, a platform that promotes strong international collaboration and a beacon of hope that makes a positive impact for humanity. Per aspera ad astra."
Matteo Emanuelli, current Chair, had this to say:
""It is great to see Arnau being elected to this position. Arnau and I had worked very well in his term as Interim Chair and we have implemented many innovations in this last 9 months. I am definitely thrilled to work with him for another year and to continue the initiatives we have started and laid out in the strategy for 2019. Arnau's leadership, vision and operational mindset will be very useful for maintaining the continuous and sustainable growth of SGAC in the next 2 years."
Clementine Decoopman, current Executive Director, added:
"I would like to congratulate Arnau for being elected as Co-Chair of SGAC. I have been working with Arnau since the beginning when I entered SGAC. Together with Matteo, we have been able to develop a strong strategy for SGAC, based on long term projects and objectives.  I am very excited to continue working with him. Having some continuity at SGAC and being able to continue developing this strategy and achieving our goals will prove beneficial for the organisation. He is a dedicated member who always looks for the growth of SGAC as a whole and goes above and beyond his responsibilities to develop new initiatives. He has a clear vision for the organisation, which is extremely important for a Co-Chair. Arnau is a good team player and leader and is not afraid by change. I am convinced that his ambition for SGAC will enable the organisation to grow even more while maintaining its good spirit and professionalism."