After a very thorough selection process that lasted two months, the Selection Committee has chosen Valentina Luchetti to become the SGAC Operations Manager, the second full-time employee of SGAC.
The OM Selection Committee was formed by the following members:
SGAC Co-Chairs: Arnau Pons and 

Harriet

 Brettle
SGAC Executive Director: Davide Petrillo 
SGAC Executive Committee: Angel Arcia (NCAC RC), Alina Vizieanu (Memberships Manager), Abraham Akinwale (Recruitment Manager) 
A total of 39 candidates (14 females and 25 males) applied for the position. The selection process entailed several phases with detailed evaluations and analysis by the Selection Committee members, which resulted in the final candidate selection by consensus.
We warmly welcome Valentina to the team!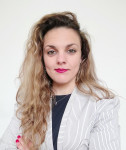 About Valentina Luchetti:
Valentina is an aerospace engineering student at the University of Pisa (IT). As a pragmatic and extrovert person, since the beginning of her studies, she got involved in student associations to get hands-on experiences and create both friendships and business relationships worldwide. In 2014 she joined EUROAVIA, the European Association of Aerospace Students, and in 2015 she joined SGAC. In EUROAVIA she covered different positions, such as Communication WG and Statutes and Bylaws WG coordinator and in 2018 she was elected as a member of the Board of Directors. As for SGAC, she has been part of the Space Exploration Project Group while working on the Poland Mars Analogue Simulation and she attended different events, as the 2nd E-SGW in Paris, SpaceUp Milan, and the European Student Workshop in Padova.
In 2019 she moved to Hamburg (DE) to work for Airbus, and in the same year, she has been the leader of one of the finalist team of the Airbus Sloshing Rocket Workshop.
Valentina Luchetti says: "I am incredibly honoured and grateful to be selected as Operations Manager of SGAC. For me, SGAC is about Space, Management and People, the perfect combo of what I love. I am looking forward to starting this journey and growing SGAC potential by paving the way towards the organisation's goals."
Davide Petrillo, SGAC Executive Director, says: "I would like to congratulate Valentina for being selected as the Operations Manager of SGAC. I am convinced that her ambition for SGAC will enable the organisation to continue to grow while maintaining its good spirit and professionalism. I am looking forward to working in close cooperation with Valentina in the constructive spirit which has always characterized our work and that will drive the future success of SGAC."
Arnau Pons, SGAC Chair, says: "We are very excited to welcome Valentina as our new Operations Manager. Valentina has very solid qualifications and a great potential to contribute to the progress of SGAC. With her addition to the team we will open a new chapter with new energy and passion."
Harriet Brettle, SGAC Co-Chair, says: "I'm thrilled that Valentina is joining SGAC as our new operations manager. The OM position is a crucial role within SGAC and I'm confident that Valentina will hit the ground running. Her energy and experience will take SGAC to new heights and I'd like to extend a warm welcome on behalf of the spacegen community."
The SGAC Operations Manager will be accountable for supporting the management of SGAC operations.  This includes project planning, scheduling and managing, capacity and utilisation management, delegating work to meet deliverables, and tracking the status of outstanding work from the different SGAC teams. Valentina will work with different SGAC Executive Office Teams to ensure that communication is streamlined. She will be responsible for identifying process improvements that will lead to year-over-year enhanced operations, and making sure that all ongoing work is delivered timely meeting SGAC quality standards. Valentina will work with and report to the SGAC Executive Director.