SGAC and the Entrepreneurship and Investment Committee (EIC) of the International Astronautical Federation (IAF) are pleased to announce George Profitiliotis as the winner of the joint $pace is Business Competition 2018.
This competition is an opportunity for students and young professionals to share their views and analysis on past, present and future of entrepreneurship and investment within the space sector. The scholarship enables one outstanding SGAC member to attend the 17th Space Generation Congress and the 69th International Astronautical Congress in Bremen, Germany.
George Profitiliotis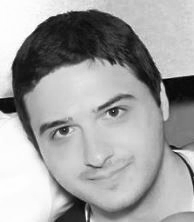 George Profitiliotis is a speculative fiction writer and an electrical & computer engineer with an MSc in Environment and Development, and a mini-MBA in Technological Innovation Management. He has an academic background in Energy Engineering, Biomedical Engineering, Neuroscience, and Sustainable Development, and a professional background in multiple startup projects. Up until now, he has received 15 honours, awards, prizes, scholarships, and distinctions in the fields of space exploration, literature, general academic excellence, and innovation & entrepreneurship. He's currently pursuing a PhD in Bioastronautics and Planetary Protection and he's mainly interested in following the professional track of Research and Innovation Management. George gave the following response upon accepting the award:
"Being 'the common heritage of all mankind', celestial bodies need to be protected from forward contamination in a way that will facilitate -and not hinder- commercial space endeavors by private actors. This prestigious competition gave me the incentive to explore a possible solution and present it to an expert audience."
SGAC would like to thank Ken Davidian, Julio Aprea and Jim Burke once again for their generous continued support of SGAC and this annual scholarship.
Congratulations George, see you in Bremen, Germany!