Space Influencers  – Valuable Assets for the Space Industry
by Ksenia Synkova
We live in incredible times. Thanks to today's digitalization, we are now able to use technologies on a daily basis that were once only accessible to governments and big organizations. Sitting on the other side of the globe, we are able to see our loved ones instantly simply using internet connection. Without leaving the house, we can shop, see what our friends are doing by clicking through Instagram stories, and we can discover the latest news from Twitter. According to statista.com, nearly half of our world's population is active on social media and spends two hours and 20 minutes per day on social media platforms (Worldometer, 2020). As seen in Figure 2 below from Global Web Index, on a daily basis Generation Z spends close to three hours on social media while Millennials devote two hours and 38 minutes.

Social media is a great virtual meeting place where users can communicate with each other, exchange information, and share opinions instantly and easily. NASA recognized early enough that digital platforms were transforming businesses and individuals. "We emphasize the use of social media applications in order to directly reach out to the public. Tens of thousands of people follow NASA activities on the official NASA Facebook page" (Phillips, 2012). There are multiple ways to increase awareness of outer space via digital platforms, however one of the most effective is to liaison with space influencers.
Social media platforms introduced users to new actors that are capable of influencing people's behavior, interests, and even values. These new actors are known as social media influencers. They share the latest events and news with their audience that pertain to their interest area. Some are even recognized as news media themselves. "NASA will provide media credentials to social networking users who will actively collect, report, analyze and disseminate NASA news and information on digital media platforms. Attendees will have the same access to the event as news media. This includes, but is not limited to, attending tours and viewing opportunities, news conferences, demonstrations, interviews with key personnel" (Wilson, 2018).
A couple years ago one might possibly catch themselves thinking: "Oh! Come on! Another influencer…" But today we can observe the high demand of social media influencers. Even during the COVID-19 pandemic, the biggest brands wanted to expand collaborations with influencers. Thus, it's time to consider influencers as a valuable asset that can help the space community grow, expand engagement in STEM careers, and increase the overall space outreach (Brown, 2018).
One of the biggest benefits of working with an influencer is that one influencer can act in different roles, which normally tend to be spread between several people. A social media influencer brings together the skills of a creative content producer, intermediary, content distributor, strategic counsellor, community manager, moderator, and even an event host. It's clear that one promotional collaboration with an influencer can include the work of up to 7 or more specialists from diverse fields. This combination secures a range of opportunities that brings communication to the next level and is able to create considerable synergy effects for space outreach. Influencers can be considered as "third-party actors that have established a significant number of relevant relationships with a specific quality to and influence on organizational stakeholders through content production, content distribution, interaction, and personal appearance on the social web" (Borchers, 2019). 
Thinking of becoming an influencer yourself? Why not?
Let's take a look at the criteria for being recognized as a social media influencer by NASA. The following criteria have been developed for one of the NASA events (Wilson, 2018):
Actively use multiple social networking platforms and tools to disseminate information to a unique audience.
Regularly produce new content that features multimedia elements.
Have the potential to reach a large number of people using digital platforms.
Reach a unique audience, separate and distinctive from traditional news media and/or NASA audiences.
Must have an established history of posting content on social media platforms.
Have previous postings that are highly visible, respected and widely recognized.
Does NOT feature items such as profanity, spam, adult-oriented material, and/or other inappropriate activities.
One of the biggest obstacles in space outreach is the stereotype that space is not for all due to limited access, certain expertise requirements, and gender-related aspects. This stereotype was found from interviews and study results focused on the spread of knowledge between generations of two age categories (Millennials and Generation Z) who consider the importance of influencers in space outreach as beneficial and decisive for the space industry.
"Space is often perceived as a far-fetched dream, a very complicated subject, and a field of science that only welcomes those with great expertise" [(Expert 3) Synkova: 2020].  At the same time, the results show that influencers are capable of breaking down this stereotype due to an access they provide to the general public. The survey proves that the influencers are able to make communication easy, fast, entertaining, and they also "know how to make big and complex concepts easy to understand and make the information accessible to everyone" [(Expert 9) Synkova: 2020]. Influencers clearly have the ability to convey difficult topics in an inspirational way that helps create trust between the public and scientists.
What does it mean for the space community?
We all need role models, and space influencers can help raise the young generation of space enthusiasts. High interest in the sector will grow a significant number of graduates from the STEM disciplines. Therefore, more people will be willing to work in the space sector. Increased demand in the industry will attract more investors: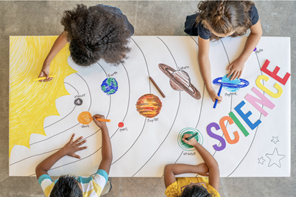 "If we know how to excite people, we will get more investors, so we can get more money for the industry. This also translates into the economical level" [(Expert 9) Synkova: 2020]. These factors demonstrate that the collaboration with space influencers could even contribute to the overall economic development. On one hand, the space community has enough motivated young professionals willing to inspire people and the next generation about space. On the other hand, there are hurdles such as lack of time, gender stereotypes, and mostly social media acumen that hold their enthusiasm back from becoming an influencer and following this new path. 
It is all about our personal will and trust in ourselves. Because influence means, "the capacity to have an effect on the character, behavior, or development of someone or something" (Oxford Languages). Everyone has the capacity to make an impact. Anyone can become an influencer, regardless of age, gender, ethnicity, sexual orientation, or belongingness to any social class, or political party.
Space influencers support diversity, inclusivity, and want to overcome the stereotype that space is not for everyone. Space is for all and we all have a capacity to grow its awareness. It is up to us.
Ksenia Synkova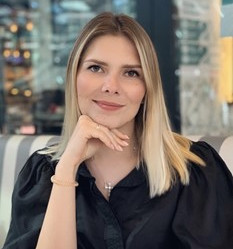 Ksenia is a digital marketing strategist and content creator focusing on the space community. She brings communications and marketing experience from various industries, including space, technology, oil & gas, and media. Ksenia is a founder of a digital marketing agency Réaliste. Ksenia is also currently responsible for the execution of Instagram and Youtube of the Space Generation Advisory Council.
References: 

Worldometer, Current World Population, 2020, URL: https://www.worldometers.info/world-population (accessed 20.09.2020).
V. Phillips, Education, Outreach, and Public Affairs, 20 November, 2012, URL: https://www.nasa.gov/open/public-affairs-web.html (accessed 11.09.2020).
J. Wilson, Apply for a NASA Social Media Credential: 8 March, 2018, URL: https://www.nasa.gov/connect/social/credential.html (accessed 11.09.2020).
K. Brown, NASA, National Science Foundation Announce Support for White House STEM Engagement Plan: 4 December, 2018,URL: https://www.nasa.gov/open/public-affairs-web.html (accessed 11.09.2020).
N. S. Borchers, Social Media Influencers in Strategic Communication, International Journal of Strategic Communication, 2019, p. 255, VOL. 13, 255-260, URL: https://www.tandfonline.com/doi/full/10.1080/1553118X.2019.1634075 (accessed 14.08.2020).
Oxford Languages, Google's English dictionary provided by Oxford Languages, URL: https://languages.oup.com/google-dictionary-en/ (accessed 15.09.2020).
K. Synkova, 2020, IAC: The Space Industry Lacks Influencers, http://iafastro.directory/iac/browse/IAC-20/E1/6/ (accessed 24.11.2020).