Youth4Water 2022
Space as a tool to accelerate change in sustainable water resources management, hydrology and the protection of aquatic ecosystems
The United Nations Office for Outer Space Affairs (UNOOSA) and the Space Generation Advisory Council (SGAC), are thrilled to announce the results of the  2022 edition of the Space4Youth Essay Competition! 
The winners are (in alphabetical order): 
Cannelli Selene, Italy. Title of the essay: "A Picasso in the sea. So beautiful so deadly"
Carlos Marco, Angola. Title of the essay: "EFUNDJA: an Angolan geospatial project for flooding control"
Das Sia, India. Title of the essay: "Women, Water and Space: Role of Indigenous Women in using Geospatial Tech for Conserving Water"
Joshi Prayon, Nepal. Title of the essay: "Water quality monitoring of Lake Cluster in Pokhara Valley, Nepal with satellite images and machine learning"
Kitambo Benjamin, Congo. Title of the essay: "Application of radar altimetry in surface water bodies monitoring of the second largest worldwide river basin"
Venn Rachel, United Kingdom. Title of the essay: "Climate risks and capability sharing in the Asia-Pacific region: Exploring a future GNSS-based early warning system for tsunami"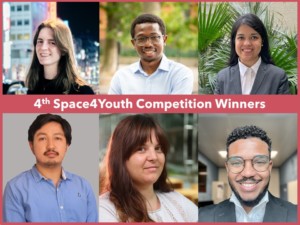 Thanks to the generous support of the Permanent Mission of the U.S. to International Organizations in Vienna, the authors of the best 6 essays will have the opportunity to participate in a trip to the United States to meet with representatives of the U.S. space sector and attend an Adult Space Camp at the U.S. Space & Rocket Center in Huntsville, Alabama*.
UNOOSA and SGAC would like to thank all participants for their inspirational contributions and insights! Water scarcity is a major global challenge and we are proud to see the engagement and passion of many young people committed to taking action. Thank you!
THE DECADE OF ACTION FOR WATER 2023
In view of the Midterm Review of the Decade of Action for Water, which will take place at UN Headquarters in New York in March 2023, co-hosted by Tajikistan and the Netherlands, the UNOOSA Space4Youth and Space4Water projects developed the competition with the theme of "Youth4Water – Space as a tool to accelerate change in sustainable water resources management, hydrology and the protection of aquatic ecosystems", aiming at highlighting good practices and experiences in terms of experimentation, application, evaluation and dissemination of techniques, methods and innovative approaches that use space to address water-related environmental or water management issues.