The Our Giant Leap Podcast (#RadiOGL) is a project from the Diversity and Gender Equality Project Group, brought to you by a team of five students and young professionals, volunteering for the Space Generation Advisory Council (SGAC). 
Its primary goal is to release podcasts to educate and raise awareness on the topic of gender equality and diversity in the space industry. The Our Giant Leap podcast also aims at bringing visibility to professionals from the space sector, by letting them become potential future role models for the audience.
On June, 15th 2022 the first episode, titled "Adding Stars to the Sky: How to Enter Space from an Underrepresented Background" was released on Spotify!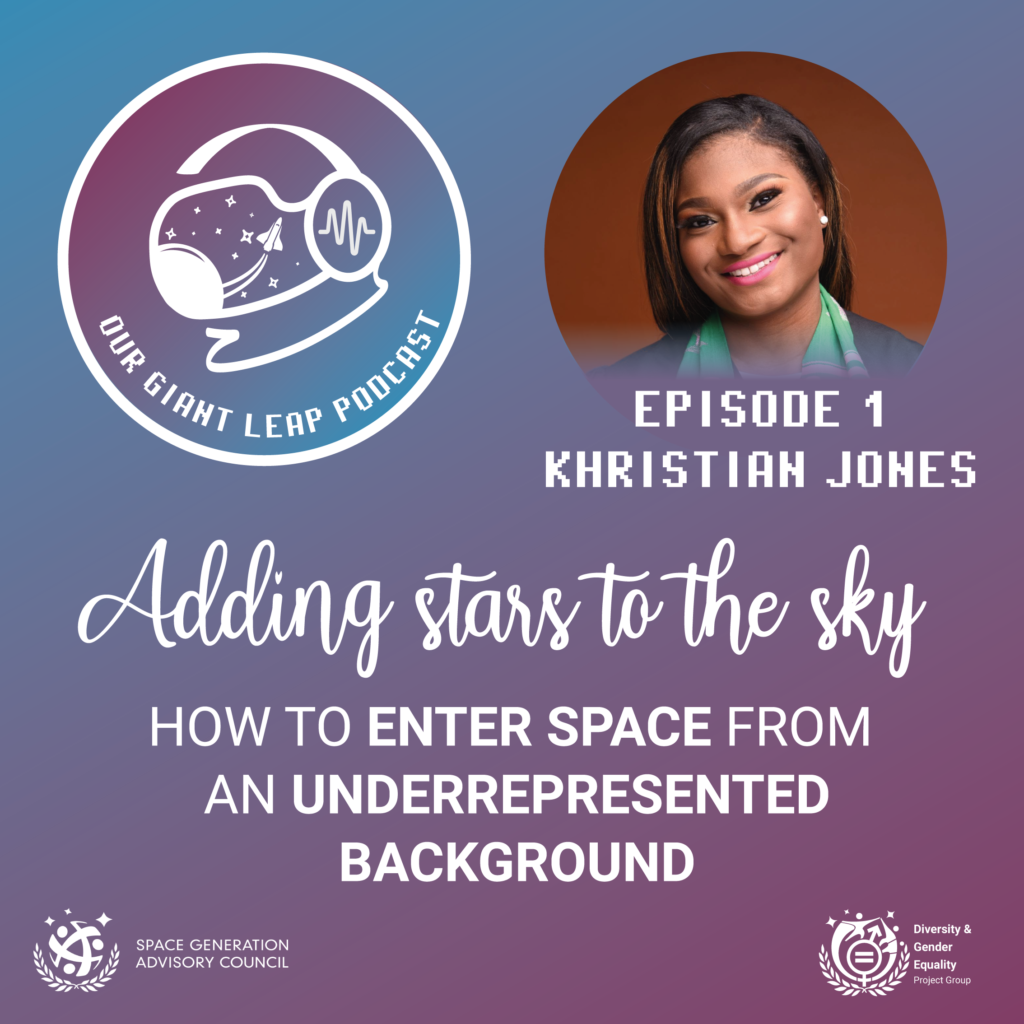 The first guest to be interviewed is Khristian Jones: she is currently an Interiors Engineer at United Airlines, and a graduate of the Aerospace Engineering program at Wichita State University. In her time away from work, Khristian aspires to be a role model and advocate for students of color that also have dreams of having careers in the Aerospace Industry as she believes that exposing students to STEM careers at an early age, assists students to know all the career opportunities out there . She wants to continue to advocate for a more diverse, equitable, and inclusive industry in her role as Co-Founder and Executive member of the Patti Grace Smith Fellowship.
In the episode, we discussed how a fellowship can help, how to create a network and the importance of positive self talk. We began with the presentation of Khristian, with an overview of her career and how she got into aerospace. Afterwards, we discussed the Patty Grace Smith Fellowship: what it is and how it helps Black Undergrads to enter the Aerospace industry. The episode takes a little break for the fun fact segment, where we learned about the efficiency of the Hubble Telescope, before entering the last part: the tangible outcomes for the listeners, where Khristian gives advices on how to network, how to apply to a fellowship or to answer negative comments about the work she does.
If you enjoyed the episode, you can also leave it a 5 stars review on Spotify.
Feedbacks are very welcome: contact us at [email protected] and stay updated for future episodes on our social media, with #OurGiantLeapPodcast #RadiOGL.