SGAC Announces the Winner of the 2020 SGAC(4)STEAM Photographer Grant
SGAC is pleased to announce KangSang Kim (Antonio Stark)  as the winner of the 2020 SGAC4STE(A)M Photographer Grant.  The winner will be sponsored to capture the activities during the 9th Space Generation Fusion Forum (March 28 – 30) and will be able to attend the 36th Space Symposium (March 30 – April 02)  in Colorado Springs, USA.
SGFF is held annually in scenic Colorado Springs in conjunction with the Space Symposium, the Space Generation Fusion Forum is a three-day, high-intensity, fast-paced professional development and networking event focused on the international and US space industry. Delegates are students and young professionals from around the world and various facets of the space sector including science, engineering, law/policy, business/commerce, medicine, media, military, and government. Through discussion tracks, expert panels, keynote presentations, and interactive activities, these selected delegates will "fuse" their perspectives.
This award will be used towards covering expenses incurred to attend SGFF and Space Symposium.
KangSan Kim (Antonio Stark)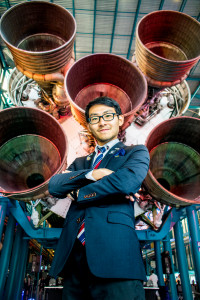 Antonio Fowl Stark (KangSan Kim) is an international business developer and space policy consultant from South Korea. He has worked with governments, corporations, and nonprofits from around the world, including multinational corporations of Unilever, venture capital firms SoftBank Ventures and 500 Startups, and the World Federation of United Nations Associations (WFUNA). His expertise is in startup development, globalization operational strategy, sustainability and social impact, and policy making/evaluation for emerging actors in space. In his free time, he likes to train for triathlons and go scuba diving.
"I'm very honored to be receiving the SGAC4STEAM award for SGFF 2020. I hope to contribute my expertise and experience in promoting SGFF to not only its immediate attendees but also to its past and future attendees on what SGAC brings to the table."